Zillow vs. Redfin: Which Is Better for Homebuyers?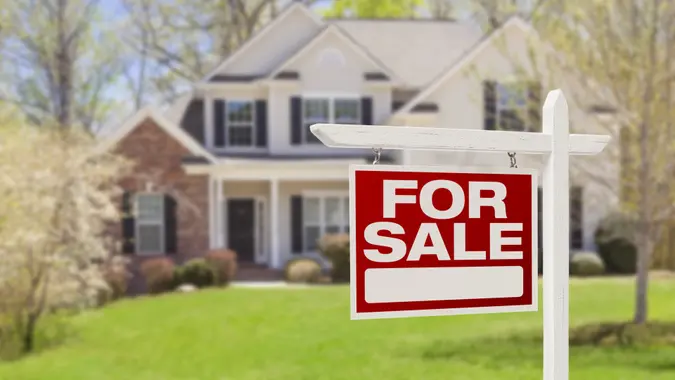 Feverpitched / Getty Images/iStockphoto
If you're in the market for a new home, you've likely come across a few real estate websites, like Zillow or Redfin — two of the most renowned real estate listing platforms available today. Both Zillow and Redfin allow you to search for houses according to specific criteria, like sales price and location. You can access a database of listings from the comfort of your home instead of visiting a real estate agent to find properties in your area.
Zillow and Redfin most likely top your Google search for these types of websites. These handy real estate tools have unique perks and downsides, though. Before starting your search or deciding on Zillow vs. Redfin, it's critical to understand how they work.
Zillow vs. Redfin: Similarities
Redfin and Zillow allow you to start the homebuying process directly through their websites. You can schedule tours at a time that's convenient to you or attend available open houses.
You can also compare prices for homes in your desired area, allowing you to get a head start on the research process without any pressure from real estate agents.
Zillow vs. Redfin: Differences
While they operate somewhat similarly, the most significant difference between Zillow and Redfin is that Redfin is a real estate brokerage with its own real estate agents, while Zillow allows you to connect with real estate agents but does not have its own.
Another main differences is the proprietary technology they each use. That's why you might find estimates that vary substantially from one of these sites to the other.
What Is Redfin?
Redfin is a brokerage platform that operates in all 50 states plus the District of Columbia. Buyers can benefit from average savings of $7,000 and a potential 0.25% reduction in interest if they finance the home through Bay Equity, Redfin's comprehensive mortgage company.
While Redfin operates nationwide, there are some locations where they don't have a current presence. If you're interested in using Redfin in an area where it doesn't have a connection with a local agent or partner, you can provide your contact information, and Redfin will reach out if it can assist you.
Where Does Redfin Find Listings?
Redfin pulls its listings from Multiple Listing Service, or MLS, databases, which are cooperatively updated by real estate agents regularly — at least every five minutes — for maximum accuracy. Redfin also retrieves listings from Fizber.com and FSBO.com for homes listed for sale directly by their owners.
Is Redfin Pricing Accurate?
Redfin claims that its Redfin Estimate is the most accurate available — its website claims that on-market homes sell within 2.12% of the Redfin Estimate value. The Redfin Estimate has a median error rate of 6.54% for off-market houses.
It's important to keep in mind, however, that there may be factors affecting the price of a home that Redfin doesn't consider, including the view of a unit in a larger building or facts it doesn't have access to.
Searching Properties on Redfin
The details from MLS and other sites are used to compare listings in your preferred area and find the most accurate pricing estimates. Buyers can use filters like:
Zip code
Square footage
Price
Number of bedrooms and bathrooms
Home type
Features like air conditioning, view, fireplace and pool
Aside from basic search filters, Redfin also includes additional filters that may benefit buyers, like property taxes, HOA fees and listing types, like foreclosures and short sales. Redfin also provides insights about school ratings, public transit and walkability in the area.
Setting Up a Tour Through Redfin
Once you find a home you'd like more information on, you can tour it from the listing or set up a one-on-one video tour with an agent.
Selling on Redfin
Redfin charges only 1% to homeowners who want to list their property on the platform, compared with a standard listing fee of 3%. That's why a site like Redfin might save you thousands in real estate commissions if you're selling property.
Redfin also has an iBuying service called "Redfin Now." This tool allows homeowners to sell their houses directly to Redfin in an all-cash offer. The Redfin Now service doesn't require homeowners to open their homes to tours, and they don't need to make improvements or repairs to their property. Interested homeowners simply submit photos of their property and identifying information, and Redfin will provide an offer within a few days.
What Is Zillow?
Zillow is the most popular online real estate marketplace among real estate aggregators. In 2022, the site received more than 60 million monthly visitors, according to Statista.
Along with searching for homes, you can find real estate agents, home inspectors and other real estate professionals. Zillow also offers resources to help you find a mortgage broker and compare mortage rates.
Where Does Zillow Find Listings?
Zillow allows real estate agents and owners to list their available properties on the website. While the site complies with MLS listing rules, it does not have granted access to MLS databases because it is not a brokerage — it does not automatically source listings from MLS as Redfin does. Zillow also includes foreclosures and properties not included within the MLS database.
Instead, Zillow has agreements with real estate companies that provide listing information. Since agents or homeowners must actively list their available properties on Zillow, there may be some delay — up to a week — between the actual listing date and its appearance on the Zillow website.
Is Zillow Pricing Accurate?
Zillow provides pricing through its Zestimate tool. For accuracy, this resource uses a proprietary formula and measures the value of a property based on private and public data.
Zestimate isn't quite as accurate as the Redfin Estimate. On average, the median error rate for on-market homes is 3.2%, while off-market homes have an average error rate of 7.52%.
Searching Properties on Zillow
Like Redfin, Zillow offers several filters to search by, including:
Location — city, neighborhood, ZIP code or address
Square footage
Price range
Number of bedrooms and bathrooms
Home type
HOA fees
Features like air conditioning, view, pool and parking
Setting Up a Tour Through Zillow
You can request a tour on Zillow and select up to three days and times that work for you, and an agent will contact you at the phone number or email address that you provide to set up the tour.
Selling on Zillow
Like Redfin, Zillow provides all-cash offers to homebuyers who want to avoid the traditional home-selling process. Zillow partners with Opendoor to expedite the all-cash offer sales process and avoid showings and agents.
Which Is Better: Zillow or Redfin?
Redfin might be able to offer more accuracy when it comes to price estimates, based on the tools it uses to gather pricing information. Redfin can get you lower prices, since it's a discount brokerage with experience negotiating rebates and lower commissions. It's also possible to save on your mortgage interest rate using Redfin's mortgage company, Bay Equity.
However, to start the homebuying process on Redfin, you must work with one of its agents or an agent partner. It's not possible to contact sellers directly or work with an agent who isn't supported by Redfin.
Homebuyers who prefer to work directly with sellers or traditional agents may benefit from Zillow. You may also find more unique listings through Zillow than those that are available on Redfin, depending on your search area.
Ultimately, Zillow and Redfin are both trustworthy companies providing excellent solutions to buyers and sellers alike. As for the best choice, it all depends on your particular needs.
Final Take
Online real estate platforms like Zillow and Redfin are a growing trend. These companies continuously improve their technology so that you can find what you're looking for more efficiently. The main differences lie in their listing sources and whether you must work with specific agents — in the case of Redfin — or have more flexibility in which agent, if any, you work with — in the case of Zillow.
There's no undisputed champion in this competition. Both Redfin and Zillow have unique features that can help with your home-buying endeavors. Make sure to visit both sites and explore their options before you choose one over the other.
Zillow vs. Redfine FAQ
Here are the answers to some of the most frequently asked questions about Zillow and Redfin.
Is Redfin better than Zillow?

It all depends on what you need. Redfin offers more accuracy when it comes to estimates, while Zillow provides more flexibility when choosing agents. To start the buying process on Redfin, you must work directly with a Redfin agent or partner. That isn't the case with Zillow.

What is the main difference between Redfin and Zillow?

Redfin is a discount brokerage, while Zillow is a marketplace. Buyers interested in purchasing a home through Redfin must work directly with a Redfin agent or partner, while individuals using Zillow are free to work with their own agent or the home seller.
Redfin also sources its listings directly from the MLS database, which means listings appear on the site almost immediately.

Why do Zillow and Redfin have different listings?

As a brokerage, Redfin has access to the MLS databases and is updated frequently. Zillow, being a marketplace rather than a brokerage, does not have the same MLS access and relies largely on real estate agents and owners to list their properties.

How reliable is a real estate website estimate?

While they are typically very accurate, estimates from both Redfin and Zillow can vary dramatically, depending on the property's condition and other similar factors.
The Redfin Estimate has a reputation for being one of the most accurate in the online market. It uses information from MLS databases to get as close to the property's actual value as possible. Zillow has a lower accuracy rate due to the nature of the site.

Is Zillow more popular than Redfin?

Yes – according to Statista, Zillow is America's most popular real estate website, averaging over 60 million views monthly.
In contrast, Redfin averages 10.19 million monthly views. Both Realtor.com and Trulia also exceed Redfin's monthly online traffic.

Is Zillow more accurate than Redfin?

Of the two, Redfin Estimate has a higher accuracy rate, with an average error rate of 2.12% for on-market houses. Zillow's popular home estimation tool, Zestimate, has a median error rate of 3.2% for homes currently on the market.
Daniela Rivera-Herrera and Amber Barkley contributed to the reporting for this article.
Information is accurate as of May 19, 2023.
Editorial Note: This content is not provided by any entity covered in this article. Any opinions, analyses, reviews, ratings or recommendations expressed in this article are those of the author alone and have not been reviewed, approved or otherwise endorsed by any entity named in this article.
Our in-house research team and on-site financial experts work together to create content that's accurate, impartial, and up to date. We fact-check every single statistic, quote and fact using trusted primary resources to make sure the information we provide is correct. You can learn more about GOBankingRates' processes and standards in our editorial policy.