What the Housing Market Will Look Like by the End of Summer, According To Experts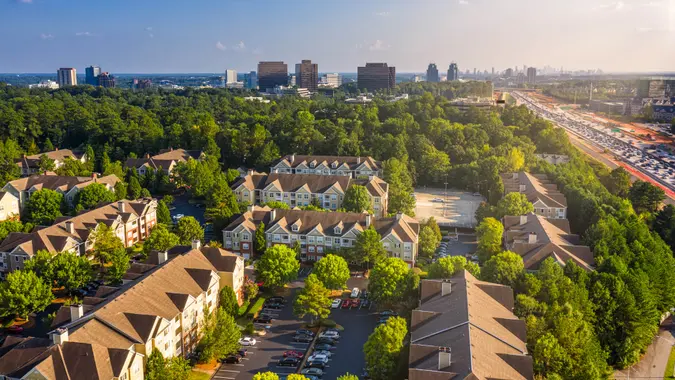 rodclementphotography / Getty Images/iStockphoto
Traditionally, spring is real estate season; but after a particularly volatile time in real estate, some buyers are waiting for summer to finally see a return to normal inventory levels, normal competition and most importantly, normal prices.
But is the housing market actually returning back to normal? The experts in the trenches are seeing clear indicators that relief might be on the way. Here's what they told GOBankingRates.
Higher Interest Rates Could Lower Home Prices
Though the days of historically low interest rates are behind us, there is some good news. Ivan Lobo, real estate consultant at Made in CA, reminds buyers that higher interest rates can signal a lowering of home prices. 
"Interest rates have (risen) but are still historically low. However, a continued increase in rates could slow home sales and potentially even cause a slight dip in home prices," Lobo says.
Returning To (Somewhat) Normal
Rising interest rates aside, Lobo says that if home prices go up, it won't be at the rate we're used to. "Based on current trends and projections, housing prices are expected to continue to increase at a slightly slower pace." 
Rena Kliot, broker and founder of Pulse International Realty, agrees, saying we're not in for the same volatility we saw during the pandemic. "Bidding wars have faded, buyers have negotiating power again and even though mortgage rates skyrocketed, they seem to be returning to a familiar, more palatable place."
Expect More Homes on the Market
Summer is typically a prime time to sell, so the market becomes flooded with houses. However, there could be even more this summer. The hike in interest rates may lead to more homeowners looking to sell.
"More inventory will become available as a result of the increased rates for anyone who stretched themselves thin without a fixed rate in place," Kliot says.
Anything Goes in Hot Markets
If you're looking to buy in a real estate market that many others are looking to buy in, some of these trends the experts are referring to won't necessarily apply. Lobo says some of the hottest markets in the United States include Austin, Nashville and Denver.
"Since these markets can be very competitive they usually come with a higher price tag compared to other cities on average," Lobo says. So, waiting until summer in these markets might just mean you're paying more than you would now.
Go In Prepared
Given this information, if you're looking to buy this summer, or anytime, the best thing you can do is go in with the most information possible. "I would suggest doing extensive research and getting preapproved for a mortgage (loan)," Lobo says.
As for your real estate agent, get someone you really feel like you can be honest with and that you trust. "My advice for someone who is looking to buy a house this year is to work with a real estate professional that will negotiate on your behalf and has in-depth market knowledge," Kliot says. 
More From GOBankingRates
Andrew Lisa contributed to the reporting for this article.