Housing Market 2023: All the Impacts of a Potential Crash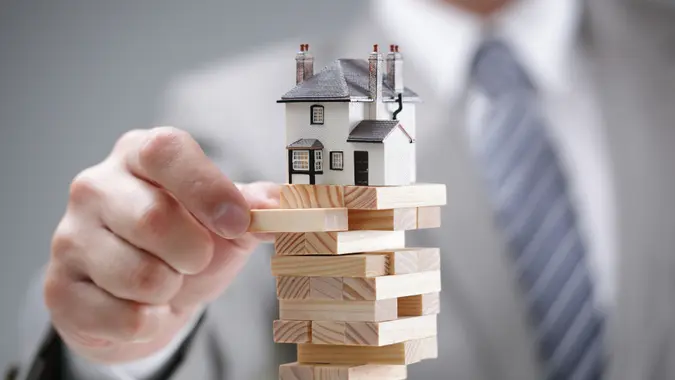 BrianAJackson / Getty Images/iStockphoto
The past few years have been a wild ride for real estate. This has caused many to wonder if the market will come to a screeching halt in 2023.
After a few years of rock bottom interest rates, the national average 30-year fixed rate mortgage was 6.5%, as of Feb. 23, 2023. In January 2023, the number of homes sold year-over-year was down 33.9%, while the median sale price was up 1.5% year-over-year, according to Redfin.
Important: 8 Places in California Where Home Prices Have Plummeted
See: 3 Things You Must Do When Your Savings Reach $50,000
While many buyers and sellers are anxiously waiting to see what happens next, Ruth Shin, founder and CEO of PropertyNest, based in Brooklyn, New York, said a complete housing market crash this year is unlikely.
"It is not currently a great market for sellers and is turning more and more into a buyers' market, with the peak yet to come," she said. "Mortgage rates and interest rates are still high, as are the prices."
While sales prices have slightly declined and properties are staying on the market longer, she said there has not been a sharp price drop.
"On the contrary, in certain real estate markets in places like New York City, Los Angeles and Miami, prices are high and will remain so in the highest-demand areas, even when interest rates peak," she said. "Although the Fed will probably raise rates again not too far from now, we will see a lag with serious home price slashing."
More significant price drops might happen, but she said that probably won't happen until mid-to-late summer.
"The conditions, while at times extreme in the past few years, are nothing like they were leading up to the housing crash in 2008," she said. "There is a bubble to burst but not at the same dramatic level."
Only time will tell if a crash will occur at any level. If it does, here's a look at six potential impacts.
Families Won't Be Able To Upgrade Homes
Many families currently living in starter homes are eager to get more space, but Lazer Sternhell, CEO of Cignature Realty based in New York City, said this might not be an option.
"With interest rates continuing to be high many families no longer qualify for mortgages big enough to finance the home they covet," he said. "This will prevent them from upgrading their housing situation and staying put in their current home."
Additionally, he said they might not be able to put as much money aside as they'd like, due to high inflation rates.
Take Our Poll: Are You Planning To Buy or Sell a House This Year?
Young People May Be Forced To Live With Their Parents Longer
Not only could a housing market crash prevent young people from purchasing their first home, but Sternhell also said it could keep them from being able to afford an apartment. He said high levels of inflation affect younger people the most because it limits their saving power.
"High inflation has also caused a decline in real wages, in addition to the decline brought about by the Great Resignation and the rise in the digital nomad lifestyle," he said. "The knock-on effect of this is that buying property is a less realistic option for many Americans, including the millennial generation."
Consequently, he said a housing market crash might impact younger people the most, as it could severely limit their ability to live somewhere outside their parents' homes.
Home Prices May Fall
Great for buyers, but not so much for sellers, Sternhell said a potential crash could impact the asking prices on homes for sale.
"With higher interest rates and prices increasing, potential home buyers will be put on the sidelines, which means fewer properties will sell," he said. "And [if] that's the case, sellers may have to reduce their asking price and get less than expected."
Buyers With More Cash Will Face Less Competition
Rising interest rates might have taken some buyers out of the market, but Nicole Beauchamp, NYRS, senior global real estate advisor and licensed associate real estate broker at Engel & Völkers, said some may benefit from this.
"This is an opportunity for the purchaser who can execute or put down a larger down payment to compete in a less competitive environment," she said. "Market dynamics can vary wildly by markets, but broadly speaking, despite the continued inventory crisis the competition is lessened."
Pandemic-Era Demand Could Return
Music to buyers' ears, but a nightmare for sellers, Rick Arvielo, co-CEO of New American Funding, said a return to lower interest rates could incite another pandemic-style real estate frenzy.
"When interest rates begin to reach the fours, that demand is going to come roaring back," he said. "The reality is that once interest rates begin to drop, you could see an immediate return of what was experienced during the pandemic."
He said the current lack of supply has created a pent-up demand among buyers.
"As soon as interest rates begin to drop, supply and demand will increase," he said. "This shift will create the flurry of multiple offers and a spike in home pricing again."
He said this will have an adverse effect on financed borrowers.
New Construction Will See Highest Price Drops
Eric Maribojoc, executive director of the Center for Real Estate Entrepreneurship at George Mason University School of Business, said he doesn't think there will be a nationwide housing crisis. However, he does predict more expensive, newly-built homes will have greater price drops than existing homes for sale. He believes this for several reasons.
"Because of the large price increases over the last two years, homeowners have more equity in their houses compared to the amount of their mortgages," he said. "Due to low interest rates in 2020 and 2021, many borrowers have refinanced to low fixed-rate mortgages and not floating-rate mortgages."
He said the number of existing homes on the market is still low relative to demand at a three-month-supply, compared with the five-to-six month supply of a balanced market.
"The segment of the market which is oversupplied is newly-built houses, which will see concessions and price declines in 2023," he said.
He noted that a lot of new construction that began in 2022 will be delivered this year.
More From GOBankingRates