Will Home Prices Ever Drop to 'Normal' Again? Don't Hold Your Breath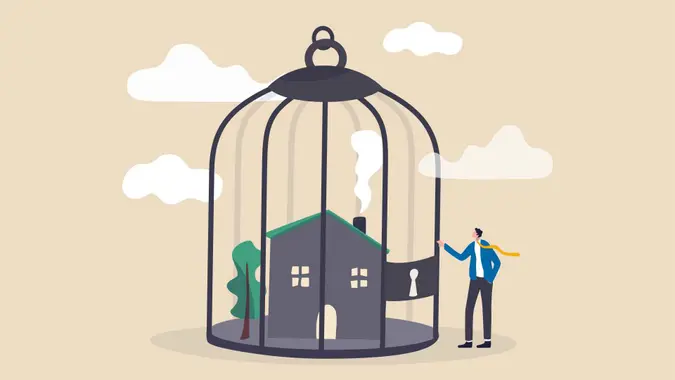 Nuthawut Somsuk / Getty Images/iStockphoto
Home buyers in the U.S. have been getting a string of good news/bad news messages of late — but it's mostly bad news if you expect to see home prices drop significantly from the record highs they set over the past couple of years.
On the good news front: The median existing-home sales price in April 2023 fell 1.7% from the prior year to $388,800, according to National Association of Realtors (NAR) data released last week. The inventory of existing homes at the end of April rose 7.2% from the previous month to 1.04 million units.
Now for the bad news: Buyers in many sections of the United States are still paying top dollar.
"Roughly half of the country is experiencing price gains," NAR chief economist Lawrence Yun said in a press release. "Even in markets with lower prices, primarily the expensive West region, multiple-offer situations have returned in the spring buying season following the calmer winter market. Distressed and forced property sales are virtually nonexistent."
The median price of all homes for sale in April (including new homes) increased by 2.5% year-over-year, according to Realtor.com's April 2023 monthly housing market trends report. Homes spent an average of 49 days on the market, which is 17 days longer than last year but still shorter than before the pandemic.
Sales of newly built single-family homes in March rose 9.6% to a 683,000 seasonally adjusted annual rate, according to the National Association of Home Builders. It cited data from the U.S. Department of Housing and Urban Development and the U.S. Census Bureau.
Take Our Poll: Are You Planning To Buy or Sell a House This Year?
Meanwhile, Redfin recently estimated that the number of homes for sale in April stood at about 1.4 million, down 4.1% from a year earlier. And therein lies a big problem for home buyers — limited inventory. As long as there aren't enough homes for sale in large portions of the country, prices will remain on the high side.
Low Housing Inventory Remains a Sticking Point
As Forbes noted, low housing inventory has been a challenge since the 2008 housing crash and still hasn't fully recovered. It isn't expected to recover in 2023, either.
"Inventory is approximately 46% below the historical average dating back to 1999," Jack Macdowell, chief investment officer and co-founder at Palisades Group, told Forbes. "We think that it is highly unlikely that the inventory problem will be resolved in 2023."
That's partly because homeowners who locked in low interest rates a few years ago are wary of selling in the current market, with rates above 6%. About 85% of current homeowners are sitting on mortgage rates below 6%, Forbes reported.
"Buyers sitting on the sidelines today in anticipation of lower prices tomorrow may end up disappointed," Neda Navab, president of the U.S. region at Compass, told Forbes.
Home prices in some of the nation's hotter markets could see a decline from their all-time highs, Navab said. But she doesn't expect the kind of nationwide price decline that buyers enjoyed following the 2008 financial crisis.
Looking ahead, the NAR expects home prices to increase by 1.2% in 2023, according to a blog on the Norada Real Estate Investments site.
Fannie Mae expects home prices to decline in 2023 and 2024. However, this correction is "considered mild" because national home prices are still projected to be up 29% by the end of 2024 compared to March 2020 levels, Norada noted.
More From GOBankingRates