Are Mortgage Interest Rates Expected To Fall Through 2023 Despite Recent Increase?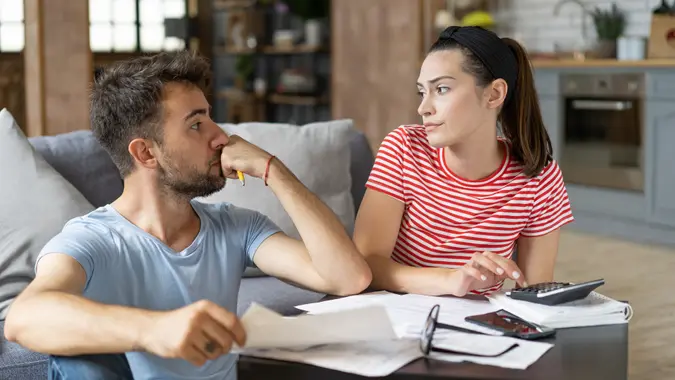 valentinrussanov / Getty Images
House hunters in the United States saw signs of hope earlier this year when average mortgage rates dipped more than three-quarters of a point from their 2022 peak of 7.08%. But those hopes have dimmed lately as rates have moved higher again, leading some to wonder if rates at the end of 2023 will be lower than they were at the start of the year.
The average 30-year fixed-rate mortgage in the U.S. stood at 6.90% as of Aug. 3, according to the St. Louis Fed. That was down from 6.96% on July 13 but up from 6.27% back in mid-April.
There seems to be a general consensus that mortgage rates will fall — eventually. But it might be next year before you see much of a decline.
In its July 2023 Housing Forecast, Fannie Mae predicted that the average rate on a 30-year fixed mortgage will be 6.8% in the 2023 third quarter — up from 6.5% during the second quarter and 6.4% during Q1. Fannie Mae expects the average rate to settle slightly to 6.6% during the fourth quarter.
Those estimates have gone higher in recent months. In its April forecast, Fannie Mae predicted the average rate on a 30-year fixed mortgage would end 2023 at 5.7%, but that seems long ago now, with rates touching up against 7%.
Next year holds much more promise. Fannie Mae projects that average mortgage rates will see a steady decline in 2024 — from 6.4% in the first quarter to 5.9% in the fourth quarter.
One reason mortgage rates remain stubbornly high is that the Federal Reserve is still approving interest-rate hikes to battle inflation. During its July meeting, the central bank raised its funds rate by a quarter percentage point to a target range of 5.25% to 5.5%, CNBC reported. The midpoint of that target range would be the highest level for the benchmark rate in more than 22 years.
The Fed's actions in coming months will have a lot to say about where mortgage rates go, experts say.
"If the Fed stops raising [interest rates] because the data shows the economy weakening and inflation coming down further, then I would expect mortgage rates to decrease during the second half of 2023," Peter Idziak, senior associate at Polunsky Beitel Green, told CBS News.
But for now, the more likely scenario is that rates won't go down and stay down until next year. Just don't expect them to dip to the sub-3% levels they hit a couple of years ago.
"If rates go down, it will be next year and not by much," Adam Sharif, founder and chief strategist of nxtCRE, told CBS News. "Today's interest rates are considered normal by historical measures."
More From GOBankingRates