What Is a Good Mortgage Rate? (And How To Get It)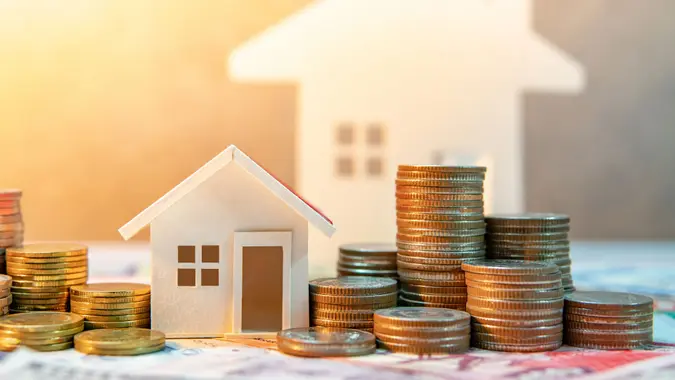 Zephyr18 / Getty Images/iStockphoto
Buying a home is likely one of the largest purchases you will make during your lifetime. And it's a purchase you'll be paying for long after you close the deal.
If you plan on buying a house, save yourself a lot of money by securing the best mortgage rate possible. Follow these tips to get a low rate on your mortgage and find the best mortgage lender.
What Is a Good Mortgage Rate?
What constitutes a "good" mortgage rate literally changes by the day because rates are in constant flux. For example, between Feb. 9 and April 6, the weekly average rate for a 30-year fixed-rate loan ranged 6.12% to 6.73%, according to Freddie Mac. Because the fluctuations happen so frequently, weekly averages are more useful as a general guide than as a target rate for the loan you ultimately accept. 
Lenders' posted rates are based on market conditions and assumptions about borrowers' creditworthiness and advance interest payments, called points. Those posted rates might not apply to you, but they do provide a good sense of the lowest rates available at any given time. 
How Much Do Rates Matter?
Mortgage loans have large principals and long loan terms, so even a small variation between one rate and another can have a significant impact on the cost of your loan. Take the Freddie Mac rates quoted earlier as an example. A 0.61% difference doesn't seem like much, but your monthly payments would be about $100 more with the higher rate, and you'd pay over $40,000 more in interest over the life of the loan.
Consider Different Loan Options
Banks offer different types of mortgages, so make sure you research them all. Check out your options for fixed-rate mortgages of varying terms. As of April 6, for example, the average rate for a 30-year fixed-rate loan is 6.28%. The average drops to 5.64% for a 15-year loan.
If you're not sure you're moving into your "forever" home, consider an adjustable-rate mortgage that doesn't start adjusting its rate for several years. For example, if you use a 7/1 ARM, the interest rate won't change for the first seven years, so if you move or refinance in year six, you'll never see that rate change. In the meantime, you could pay a lower rate than you'd pay with a 30-year fixed-rate loan.
Shop Around for a Lender
Even if you have existing accounts at a particular bank, don't just apply at that bank. Instead, research options from multiple mortgage lenders so that you can do a mortgage rate comparison and find the best lender for you.
The best way to get accurate quotes based on your qualifications is to apply for preapprovals from a few lenders with competitive posted rates. The preapprovals will take into consideration personal factors like your credit history, the home's sale price and how large a down payment you'll make and provide an apples-to-apples rate comparison to guide your decision.
When you're looking at different mortgage options, also consider your closing costs and other fees. Even if you prefer using a brick-and-mortar bank, you could use some online mortgage quotes as leverage with another lender.
If you're worried about affecting your credit score with a bunch of mortgage applications, don't. Scoring models typically allow 45 "shopping days" for multiple applications. Your credit report will only reflect the first hard inquiry during this time.
Save for a Larger Down Payment
Try put down at least 20% on your home. Banks reward larger down payments with lower interest rates because if you default on the loan, the bank is better protected against a decline in the home's value. In addition, a 20% down payment enables you to avoid paying for private mortgage insurance, lowering your costs even more.
How To Get the Best Rate
You can't control the market conditions that impact rates, but you can control the personal factors lenders use to calculate your loan offer. 
Clean Up Your Credit Report
The best mortgage rates are reserved for borrowers with credit scores of at least 760, according to BuySide from the Wall Street Journal. And even at that level, higher is better. "A 780 may qualify you for a slightly lower rate — though it depends on your down payment amount," the WSJ noted.
Before you apply for a mortgage, pull your credit report so you can make sure all the information on it is accurate — otherwise, you could be allowing an error from a credit bureau to cost you more in interest.
Avoid applying for new credit for at least a year prior to applying for your mortgage. Each time you apply for new credit, the inquiry is added to your credit report and can affect your credit score for one year, according to Experian.
Pay Down Your Debt
In general, lenders want your mortgage payment — including principal, interest, taxes and insurance to be no more than 28 percent of your monthly gross income. Your total debt-to-income ratio, including house payment and all other household debt, should be no more than 36% of your gross monthly income.
Paying down or paying off car loans, personal loans and credit cards to keep your DTI below 35% could make you an even more desirable borrower, according to Wells Fargo.
More From GOBankingRates
Michael Keenan contributed to the reporting for this article.