10 Best Reverse Mortgage Lenders for Seniors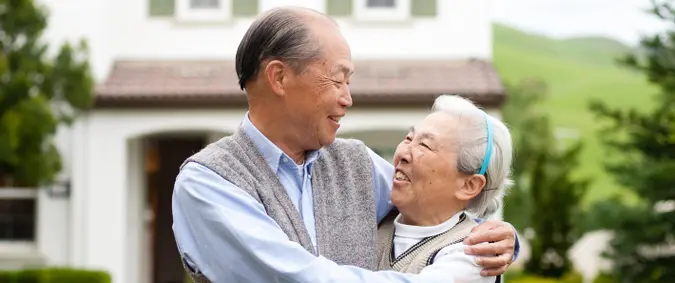 Flashon Studio / Shutterstock.com
Watch any of the senior-targeted networks and you can't miss the pitches for reverse mortgages. With well-known, older television celebrities hard selling the reverse mortgage, there's an abundance of hype for the reverse mortgage loan.
Before you decide to get a loan like this, however, do your homework. Research reverse mortgage lenders and check out interest rates, fees and types of loans. Whatever kind of mortgage you get, make sure you choose a reputable lender. If you decide on a reverse mortgage, check out the top lenders for this kind of loan.
Here are the 10 best reverse mortgage lenders for seniors:
10 Best Reverse Mortgage Lenders for Seniors
Lender
How Much Can You Borrow
Where Available
Lending Products
 
Liberty Home Equity Solutions
Based on age, current interest rates, appraised value of home, sale price or FHA max lending limit
All states except Utah
HECM
 
HomeBridge Financial Services
Up to $625,500
250 retail branches in 35 states
HECM
 
Reverse Mortgage Funding
Depends on age, type of reverse mortgage, current interest rates.
All states except Hawaii and N.Y.
HECM annual adjustable rate
HECM monthly adjustable rate
HECM fixed rate
HECM for purchase
 
Longbridge Financial
Depends on value of home and your age
All states except Hawaii, Nev., N.Y., Utah
HECM reverse mortgage with fixed or variable interest rates
HECM for purchase
One Reverse Mortgage
Varies; Information available from loan consultant
All states except R.I., W. Va. and Vt.
Adjustable-rate HECM
Fixed-rate HECM
HECM for purchase
Nationwide Equities
Varies; Information available from loan consultant
All states except Alaska, Hawaii, Idaho, Ky., Mass., Minn., Miss., N.D., S.D., Utah, Wis. and Wyo.
HECM reverse mortgage for existing home or new home purchase
Home Equity Conversion Mortgage (HECM)
FBC Mortgage
Varies; Information available from loan consultant
Fla., Ala., Ariz., Ga., Ky., Mass., N.C. and Pa.
Branch access is a plus, if borrower lives close by. Reverse mortgage is one of many lending products.
Open Mortgage
Varies; Information available from loan consultant
All states except Alaska, Maine, Mass., Miss. and N.Y.
Call lender for further information
American Advisors Group
Cannot exceed value of home
All states
Based on age of the borrower, the property value and program option
Finance of America Reverse
Depends on age, home value, amount of equity
All states except Alaska, Del., Ga., Iowa, Minn., Mont., N.D., S.D. and Wash.,
Various lending products. Reverse mortgage funds can be a lump sum, line of credit, monthly payments or a combination of options.
Is a Reverse Mortgage Your Ticket to Financial Freedom?
The FHA requires you are at least 62 years old, own your home outright or have a low balance you can pay off at closing with proceeds from the reverse loan and have the financial resources to pay ongoing homeownership costs like taxes and insurance. If you're a senior citizen and want money to pay expenses — from your mortgage to healthcare to daily living costs — a reverse mortgage might be a way to supplement your fixed income. A reverse mortgage uses the equity in your home as collateral.
Taking out a reverse mortgage enables you to convert part of your home equity into cash without having to sell your home. You don't pay a reverse mortgage back — instead, you live in the home for as long as you want and, in most cases, don't pay taxes on your reverse mortgage income. Interest rates and loan amounts vary by lender and are based on age of the borrower, the property value and program options.
Although you aren't required to pay off the loan, after you die, move out or sell the home your heirs must repay it. Here are 10 solid reverse mortgage lenders:
Learn: How Does a Reverse Mortgage Work?
Liberty Home Equity Solutions
Liberty Mortgage has an A+ Better Business Bureau rating and belongs to the National Reverse Mortgage Lenders Association. Liberty employs licensed loan professionals and offers competitive pricing and flexible terms on reverse mortgages. It also conducts its underwriting and loan processing in-house, which can streamline the borrowing experience.
The Liberty Iron Clad Guarantee might help you decide to go for this type of mortgage — it promises you'll receive fair and competitive pricing, and if Liberty can't match or beat a competitor's pricing for a comparable product, you'll receive a $100 Visa gift card. Additionally, if Liberty can't close your loan within 60 days, you'll receive a $500 credit toward closing costs.
HomeBridge Financial Services
Based in New Jersey, HomeBridge Financial is one of the country's largest privately held, full-service lenders. It's 25 years old and employs nearly 3,000 associates in its 250 retail branches. HomeBridge also instituted a Net Promoter Score — an index that measures customers' willingness to recommend a company's products or services to others — to remain transparent to potential borrowers.
HomeBridge offers the traditional Home Equity Conversion Mortgage, which is the oldest and most popular reverse mortgage product. Depending on your circumstances — including your existing mortgage amount and home value — you can get up to $625,500 in reverse mortgage funds.
Related: Apply for a Mortgage Loan Today
Reverse Mortgage Funding
Reverse Mortgage Funding strives to differentiate itself by offering an array of products that gives borrowers more flexibility. The RMF management team includes industry leaders with an average of 15 years' experience in the field. RMF offers four HECM products:
HECM annual adjustable rate
HECM monthly adjustable rate
HECM fixed rate
HECM for purchase
Additionally, the company offers several programs with lower closing costs. Its lower-cost HECM works like a traditional reverse mortgage but has lower closing costs.
Longbridge Financial
Longbridge CEO Christopher Mayer, Ph.D., spent more than 20 years studying housing and mortgages as a professor at Columbia University and the Wharton School of the University of Pennsylvania. Longbridge Financial offers reverse mortgage loans that set it apart from other lenders, according to its website.
Longbridge is an FHA-approved lender and HUD insures its loan program. The firm maintains an A+ rating with the Better Business Bureau and belongs to the NRMLA. It offers a unique payout option of both a lump sum and a line of credit.
Check Out: 12 Best Personal Lines of Credit
One Reverse Mortgage
A Quicken Loans company, One Reverse Mortgage was founded in 2001 and has grown into the largest retail reverse mortgage lender in America, according to the website. It's an FHA-approved lender and insured by HUD. In addition, it maintains an A+ rating with the Better Business Bureau and belongs to the NRMLA.
One Reverse Mortgage offers adjustable- and fixed-rate reverse mortgage loans as well as an HECM for purchase. An HECM for purchase enables you to buy a new home with no required monthly mortgage payment. You don't need to repay the loan until it is due, which depends on your contract.
Nationwide Equities
New Jersey-based Nationwide is an 18-year-old firm that offers mortgages in 38 states. The company serves as a broker and direct lender and offers a wide range of mortgage-lending products.
As one of the best reverse mortgage companies, Nationwide offers a calculator on its website you can use to estimate your potential loan amount after you input your age and amount of home equity you have.
FBC Mortgage
FBC Mortgage LLC is based in Florida and provides its customers and business partners with a competitive range of mortgage products, including the reverse mortgage. FBC has branch locations throughout Florida, along the East Coast and in southwestern states. Its website clearly outlines its reverse mortgage product, loan qualifications and contact information for lending specialists.
Find Out: What to Do If You're Denied Mortgage Refinancing — and What It Will Cost You
Open Mortgage
Open Mortgage is another lender that offers a variety of mortgage solutions. It differs from other companies in its personal touch, quality and support, according to the website. Open Mortgage has several branches nationwide you can find by using the website's location search function.
In addition, the company provides access to a free e-book entitled, "The New Reverse Mortgage," which contains most current information on its reverse mortgage and homeownership, as well a free reverse mortgage guide.
Check Out: Retirement Cost-of-Living Comparison — Renting vs. Buying a Home in Retirement
American Advisors Group
The American Advisors Group customers are 96 percent satisfied with their loans, according to the website. The company has been in business for 10 years and fully accredited since 2005.
To receive a reverse mortgage kit, you fill out a quick questionnaire regarding your age, property, and mortgage amount and value. Next, an agent calls you to answer any questions you might have.
Finance of America Reverse
Finance of America Reverse LLC specializes in reverse mortgages. Founded in 2003 as Urban Financial Group, it ranks among the top reverse mortgage lenders today, according to the website.
Finance of America Reverse belongs to the NRMLA and works on behalf of the industry to strengthen and safeguard reverse mortgages. Its website offers educational resources you can use to optimize your retirement and diversify your investments.
Methodology: GOBankingRates.com identified the best reverse mortgages for seniors by analyzing borrowing amounts and availability. All fees and rates are subject to change at the lenders' discretion. And, some bonus offers may or may no longer be available on the lenders' websites, depending on how you access the web page.
GOBankingRates is a personal finance and consumer interest rate website owned by ConsumerTrack, Inc., an online marketing company serving top-tier banks, credit unions, and other financial services organizations. Some companies mentioned in this article might be clients of ConsumerTrack, Inc., which serves more than 100 national, local and online financial institutions. Rankings and roundups are completely objective, and no institution, client or otherwise, paid for inclusion or specific placement. Any opinions, analyses, reviews or recommendations expressed in this article are those of the author's alone and have not been reviewed, approved, or otherwise endorsed by the companies included in the article.