Buying a Home as a Couple? Here's Why You Might Want To Put Only One Name on the Mortgage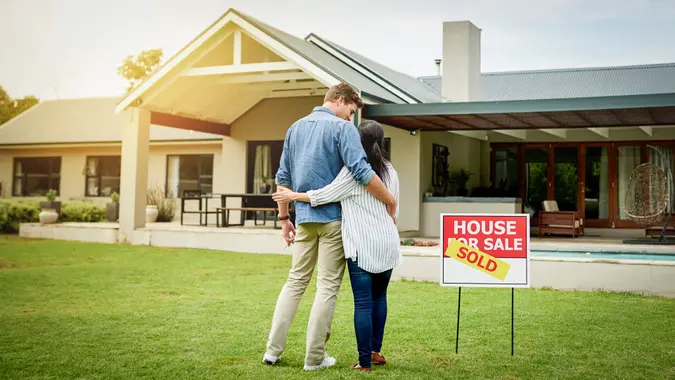 Mikolette / Getty Images/iStockphoto
If you're buying a home with your partner or spouse, your natural inclination might be to include both names on the mortgage loan application. But is this always the best idea? Are there some circumstances where it's best to just use one person's name?
GOBankingRates spoke with experts to get their advice on this tricky topic.
When It Might Be Better To Include One Partner's Name on the Mortgage
"There are a number of times when it makes sense for a loan applicant to exclude their partner from the application," said Matthew Locke, national mortgage sales manager at UMB Bank. "These could include if they have a significantly lower credit score, if they have a large amount of debt in their name or have had bad credit history in the past."
Including the partner with a low credit score or a lot of debt can end up costing the couple big time.
"A couple might have to pay a much higher interest rate if one of the applicants has a lower credit score, significant debts or previously derogatory credit," Locke said. "The interest rate mortgage applicants qualify for is based upon their credit score and previous credit history, but typically defaults to the lowest score. For instance, if one partner has a 760 FICO Score and the other a 650 FICO, the interest rate they will pay would be based upon the lower 650 FICO, which could cost the client a lot of money over the life of the loan."
In addition to securing a lower rate by excluding the partner with the lower credit score, sometimes including only one person's salary can be advantageous.
"[The] applicant could qualify for [a] down payment assistance program easier with only one income versus two," Locke said.
You might also want to exclude a partner who has variable income.
"If someone's income situation is a bit more complicated, like being self-employed, then additional documentation will be required," said Austin Horton, director of business operations at Homie Loans.
When It Might Be Better To Include Both Partners' Names
It's important to weigh the pros and cons before deciding to leave someone's name off a mortgage loan, as there are some disadvantages to applying as just one person.
"[The] applicant may not qualify for the loan or only qualify for a smaller loan with one income being used versus two," Locke said.
If you need a larger mortgage, it's likely you will need two incomes to qualify.
"Generally, applying as a couple allows for partners to qualify for a higher mortgage amount since the income and assets of both parties are considered," said Rashalon Hayes, assistant vice president of field mortgage originations at Navy Federal Credit Union. "By applying for a joint mortgage, a couple may be able to qualify for a larger loan."
Putting the loan in just one person's name can also put all of the financial pressure on that person to keep up with payments.
"[The] applicant excluded from the loan is not obligated to the note in the event of a default situation," Locke said.
It also can hurt the partner who is not on the loan.
"[The] applicant not on the loan may be excluded from the title vesting on the property," Locke said.
Depending on where you live, you may be able to get the best of both worlds by only using one partner's name on the mortgage loan, but including both names on the deed.
"You will need to verify your state rules and make sure the person being added will not cause potential lien issues, but this is a common thing to do," said D. Shane Whitteker, owner and chief broker at Principle Home Mortgage. "This other person will be able to own the home with you, but not actually be listed as a borrower on the mortgage."
Whitteker explained that in this scenario, both parties would sign the mortgage upon closing.
"The reason for this is that anyone on [the] title has to sign the mortgage so the bank can foreclose on the property if it is necessary," he said. "All title holders are required to acknowledge this reality."
More From GOBankingRates