Housing Market: Experts Say This Magic Number Is Key To Getting a Mortgage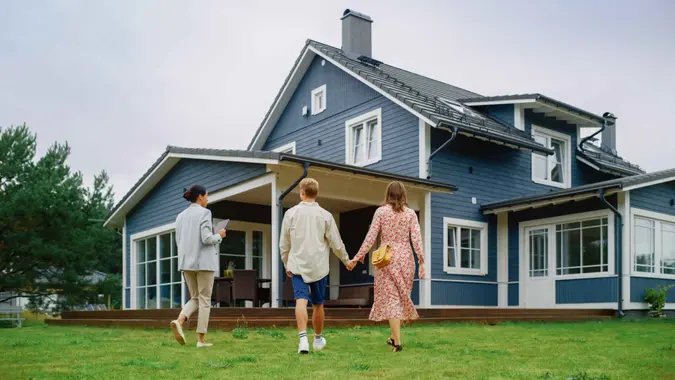 gorodenkoff / iStock.com
Like the cost of everything else these days, purchasing a home has risen to new heights. With extremely high mortgage rates, many have reconsidered selling the homes they've already purchased before rates shot up for concern of a new, higher mortgage payment elsewhere.
CNBC explained that at today's rates, most homeowners would need to finance a new home at a higher rate than the rate they currently hold, adding hundreds of dollars a month to their mortgage payment. This has created an incentive to stay where they are.
Meanwhile, many would-be buyers are choosing to rent instead of buy. But, there's a "magic number" when it comes to committing to a new mortgage. Here's what it is.
The Magic Mortgage Rate Number
In January 2021, mortgage rates bottomed out below 3% — a stark contrast with average fixed-rate mortgage rates now surging past 7%, the highest level in decades. Although, there seems to be a "magic number" when it comes to individuals deciding to apply for a new mortgage these days. That number is 5.5%.
John Burns Research and Consulting found that 71% of prospective homebuyers who plan to purchase their next home with a mortgage say they are not willing to accept a mortgage rate above 5.5%. Zillow reported that homeowners who report mortgage rates below 5% are nearly twice as likely to want to hang onto their current home. At the same time, mortgage holders who, as of June 2023, said they had rates higher than 5% are nearly twice as likely to have plans to sell their home in the next three years than those with lower rates.
This situation creates a lower supply of available homes on the market since those with lower rates are unwilling to sell their homes. At the same time, there's a decreased demand for new mortgages since rates are stubbornly high.
The 'Golden Handcuff' Effect
The current mortgage rates and housing market supply have created a "golden handcuff" effect. This means that those with lower mortgage rates feel bound by their homes and they are either financially unwilling or unable to sell.
It's the case that most homeowners today are sitting on mortgages with interest rates below 4% or even below 3% after many people moved or refinanced when rates hit record lows during the COVID-19 pandemic. For these individuals in particular, most aren't making any housing moves for the foreseeable future. To further this point, a Realtor.com survey explained that almost 82% of home shoppers said they felt "locked in" by their existing low-rate mortgage.
Will Mortgage Rates Drop Anytime Soon?
With the effective Federal funds rate currently sitting at a staggering 5.33% as of Oct. 20, it's both uncertain and unlikely that interest rates across the board will be dropping anytime soon.
Unfortunately, this spells trouble for those looking to finally buy their first home, seniors looking to downsize or even those trying to find a larger home as their family grows. It's also unlikely that this rate will fall as low as 3% again. Homebuyers' best bet may be coming up with a larger down payment to try to buy their way into a reasonable mortgage rate, or waiting it out to see if mortgage rates fall in the next few years.
More From GOBankingRates