How to Get a Mortgage for $1 Million or More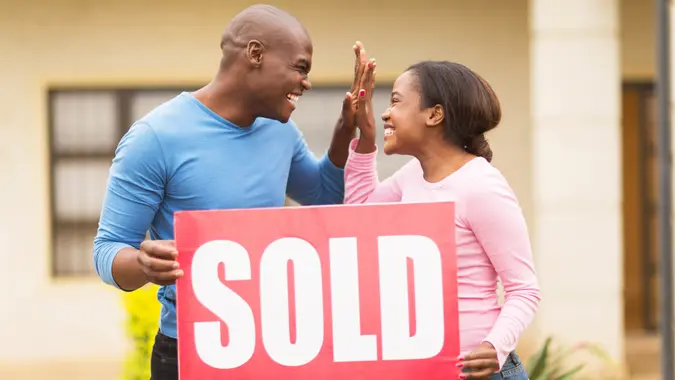 ©Shutterstock.com
When you're in the market for buying a $1 million home and looking into how to get a mortgage loan, you're in luck: Current mortgage rates on jumbo loans have reached historic lows. In fact, the U.S. Bank rate on a jumbo loan — classified as more than $424,100 for 2017 — was just 3.625 percent for a 15-year fixed mortgage and 4.125 percent for a 30-year fixed mortgage as of Dec. 7, 2017, for example. Jumbo home loans generally require putting up to 20 percent down on your purchase and making sure your monthly mortgage payment doesn't exceed 43 percent of your income before taxes.
Here's what you need to know about getting the mortgage loan you want:
What It Takes to Get a Million-Dollar Mortgage
Even if the mortgage rates today are favorable, you'll have to meet certain requirements set by jumbo loan lenders if you want to get a mortgage on a million-dollar home. Jumbo mortgage lenders have their own guidelines for lending, which can differ from guidelines for standard conforming loans. A conforming loan — a loan that meets guidelines set by Fannie Mae and Freddie Mac, which buy this kind of loan from financial institutions — is for a mortgage that's usually less than $424,100 but can go as high as $636,150 in certain high-priced markets. Those amounts will increase to $453,100 and $679,650 in 2018. Jumbo loans are loans that exceed the limits of what Fannie Mae and Freddie Mac are allowed by law to purchase.
Reviewing different lenders' specific requirements could help you find the best lender for your needs. Here are common criteria you'll need to fulfill in order to qualify for a jumbo loan.
Learn: How to Save for a House While Renting
A Big Down Payment
In a mortgage comparison, jumbo loans often require a bigger down payment than conventional loans because of the increased risk associated with them. Some lenders, however, allow smaller down payments on jumbo loans. In this competitive market, lenders competing for qualified buyers have loosened rules about the down payment requirement, and some even offer jumbo loan financing for as little as 10 percent down. And unlike conforming loans, putting down less than 20 percent on a jumbo loan doesn't necessarily mean you'll have to pay costly private mortgage insurance.
A High Income
You need to be a high earner to get — and make payments on — a mortgage on a $1 million house. Lenders want to be sure your debt-to-income ratio enables you to make your monthly mortgage payment and satisfy that indebtedness as well as pay your other debts. Many lenders require a debt-to-income ratio of 43 percent or less if you're putting down 20 percent or more.
When you apply for a jumbo loan, you'll need documents that outline proof of your annual income, liquid assets, nonliquid assets and any other loans that you might hold.
A High Credit Score
Due to the higher value of jumbo loans, you'll need a higher credit score to get such a loan. All lenders set their own credit score requirements, however, so make sure you check first and find out what your lender is looking for in a borrower.
A credit score of 700 and above will generally get you most available loan options, but those options will likely come with a higher rate than you'd get with a credit score of 740 or greater.
Find Out: Why You Need a 740 Credit Score for Your Mortgage Loan Application 
How to Get a Mortgage Over $1 Million
Large, national banks aren't the only financial institutions that offer jumbo loans for buying million-dollar homes. Small community banks, credit unions and national lenders such as Quicken Loans and Guaranteed Rate also offer loans for $1 million or more. You also can ask for recommendations from your real estate agent, who should know which lenders in your area will likely approve you for a jumbo mortgage.
Your mortgage amount might be lower than you expect on a jumbo loan, depending on your down payment and interest rate. To find out how much your monthly mortgage payment would be, use a mortgage estimator, such as one on your lender's website, to calculate your potential payment.
Your mortgage interest can really drive up your monthly payment, but mortgage rates on jumbo loans might also be better than you think, too. For instance, Bank of America offers a 3.875 percent interest rate on a fixed-rate, 30-year jumbo loan, and Wells Fargo and U.S. Bank offer a rate of 4.125 percent.
When taking out a mortgage for over $1 million, make sure you discuss all of the loan options available to you with potential lenders and weigh the benefits and risks of each. Estimate your mortgage payment before house hunting so that you end up with a mortgage rate you can love as much as the dream home you end up buying.                 
Up Next: How to Pay Off Your Mortgage Early
All rates are accurate as of Dec. 7, 2017.