I Paid Off My Mortgage With a Credit Card — Here's How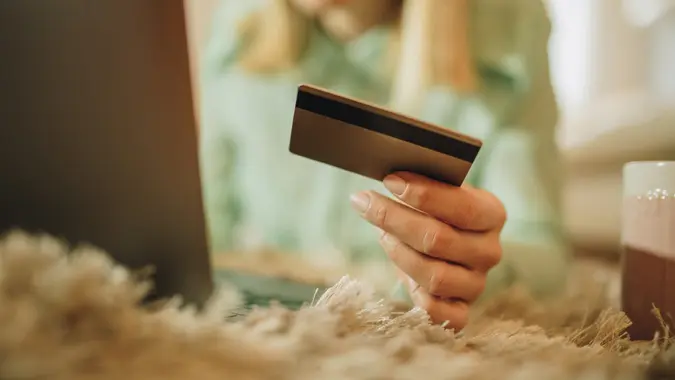 skynesher / Getty Images
Earlier this year, my husband and I dropped a major debt we had been carrying around for years — our home mortgage. We decided many years ago that we wanted to be entirely debt-free by the age of 40, and we made it with a few years to spare, as we're both 38 now.
But, we didn't pay off our mortgage the traditional way. Instead of funneling cash via paper checks or online banking, we charged our mortgage payments to a credit card to earn rewards along the way.
Read More: We Refinanced to a 15-Year Mortgage and Saved Big
In the end, we wound up with thousands of dollars in flexible travel credit, a paid-off mortgage on a home worth approximately $250,000 and zero debt to show for it. Although this strategy wouldn't work for everyone, we feel it was the right strategy for us.
How We Paid Off Our Mortgage With a Credit Card
A lot of people have asked us how we paid off our mortgage with credit, and this is a smart question, considering that, traditionally, mortgage companies and banks do not let you make mortgage payments with plastic.
In our case, we used a service called Plastiq to pay our mortgage off. This service offers a smart way to pay bills you can't normally pay with credit cards so you can earn rewards or score other credit card perks.
The major caveat with Plastiq is that, for most consumers, a fee of 2.5 percent is charged to every bill you pay. This adds $25 for every $1,000 in bills you funnel through the service.
Find Out: The One Credit Card Debt I Don't Pay in Full
Fortunately, Plastiq offers a workaround that can help you avoid this fee via their referral program. For every person you refer who makes a qualified payment through Plastiq, you earn $1,000 in fee-free dollars you can use for free payments.
Because we write about how to pay your mortgage with a credit card on our personal blog, we have been able to refer hundreds of people over the last few years. As a result, we were able to funnel approximately $100,000 in mortgage payments through Plastiq without any fees.
Check Out: 6 Surprising Pros and Cons of Carrying Mortgage Debt
Why This Strategy Made Sense
I would never suggest using Plastiq to pay off your mortgage if you had to pay the 2.5 percent fee. It wouldn't make sense unless the rewards you were earning were at a considerably higher rate.
But for us, doing it this way made sense. We used my Barclays Arrival Plus World Elite Mastercard to pay our mortgage off. This card offers two miles for every dollar you spend, so in the end, that left us with $2,000 in flexible travel credit we could use to pay for hotels, cruises, airfare and other travel expenses.
And, of course, we never carried a balance on our credit card. Instead, we paid off each charge right away to avoid dealing with debt or having to pay credit card interest.
Be Informed: I Use These 3 Fool-Proof Strategies to Avoid Credit Card Debt
Saying Goodbye to Debt
A lot of people have asked us why we would bother paying off a home mortgage with an interest rate of just 3.75 percent. The answer is simple: We think debt is a curse, and we couldn't wait to get it out of our lives.
We have been maxing out our retirement accounts for years, and we also invest in real estate, so the money we used to pay off our mortgage early was just "extra" money, anyway. In other words, paying off our mortgage early didn't hold us back from reaching other goals.
I love the feeling of being entirely debt-free — the feeling of knowing that, no matter what, we will never be beholden to a bank or lender again. Now that we're free from debt and mortgages forever, we'll keep saving for the future, retirement, our kids and other goals, like travel.
Paying off our mortgage was something we have wanted to achieve for years; earning rewards for free travel was just icing on the cake.
Read More: I Paid Off $30,000 in 10 Months — Here's What Worked for Me
More From Our Smart Money Squad