What Determines Your Eligibility for a Mortgage Loan?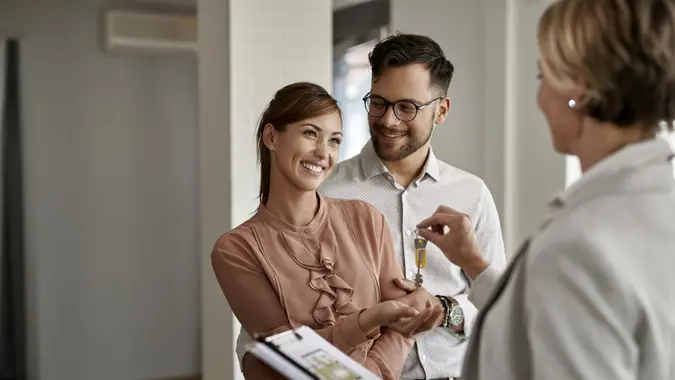 Drazen Zigic / Getty Images/iStockphoto
Many Americans are looking to make the transition from renting a home to owning one. According to a recent Gallup survey, 21% of Americans think now is a good time to buy a home. First-time homeownership is a deeply involved journey to embark on, and it can be a daunting one if you're not prepared and/or don't fully know what to expect of the process.
One of the most formidable tasks you'll face in your quest to buy your first home is qualifying for a mortgage loan — a multistep process in itself. Among the biggest questions surrounding this subject is, "How does my bank determine my mortgage loan eligibility?" 
GOBankingRates consulted a number of experts to learn how this all works, and also got detailed answers to a number of other burning questions about mortgage loans that may be on the minds of prospective first-time homebuyers. 
What Determines Your Eligibility for a Mortgage Loan?
Eligibility for a mortgage loan is determined by several factors, including credit score, employment history, income, debt-to-income ratio and the value of the home you're interested in buying.  
"Broadly, the three requirements are creditworthiness, the ability to repay and collateral," said David Krebs, a licensed mortgage broker at DAK Mortgage. "Creditworthiness is often determined by your credit score and credit history. The ability to repay is assessed based on your income, employment stability and your existing debts. Collateral is the property itself, which you're using to secure the mortgage."
Note that there are additional requirements to be eligible for a home mortgage, though — including the amount you can put down for a down payment. 
"It's an important indicator of your financial health and the level of financial risk you present to the lender," Krebs said. "The larger the down payment, the less risk for the lender."
What Are the 3 Requirements To Get a Mortgage?
As noted, there are more than three requirements to get a home mortgage, but if you're just beginning on the process of applying for a home loan, consider at least the following to be reviewed by prospective lenders: 
1. Good Credit 
"There are three credit scoring bureaus: TransUnion, Experian and Equifax," said Patrick Queally, a mortgage loan officer. "Each has a proprietary algorithm on how they calculate your FICO score, and as a result, consumers end up with three different scores on a mortgage credit [report]. For mortgage qualifying, we take the middle of the three scores as the 'qualifying score.' Different loan programs have different minimum qualifying scores; for example, those backed by Fannie Mae and  Freddie Mac typically require a minimum of a 620 score." 
2. Income Stability
"For income to be considered to qualify, it must be stable, reliable, consistent, predictable and likely to continue," said Queally. "Typically, a lender is looking for a two-year history of employment and income to meet those requirements. Not all income currently being received will meet all of that criteria (for example, a recently started part-time second job).  For all qualifying income, the gross amount (before taxes/deductions) is the figure used in calculations." 
3. Cash in the Bank 
Funds must be available to cover a down payment and all the other fees associated with purchasing a home in order to qualify for a mortgage. 
"In reality, 'cash' is a four-letter word to a mortgage lender — they don't want to see actual cash; they want to see that you have the funds needed to cover down payment, all settlement charges, and in some cases 'reserves' (a number of mortgage payments you have left over in the bank after you cover the down pay and settlement costs), and all of that available in your bank accounts," Queally said. "A lender will look at the most recent 60 days of asset statements to make sure you have the funds needed."
How Can I Improve My Chances of Getting Approved for a Mortgage? 
"Many people ask how they can improve their chances of getting approved for a mortgage," said Krebs. "My advice is usually to work on improving your credit score, minimize your debt, maintain a steady job and save for a larger down payment." 
What About the Impact of Mortgage Rates on a Home Loan? 
"I also often get asked about the impact of interest rates on a mortgage," Krebs said. "To this, I always explain that while lower rates can make a mortgage more affordable, one shouldn't hold off on purchasing a home solely due to higher rates. The housing market can fluctuate, and waiting for lower rates could mean higher housing prices."
Is Now a Good Time To Buy a Home?  
Kendall Meade, CFP, a financial planner at SoFi, sees people asking whether now is a good time to buy. You may want to reframe this question in a more personal way. 
"Rather than focusing on the housing market and trying to predict where it may go, I encourage people to focus on their own financial stability," Meade said. "Make sure you have a solid financial foundation: no bad debt (>7% interest), a solid emergency fund (three to six months of expenses), and that you are saving for retirement (a common rule of thumb is 15% of your income going toward retirement). Once you have those three things, you can start focusing on other goals such as saving up to purchase a house.  You also want to make sure you have your down payment saved up and look at how long you plan to live in this home."  
How Much Should I Put Down? 
"Another major component of buying a house is coming up with the down payment and closing costs," Meade said. "The general rule of thumb is to make a 20% down payment to avoid PMI, but this is not always a firm criteria. Sometimes putting down a lower down payment to buy sooner can make sense. Other times you may put more down to get a more affordable monthly payment."
Our in-house research team and on-site financial experts work together to create content that's accurate, impartial, and up to date. We fact-check every single statistic, quote and fact using trusted primary resources to make sure the information we provide is correct. You can learn more about GOBankingRates' processes and standards in our editorial policy.