15 Mortgage Questions To Ask Your Lender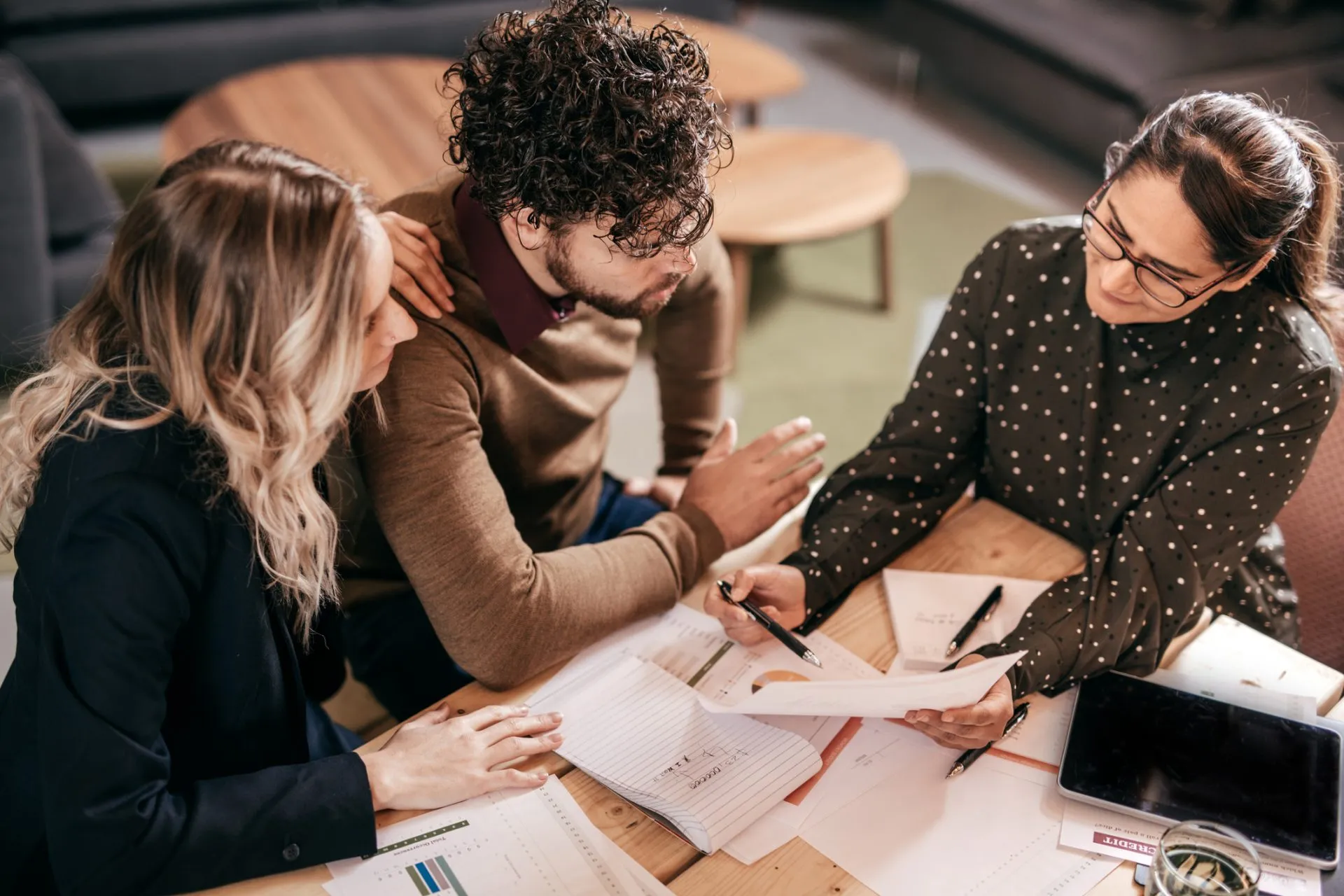 1. How Much House Can I Afford?
Before you can buy a house, you need a realistic idea of how much you can afford to spend on a house, as well as how big of a mortgage you can get. To do this, you should meet with mortgage lenders before real estate agents. You can get pre-qualified for a mortgage, meaning you'll know exactly how much money you can borrow and therefore spend on a home. By getting pre-qualified, you'll be better prepared for the homebuying process and appear more appealing to sellers. Because this is one of the most important mortgage loan questions, make sure you ask it based on the amount of monthly payments you know you can handle. Before you go to a lender, analyze your budget and determine the amount you're comfortable with, as well as how much money you'll be able to put down. A rule of thumb is to spend 25% or less of your net income on your mortgage. That means if you make $100,000 a year and you pay $20,000 in taxes, your net income is $80,000 and you should spend $20,000 on your mortgage annually. That amount works out to a monthly payment of $1,666.
2. What Kind of Loan Should I Get?
Among questions for mortgage lenders, this one is important. The two basic types of mortgages are fixed and variable rate. A fixed rate has the same interest rate for the term of the loan, which might be 15, 30 or even 40 years. With a fixed-rate mortgage, your payments remain the same for the life of the loan. If interest rates are on the way up, a variable-rate mortgage can start out low and rise — sometimes significantly — in the future. If you're considering this type of loan, your mortgage interview questions should include asking your lender how high your payments could possibly go.
3. What Type of Loan Is Best for Me?
There are two categories of home loans: government loans and conventional loans. Conventional loans are any loans that are not insured or backed by the government. Government loans include Federal Housing Authority loans and VA loans. These loans are designed to open up the possibility of homeownership to a wider range of people, so they typically are easier to qualify for and have lower or no down payments. If you are an active-duty or retired service member, you might qualify for a VA home loan, which has benefits over a traditional mortgage. For qualified applicants who might otherwise not be able to buy a home if a large down payment is required, a VA loan or an FHA loan makes it possible for them to become homeowners.
4. Are You a Mortgage Broker or Direct Lender?
This is another key question to ask a mortgage broker or lender, and it'll enable you to know exactly what they can do for you. A mortgage broker will put together your application and "shop" it to different lenders. A direct lender will process the application themselves, although they might still sell your loan on the secondary market once it has closed. Be sure to ask all your mortgage broker questions upfront so you can be informed.
5. What's Included in My Monthly Payment?
This is one of the most common questions to ask a mortgage lender if you are a first-time homebuyer. The answer should tell you exactly what you're paying for. All mortgage payments include part of the loan's principal plus interest.
Your payment will be mostly interest at first, but as time goes on you'll pay less interest and more principal. Your payment, however, will remain the same. As you pay off more principal, the equity in your home will accrue faster.
Learn: How To Refinance a Mortgage
6. Will I Have to Pay for Private Mortgage Insurance?
If you put less than 20 percent down you'll likely need to get private mortgage insurance, or PMI, and add its cost to your monthly payment. Once the equity in your home reaches 20 percent you can get rid of PMI and reduce your monthly payment.
That said, there are mortgages you can get that don't require paying for PMI. VA loans, which are government-backed mortgages for veterans and service members, do not require PMI or a down payment.
7. Who Pays the Taxes and Insurance?
Asking questions about mortgage payments is a smart move. Most mortgage payments include taxes and insurance, but some do not. If yours does, your mortgage lender will collect money as part of your payment each month and put it into an escrow account. When your real estate taxes and homeowners insurance payments are due, the mortgage company will pay the bills from your escrow account.
8. Can I Get a Loan Without a Down Payment?
Most conventional loans require a down payment of 20%, but there are government loans that require a much lower down payment or no down payment at all. U.S. Department of Agriculture loans, also called USDA loans, are available to borrowers in rural and suburban areas and are sometimes available with no down payment. VA home loans are available to active military members, veterans and, in some cases, their spouses, and they never require a down payment.
9. What Costs Do I Have to Pay at Closing?
One of the most important questions to ask about a mortgage is how much its closing costs will set you back. Closing costs can include an application, appraisal or home inspection fee and a variety of other miscellaneous charges. Make sure you know exactly how much your closing costs will be, and research which costs you can negotiate with the seller.
10. Is There Anything I Can Do to Lower My Rate?
Your rate is based on a number of factors including the type of loan you get, your credit history and how much money you can put down. By asking this question, you'll have the opportunity to share information with your lender that could lead to a better rate, such as your ability to put down a larger down payment or other options. Before you apply for a mortgage, avoid opening new credit cards or taking out loans that involve a hard credit pull, which can lower your credit score. Keep your credit card balances low and pay your bills on time to show your mortgage lender that you are a responsible borrower.
11. Do You Charge an Origination Fee?
An origination fee represents the lender's administrative cost to process the loan. Origination fees can range from zero to about 1% of the loan's value. This is one of the key questions to ask a mortgage lender since closing costs, including fees, might be negotiable.
12. How Long Will It Take Before You Close My Loan?
In June 2021, it took an average of 51 days to close a mortgage, according to Ellie Mae, a software provider to the residential mortgage industry. That figure represents the time from when you complete your application until you close. Your lender should agree to close in approximately that time frame.
13. Am I Paying Points?
Points, sometimes called discount points, consist of prepaid interest paid at closing to the lender that reduces the amount of your monthly payment. Each point costs 1% of the loan amount, so on a $300,000 mortgage, each would cost $3,000. You might hear this referred to as "buying down to the rate." Make sure you compare not only the rate but lender-directed fees like points. Also, pay attention to lender fees like processing, underwriting or document preparation, which can potentially be negotiated to save money.
14. Can I Lock in My Rate?
Many lenders will offer to lock in the interest rate they quote when you apply — this definitely falls under the category of "what to ask a mortgage broker or lender" because it will affect your loan in the long run. If you get locked in, do everything you need to do to close your loan on time and don't make any changes to your loan application because it might nix your rate lock.
15. Can You Guarantee My Loan Will Close on Time?
It's critical your loan closes on time. Talk to your lender to ensure you've provided them with every document and piece of information they need to close your loan in a timely fashion. If your loan does not close on time, it could lead to further issues and costs. If this happens, contact a real estate attorney.
Knowing what to ask a mortgage lender will help you navigate the process of getting a loan and buying a home with confidence. Armed with these important mortgage questions to ask, you'll be ready to call the moving company in no time.
More From GOBankingRates
Gabrielle Olya contributed to the reporting for this article.