Real Estate: Asking Prices Plummet as Mortgage Rates Hit 20-Year High – Is It Time to Buy, Sell or Stay Put?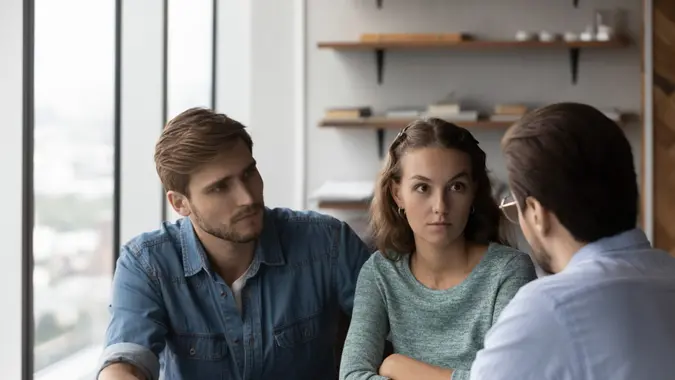 fizkes / Getty Images/iStockphoto
The real estate market, always a dynamic and ever-shifting landscape, has recently witnessed a notable twist. As mortgage rates soar to unseen levels in two decades, home sellers reevaluate their asking prices. Money.com reported that the average 30-year fixed mortgage rate hit a two-decade high of about 7.65% as of September 27, 2023. Data suggested buyers are distressed and sellers have little choice but to lower their asking prices. Competition is cooling off "remarkably fast," even for this slower time of year, according to a fall outlook report from the listing site Zillow.
This development has left prospective buyers, current homeowners, and investors pondering a critical question: Is now the right time to buy, sell, or stay put?
The Surge in Mortgage Rates and Its Impact
The focal point of this real estate conundrum is the surge in mortgage rates. In 2023, rates climbed to a 20-year high, a phenomenon driven by various economic factors. Rising rates directly influence the affordability of homeownership. As borrowing costs increase, homebuyers may find their purchasing power diminished, prompting them to reconsider the type and price of homes they can afford.
Others have opted to keep renting until the market cools down. According to USA Today, renting a studio-to-two-bedroom apartment now is about $1,183 less expensive per month than buying a starter home in 47 out of the top 50 metros in the U.S.
The impact of rising rates is felt throughout the real estate ecosystem for buyers and sellers. The evolving situation underscores the importance of informed decision-making and financial preparedness for anyone navigating the complex real estate landscape.
Home Sellers React with Price Adjustments
The ripple effect of surging mortgage rates has prompted many home sellers to reassess their strategies. In a market accustomed to multiple offers and bidding wars, sellers face a different reality. Many sellers opt to lower their asking prices to attract buyers in this market, which aims to align their offers with the current market dynamics.
A report from brokerage Redfin found that about 6.5% of homes for sale in the U.S. saw a price drop in September, compared to 5.8% in August. Even so, housing costs, in general, remain very high. This drop indicates decreased buyer demand due to the already high cost of homes coupled with stubbornly high-interest rates.
The Home Buyer's Perspective
For potential homebuyers, the shifting market dynamics present both challenges and opportunities. While higher mortgage rates may limit affordability, adjusting asking prices can create an opening for those on the sidelines.
Careful financial readiness assessment, loan options exploration, diligent property search, and maintaining a long-term perspective are essential elements of a successful home-buying journey. Buyers can make the most of the current market by leveraging professional guidance and staying informed.
Should Current Homeowners Sell or Stay Put?
Amidst these market shifts, current homeowners face a pivotal decision: sell their properties or stay put. For some, capitalizing on the equity accrued in their homes is tempting. However, others may prefer the stability of remaining in their current residences despite the changing market conditions.
The decision to buy, sell, or stay put should hinge on individual circumstances, financial readiness, and long-term goals. The current data shows buyers and sellers face challenges in this housing market. Ultimately, informed decision-making will be paramount for anyone seeking to make the most of the current real estate landscape.
More From GOBankingRates