Real Estate 2023: Will Mortgage Rates and Home Prices Ever Become Affordable Again?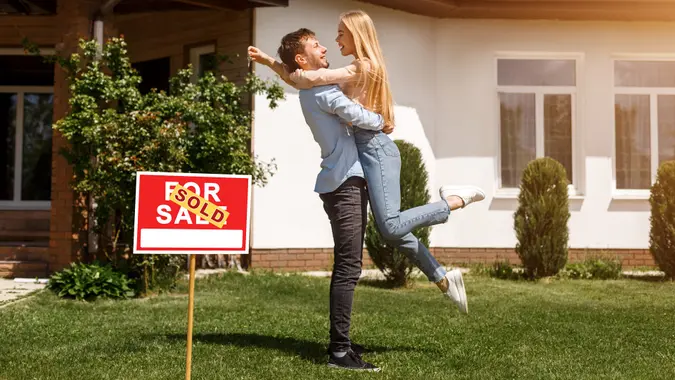 Prostock-Studio / iStock.com
There is still no sign of relief for homebuyers. Mortgage rates are continuing to soar and home prices have reached record prices. This, coupled with low inventory might still leave many buyers on the sidelines.
As of Sept. 28, the 30-year fixed-rate mortgage (FRM) averaged 7.31% — the highest level in 23 years, according to Freddie Mac.
"The 30-year fixed-rate mortgage has hit the highest level since the year 2000," Sam Khater, Freddie Mac's chief economist, stated in a press release. "However, unlike the turn of the millennium, house prices today are rising alongside mortgage rates, primarily due to low inventory. These headwinds are causing both buyers and sellers to hold out for better circumstances."
To put this latest figure in context, a year ago at this time, the 30-year FRM averaged 6.7%. And for the same time of the year in 2021, it averaged 3.01% (and 2.88% in 2020), according to Freddie Mac data.
At the same time, despite soaring mortgage rates, home prices not only continued to rise, but hit record highs in July — increasing 1% from a year ago — as demand outpaced supply, according to the S&P CoreLogic Case-Shiller National Home Price Index, released Sept. 26.
What Can Homebuyers Expect in 2023 and 2024?
According to Selma Hepp, chief economist with CoreLogic, homebuyers in the market for a home can expect competition to wane through the remainder of the year given lower demand during winter months and continued increases in mortgage rates.
"But, with rates expected to stay higher than 6% for the remainder of 2023, and through most of 2024, and the Federal Reserve not expected to change this any time soon, that means it may be easier to buy now than to wait until next year when home prices are likely to be higher," she said, adding that buying in winter months generally means less competition and better deals for homebuyers.
Said sentiment was echoed by other experts, who said that mortgage rates continue to be a big wildcard for shoppers. Today's rates make it challenging to predict the monthly cost of buying a home even, if home prices remain steady.
Danielle Hale, chief economist at Realtor.com, said her expectation is that continued progress on inflation may allow the Fed to begin to normalize policy (resulting in mortgage rates eventually declining). Yet, she added that the decline won't be quick — and we could still see further increases if progress in fighting inflation isn't as quick as expected.
Where Will Rates Go and How Long Will it Take To Get There?
According to Hale, for mortgage rates to get back below 7%, there will need to be consistently positive inflation data in the months ahead. Confidence from the Fed that policy has been effective will also need to be evident.
In terms of how long this outcome will take to arrive, she said she expects mortgage rates to settle in the 5.5-6% range in the longer run, "but we may not see that range in the market until 2025."
What Can Homebuyers Do?
In the very near term, there are additional issues which could affect the market. A potential government shutdown could create some volatility in rates.
In turn, Hale's advice is to focus on the things you can control more directly.
"When you set your budget, use a mortgage rate calculator like the one at Realtor.com to see how rate increases or decreases affect your monthly costs and how that fits in your budget," she said.
In addition, she recommended building in some wiggle room in your price target. She also recommended having a contingency plan for mortgage rates increasing further, so that you can adjust quickly without derailing your search.
"For buyers ready to move now, mortgage rates are high, but there are other, predictable seasonal factors that make now a good time to be shopping for a home," she said.
Indeed, according to Realtor.com, the best week for buyers in 2023 is Oct. 1-7 because shoppers can expect a combination of seasonal price relief, relatively plentiful homes for sale compared to other times of the year and fewer buyers to compete with.
More From GOBankingRates