Should You Refinance Now With the Low Mortgage Rates?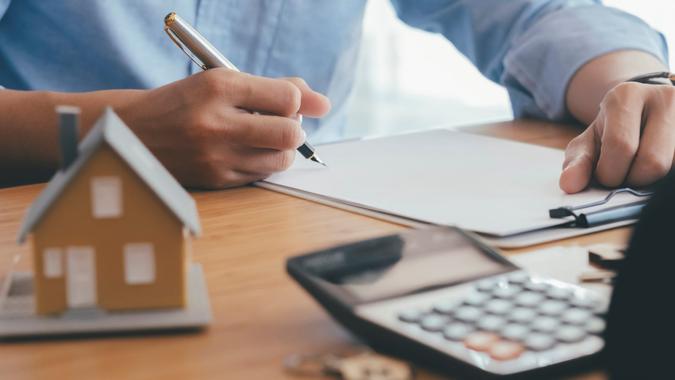 ijeab / Getty Images/iStockphoto
With interest rates at or near historic lows for both 30-year and 15-year mortgages, borrowing money has never been cheaper for American homeowners. The potential to lower monthly payments, slash the amount of interest paid over the life of the mortgage and/or pay off home loans earlier has stoked refinancing fever across the country.
But is refinancing today a good move for most? Given where rates were a year ago and where they're likely to be a year from now, it's hard to make an argument to the contrary. Even so, it's important to understand the pros, cons and processes involved with refinancing before you sign your name on the dotted line.
It's a Really, Really Good Time To Lock In a Long-Term Rate
The average rate for a 30-year fixed mortgage on Jan. 4 was 2.67% or 2.17% for a 15-year loan. A year ago, those numbers were 3.72% and 3.16%, respectively. Refinancing rates are always a little higher than standard mortgage rates and on Jan. 4, the average refinancing rate for a 30-year fixed mortgage was 2.9% or 2.37% for a 15-year loan. If your credit and finances are in decent shape and you're paying a higher rate now, which you almost certainly are, it's hard to make an argument against refinancing with rates this close to the bottom.
Find Out More: This Is the Salary You Need To Afford the Average Home in Your State
The Clock Is Ticking on the Opportunity
Interest rates are artificially low right now as part of an effort to help the economy ride out the winter coronavirus surge. It's widely believed that 2021 will bring change for the better, and when the U.S. economy can stand on its own two feet again, rates are sure to rise. According to Forbes, most experts expect mortgage interest rates to rise above 3% sometime this year — sooner more likely than later, according to most observers.
Looking Ahead: How Your 2021 Finances Will Look the Same (and Different) Compared to 2020
Keep in Mind That Refinancing Means Resetting…
People refinance 30-year fixed mortgages to reduce their monthly payments — an attainable goal with today's low rates. Keep in mind, however, that refinancing from one 30-year loan to another makes less and less sense the longer you've been paying your current loan. If you've been paying off your mortgage for 12 years, for example, refinancing would reset you back to 30 and commit you to 42 combined years of interest payments. This guarantees you'll pay a lot more interest in the long run and therefore only makes sense for people not planning to stay long in the home.
Plan Carefully: A Month-by-Month Guide for Your 2021 Financial Check-Ins
…Unless You Reduce the Term
Refinancing to a loan with a shorter term works the other way. You can save a lot of money in long-term interest payments and reduce or even halve the number of years you'll spend paying off your home. The downside of moving from a 30-year loan to a 15-year loan is that your monthly payments will be higher even if you lock in a lower interest rate. Your financial situation — particularly considering the uncertain nature of the COVID-19 economy — and your ability to absorb the higher monthly payments are yours to assess. If you decide you can swing it, you could save tens of thousands of dollars overall even if you have a decent rate now. If a 15-year loan is too great a leap, keep in mind that less-common 20-year loans can provide an excellent middle ground.
More From GOBankingRates