Why It's a Mistake To Wait Out the Current Mortgage Rates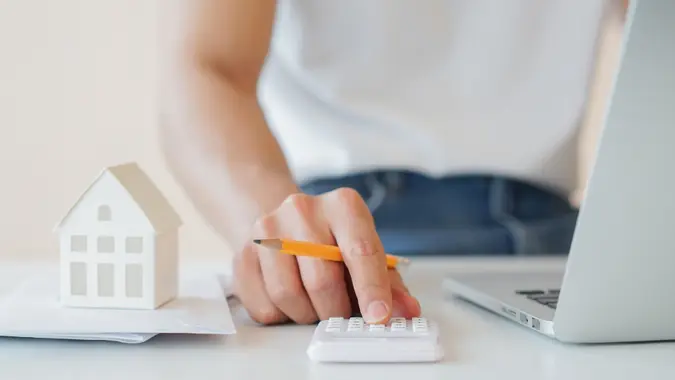 Chainarong Prasertthai / Getty Images/iStockphoto
You're not alone if you're holding off on buying a home because of high interest rates. However, this might not be the best approach.
Only 12% of people are planning to buy a home this year, according to a recent GOBankingRates survey. Nearly one-third — 30% — said high mortgage rates are holding them back from making a purchase right now.
As of June 8, the average 30-year-fixed rate mortgage was 6.71%, with a 52-week high of 6.24%. This is a notable difference from just two years ago, when rates averaged 2.96% on June 10, 2021.
Despite the rate surge, waiting to buy a home until interest rates go back down probably won't work to your advantage.
Why Waiting Is the Wrong Move
Although you might want a lower rate, waiting out the current rates isn't necessarily the way to go.
"We have a saying in real estate, 'marry the house, date the rate," said Nadia Khan, a real estate agent and founder of Nadia Khan Estates at eXp Realty, based in the Northern Virginia area. "This couldn't be more important to remember than now."
She said people are forgetting that sellers who purchased homes when interest rates were high many years ago refinanced in 2020 and 2021 — when rates were at historical lows — and are now enjoying their lower rates and a lot of equity.
"Refinancing later allows you to lock in your dream home now and improve your monthly payment later," she said. "All while avoiding the higher cost of purchasing, due to inevitable price appreciation of real estate in our low inventory environment."
Waiting Could Make Homebuying More Expensive
Ultimately, she said waiting for rates to drop could end up costing you more money.
"If rates drop later this year, as most experts are predicting — due to the recession — with the lack of inventory, we are going to see a surge in buyer demand," she said. "[This] will cause price escalations and bidding wars more significant than what we are experiencing now."
She said it's only going to get worse for buyers feeling discouraged and priced out of the market right now.
"All the buyers who have been waiting on the sidelines will re-enter the market and cause a frenzy," she said.
In fact, she said she's already seen this happen in the summer and fall months last year: When rates were at their highest, activity was low and prices were correcting.
"Once buyers realized the new rates were here to stay and foreclosures were near nonexistent still, they jumped back into the market," she said. "We saw a dramatic increase in activity, showings, offers and ultimately bidding wars."
She said July and August tend to be slower months, while people are vacationing, making it a great time to take advantage of less competition and refinance later.
"[This is] better than going through another season of extreme bidding wars where you may not even have a chance to see the home in person," she said.
Buy Now for Better Property Value
Kristen D. Conti, broker-owner at Peacock Premier Properties, based in Englewood, Florida, agreed that now is still a great time to buy, despite high interest rates.
"While others are standing on the sidelines waiting, the smart buyers are making their best offers and enjoying discounts on the houses they choose," she said. "They can also ask for repairs and get appraisals done to ensure the property is actually worth what they are paying for it."
She said this makes property values more accurate.
"Many people who jumped in during the post COVID-19 craze have already lost substantial equity because they overpaid," she said. "I see so much buyer's remorse out there."
In most cases, she said buying with high interest rates is still a better deal than renting.
"If you are qualified for the payment, it will beat market rents for a like-kind property over 90% of the time," she said. "If the rates go back down, lenders will be competing for your refi business, offering low or no closing costs options to lower that payment."
Therefore, if you're in a position to buy a home now, despite the higher interest rates, she said you'll enjoy a competitive advantage.
"The buyers I am working with right now are making some fantastic deals and are the only ones on the table," she said. "From where I am standing, it's a very nice change."
But Don't Count on Rates To Drop
This might not be what you want to hear, but Joe Hafner, owner and founder at Hafner Real Estate, based in Murfreesboro, Tennessee said mortgage rates might not fall from where they are now.
"Historically, anything under 7% has been considered a good interest rate," he said. "We've just come out of a stretch where rates have remained in the three's and even two's for many years, and many aspiring buyers have potentially unrealistic expectations of where interest rates should be."
He said this could mean that the drastic rate decrease buyers are waiting for might never come.
"If history is any guide, there's a good chance we won't see rates below five percent again in our lifetimes," he said.
Additionally, he said real estate is all about asset appreciation, so waiting too long for interest rates to fall can cause rising home values to outweigh any savings you might've realized with the lower rate.
"For example, if you were buying a $400,000 home with zero down on a 30-year mortgage at 6.5% interest, your principal and interest payment would be about $2,500 per month," he said. "Over the last 20 years in Middle Tennessee where I'm based, home values have risen an average of 5.6% per year — and closer to 14-20% the last several years."
He said this can add up fast.
"If you hold off on buying that house, waiting for a lower interest rate, you will be paying about $22,000 more for the same house with each passing year," he said. "And that's if values only rise the average of the last 20 years."
In this case, he said even a slightly lower interest rate might not be as helpful as you think.
"In this scenario, if you wait one full year to buy, you will almost certainly be paying more money for the same house," he said. "And you will need interest rates to drop 0.5% or more to get a lower monthly payment than you would have now, buying the house at its current price."
If we have another year of 12% appreciation, he said interest rates would have to drop into the low five's for waiting to buy to make sense.
Therefore, he agreed that buying the right house for your family now is the best move, as you can always refinance in the future. This might seem counterintuitive to what you've always believed, but the more you know, the more you can save.
More From GOBankingRates
Methodology: GOBankingRates surveyed 1,004 Americans aged 18 and older from across the country between May 26 and June 5, 2023, asking nineteen different questions: (1) When do you expect to buy your next house?; (2) How much do you plan to spend on your next house?; (3)How much did you spend on your current house?; (4) How much (as a percentage of the home cost) did you put as a down payment?; (5) How much is your monthly mortgage payment?; (6) What is the most you are willing to spend on a monthly mortgage payment in your current financial situation?; (7) How long did it take to save for your down payment?; (8) When you bought your house, did you pay more than your originally planned budget?; (9) How much do you spend on yearly maintenance for your house?; (10) When buying your current house, which costs were more expensive than you expected? (Select all that apply); (11) How much do you have saved in an emergency fund for house repairs/maintenance?; (12) What is holding you back from buying a house? (Select all that apply); (13) How much did you spend on home renovations in the last year?; (14) Do you expect a housing market crash to happen in the next two years?; (15)Do you think that homebuying will become easier or harder over the next 10 years?; (16) Are you currently using real estate/buying properties as a way to build wealth?; (17) How much did you spend on your vacation home?; (18) Where would you most want a vacation home?; and (19) Which of these fast-growing big cities would you consider relocating to?. GOBankingRates used PureSpectrum's survey platform to conduct the poll.