Borrowing Money From Cash Advance Apps? You Might Want To Think Twice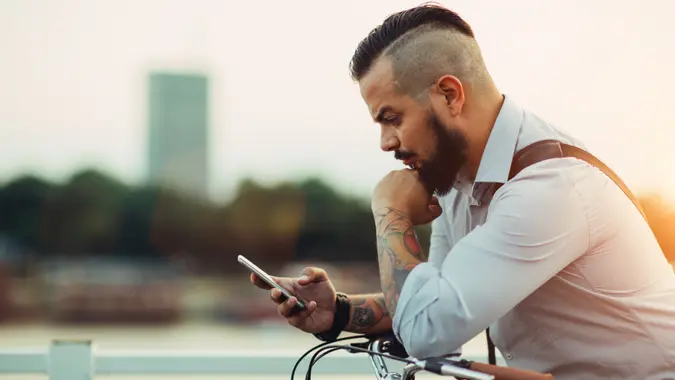 vgajic / Getty Images
You may have heard there are apps, like Dave and Earnin, that offer interest-free, short-term loans. They request a donation, but it's always a voluntary donation — and even those that charge modest fees extend 0% APR loans very quickly with no real credit check.
Read: 10 Ways To Bounce Back From a Heavy Spending Month on Your Credit Card
See: What Not To Do While Trying To Get Out of Debt
It's a remarkable new offering for those tight on money between paychecks, especially considering the alternative is the lowest dregs in the money-lending barrel — payday lenders, which have earned infamy by preying on the poor and trapping America's most vulnerable households in an endless cycle of debt.
Cash advance apps are not that, but they serve a similar purpose and can lead to some of the same problems. If you're looking for cash in a pinch until reinforcements arrive, here's what you need to know about cash advance apps.
They Serve the Same Purpose as Payday Loans, and Fuel the Same Debt Cycle
People turn to payday loans and cash advance apps for the same reason — they need money for something so pressing that they can't hold out until their next paycheck arrives. The borrower uses the cash advance to keep the lights on or to get the car repaired or whatever, and when their employer direct deposits their paycheck, the lender automatically withdraws what's owed from the borrower's checking account.
Problem solved — until next week.
Related: Debt Is Giving Americans Nightmares, Costing Them 200 Hours of Sleep per Year
Both payday loans and cash-advance apps provide a financial stopgap. They're different kinds of loans, but the end result is the same in both cases — a hole in next week's paycheck. According to Forbes, it's a recipe for the debt trap. Your last paycheck was too small to cover your immediate expenses for the entire pay period, but the money you borrowed to get by means that your next check will be even smaller. Unless your income increases or your expenses decrease, you'll be in the exact same situation the very next pay period, which leads to a self-perpetuating cycle of debt and dependence on small loans.
Everyone does what they have to do when times are tough, but by taking out a short-term loan to get through this week, you're making next week worse.
To Be Clear, Payday Loans Are Much Worse
Payday loans are banned in 19 states and Washington, D.C., according to Forbes. In almost all the states where they're not prohibited, payday lenders are allowed to charge astronomical APRs of 300%, 600% or even higher. Some states have no caps at all. Missouri allows lenders to charge 1,950% on a 14-day, $100 loan.
The danger is that APR accounts for time, so even when rates seem manageable, finance charges can quickly skyrocket because the borrowing windows are so short.
Check Out: Top Tips From Gen Xers Who Have Paid Off Their Student Loans
Cash advance apps poke the same hole in next week's paycheck as payday loans, but they're not inherently predatory and they're not nearly as risky — and the reason they're not as risky lies in their unique revenue structure.
Cash Advance Apps Invented a New Way to Pay
If you use a cash advance app, you're borrowing against your future wages, so it's no more a solution to your cash-shortage problems than a payday loan. However, instead of crushing borrowers with loan shark APRs, these new-school apps solicit voluntary "tips." Some, but not all, also collect small membership dues or other modest fees.
According to Forbes, apps like Brigit, Chime, Dave, MoneyLion and Earnin were clever to use the tips system to present themselves as the good guy contrasted against the payday loan industry's bad buy. But Time's NextAdvisor points out that the voluntary donation system can lead to deceptively high rates.
Earnin, for example, lends cash with no fees or interest with or without a tip, but unless the borrower reduces or eliminates the tip, the app defaults to a donation of $9 per $100 borrowed. That might not sound like a lot — or it might sound like 9% interest, same as a good-credit personal loan — but since it's a short-term loan and APR accounts for time, it works out to a rate of about 235%.
Learn: 9 Fastest Ways To Pay Down Debt, According To Experts
Apps Aren't Bad, but Needing One Reveals Poor Financial Health
Cash advance apps are better than payday loans, but if you're considering using one it's likely because:
You don't earn enough income to cover your expenses or you're spending beyond your means
You don't have sufficient savings to cover even the most modest of emergencies — both payday loans and cash advance apps are generally good for a few hundred bucks max
Your credit is probably in lousy shape or else you'd be taking out a cheaper and longer-term personal loan as a part of a debt-reduction or bill-consolidation strategy
In short, cash advance apps disrupted an industry that needed disrupting and provided a better, safer alternative to predatory lending. But unless it's in the most extraordinary of circumstances, borrowing money based on next week's paycheck just to cover immediate expenses indicates more widespread financial trouble.
If borrowing money to stretch your paycheck is a familiar pattern, experts from Forbes, Time and other outlets recommend you seek financial advice from a nonprofit like the Financial Counseling Association of America. Also, consider a payday alternative loan (PAL), a type of short-term loan with much lower interest rates that some credit unions offer their members — and always call your lenders or bill collectors to negotiate better terms before you borrow money to pay them back.
More From GOBankingRates