Student Loans: 5 Tips for Making Payments If You Lose Your Job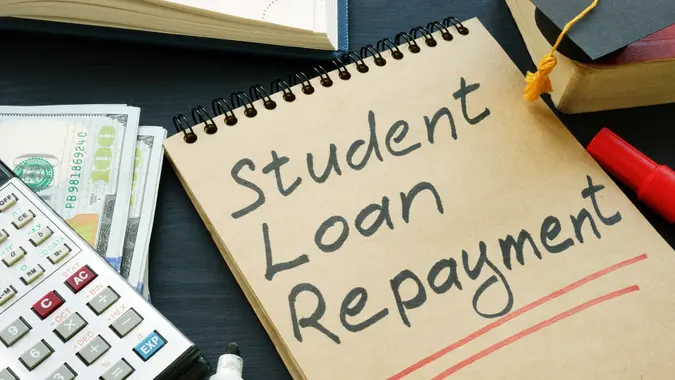 designer491 / Getty Images/iStockphoto
This year has been a big year for job layoffs and student loan news, like the temporary pausing of federal student loan payments and the Supreme Court denying President Biden's proposed student loan forgiveness plan.
Loan repayments are set to resume in October. If you have student loans and you've recently lost your job, you may be wondering what the next steps should be regarding your payments. What's the best way to alert your loan servicer and the steps you should take for making payments? 
Here are five tips for making your student loan payments if you've recently lost your job. And here are tips for repayment if your loans are in the six figures.
Call Your Loan Servicer
If you've lost your job, the first thing you should do is call your loan servicer. Let the company know you've lost your job but would like to work with it on your student loan payments. Together, you can discuss options. Options will vary by the loan servicer, but some options could include:
Deferment
Income-Driven Repayment
Forbearance 
Student Loan Forgiveness
Student loan unemployment deferment allows you to pause payments on your student loans while you are unemployed, keeping your loans in good standing. Most federal student loans qualify for deferment, but many private lenders don't allow unemployment deferment.
"If you end up enduring financial hardship when you lose your job, lenders can temporarily suspend your monthly payments while you get back on your feet," said Samantha Hawrylack, personal finance expert and co-founder of How To FIRE. "However, keep in mind that you may only be allowed to miss payments for a few months, so this isn't a long-term solution."
Income-driven repayment plans tie your monthly payments to your income; so, if you don't have any income, your loan payments could be as little as $0 per month. It could allow you to make smaller monthly payments during times of need.
Due to Covid-19, federal student loan payments were paused temporarily, and interest didn't accrue during this time. If you need more time after the Covid-19 forbearance has lifted, you can apply for a deferment or complete a general forbearance request. Some private student loan providers provide forbearance options, too, though it's rare.
There are some student loan forgiveness programs, like the Public Service Loan Forgiveness program, where public sector and nonprofit employees can get their federal loans forgiven after 120 qualifying monthly payments. 
Apply for Unemployment
If you've lost your job, you should immediately apply for unemployment benefits. Unemployment programs are run by the states, not by the federal government. States set the eligibility rules for unemployment benefits, and the programs will differ by each state.
However, many states require that you have worked consistently for the last 12 to 24 months and have earned a certain amount during that time. You also might be required to prove that you are actively searching for a new job while you are on unemployment benefits. 
Use Your Emergency Fund 
Financial experts recommend having an emergency fund of three to six months of living expenses. If you have money in an emergency fund, you can use that to keep up with your student loan payments while you are unemployed. This will allow you to not fall behind on your loan.
However, make sure that you leave enough money in your emergency fund to pay for essentials like food and housing. When you do start earning an income again, you should replenish your emergency fund.
Start a Side Hustle
If you lost your main source of income, you could try to bring in money in other ways. One popular way would be to start a side hustle. Ideas for side gigs could include driving for a rideshare like Uber or Lyft, delivering groceries through Instacart, making and selling crafts, pet sitting or mowing lawns.
Sell Unneeded Items
If you have items around your house that you don't need, you could sell them for cash. Maybe you have clothes that you haven't worn for years, kitchen items that you don't need or furniture that you could live without. Although this isn't a long-term solution, it could help you temporarily while you are unemployed. 
What Happens If I Stop Making Payments
If you miss a loan payment, you'll accrue interest on your loan and will owe even more money. If you stop making payments on your student loan altogether, your loan may eventually go into default.
When a loan is in default, it is reported to the national credit reporting agencies. This will negatively affect your credit score, and it can take years for your credit score to recover. Your credit score affects your future ability to borrow money and get approved for things like an apartment, a mortgage or a credit card.
If you default on federal student loans, the government also can take your tax refund or part of your wages. If you default on private student loans, you could be sued. 
More From GOBankingRates