Everything You Need To Know About Firstmark Services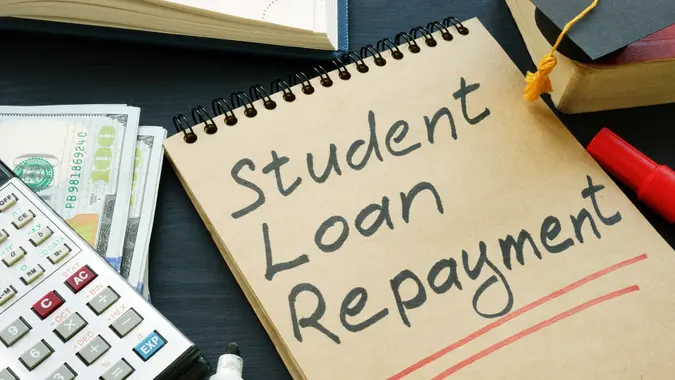 designer491 / Getty Images/iStockphoto
If you have a federal or private student loan, the entity that issued the loan is usually not the one that handles billing and other related services. This is typically the job of a student loan servicer, a separate company contracted to manage your loans. 
If you have a private student loan, there is a chance that Firstmark Services is the company that manages it on behalf of the issuer. Find out everything you need to know about Firstmark Services, its payment options and how it compares to other loan servicers below.  
What Is the Purpose of Student Loan Servicers?
There are two types of student loans in the U.S. — federal and private. Federal loans are issued by the U.S. government and offer fixed lower interest rates and flexible repayment options and do not require credit checks. Private loans are issued by banks and other private financial institutions and may have higher variable interest rates than federal loans. 
In both cases, the federal government or the private financial institution may choose to hire another company to manage the loan. This is where student loan servicers come in. A student loan servicer is contracted by either the government or a financial institution to be the middleman between the lender and borrower, including processing billing and payment and managing customer support. 
It's important to know who your student loan servicer is if you would like to change or defer your student loan payments, access records or ask questions about your student loans.
About Firstmark Services
Firstmark Services is an operational division of Nelnet, Inc. and has operated since 1997, managing student loan and customer loan portfolios. Unlike Nelnet, which manages federal loans, Firstmark Services works with private institutions. 
How To Check if Firstmark Services Is Your Provider
Finding your servicer may require a bit of research if you have a private student loan. First, see if the servicer is listed on your most recent student loan statement. Alternatively, if you have your student loan account login, check if the information is provided in your online portal.
Another way you can find your student loan servicer is by requesting a credit report from one of the three main credit bureaus. Your credit report should have all your private loan lenders listed, including your servicer.  
What Payment Options Does Firstmark Services Offer?
Once you know that Firstmark Services is your loan servicer, you can create an account on their site to check your balance, make payments, opt in for paper statements or explore other information related to your loan.
The Firstmark Services website allows you to make one-time payments and sign up for auto debit, through which you make automatic payments each month. Additionally, Firstmark Services allows you to make payments through other means:
Over the phone. You can make payments by calling 888-538-7378. A one-time payment using a debit card may be possible by talking to a representative.
By mailing a check or money order. Payments can be sent to Firstmark Services, P.O. Box 2977 Omaha, NE 68103-2977. Be sure to include your statement stub with the payment or write your account number on the check or money order to make sure your payment is credited promptly.
In all cases, payments received by 5 p.m. CDT will be credited the same day, while payments received after 5 p.m. will be credited the next business day.
Firstmark Services may offer the option to defer payments and apply for loan forbearance on a case-by-case basis. For more information on your situation, you can contact its customer service.
How Do Firstmark Services Compare to Other Loan Servicers?
The Better Business Bureau rates Firstmark Services as an A. The A ranking means the BBB has given the company a score between 94 and 96.99 out of 100 based on factors such as a history of customer complaints, whether the complaints are properly resolved and business practice ethics. 
However, BBB ratings do not include customer reviews in their calculations, and Firstmark Services has a user review score of 1.17 out of 5. Customers should note that the BBB does verify customer reviews by allowing the business to confirm whether an interaction took place, but it does not guarantee the accuracy or truthfulness of a review. 
In comparison, two Firstmark Services competitors, Great Lakes Educational Loan Services and Navient, both have BBB ratings of B and customer review scores of 1.00 and 1.01 out of 5, respectively.
Contacting Firstmark Services
If you're a Firstmark Services customer, you can contact it by email at customer.service@firstmarkservices.com. You can also call its customer service line at 888-538-7378 between 7 a.m. and 8 p.m. CDT, Monday through Friday. 
The company's correspondence mailing address is:
Firstmark Services
P.O. Box 82522
Lincoln, NE 68501-2522
Can You Switch Loan Servicers?
If you are unsatisfied with your current loan servicer, it may be possible to switch. While moving your current loan to a new servicer may not be possible, refinancing your current loan with another provider may be an option. Refinancing allows you to take out a new loan with another provider to pay off your existing loan and then continue making payments with your new provider's servicer. 
Refinancing can sometimes mean big savings, if you can find another provider with lower interest rates. For most people, refinancing may become a possibility after they finish their education, as it often requires excellent credit and a solid, stable income.
If you are a customer of Firstmark Services and would like to switch to another servicer by refinancing, ask your desired provider what servicers they partner with. Otherwise, if you're not careful, you may end up with the same servicer again.
Takeaway
Knowing whether Firstmark Services is your student loan servicer or not will allow you to make informed decisions about your future loan payments. If you're currently a Firstmark Services customer looking to switch servicers through refinancing or considering alternative loan options, make sure you do your research so you don't end up in the same position — or worse off.
Editorial Note: This content is not provided by any entity covered in this article. Any opinions, analyses, reviews, ratings or recommendations expressed in this article are those of the author alone and have not been reviewed, approved or otherwise endorsed by any entity named in this article.
Our in-house research team and on-site financial experts work together to create content that's accurate, impartial, and up to date. We fact-check every single statistic, quote and fact using trusted primary resources to make sure the information we provide is correct. You can learn more about GOBankingRates' processes and standards in our editorial policy.