Have Less Than $10,000 in Student Loans? 5 Steps To Pay It Off in a Year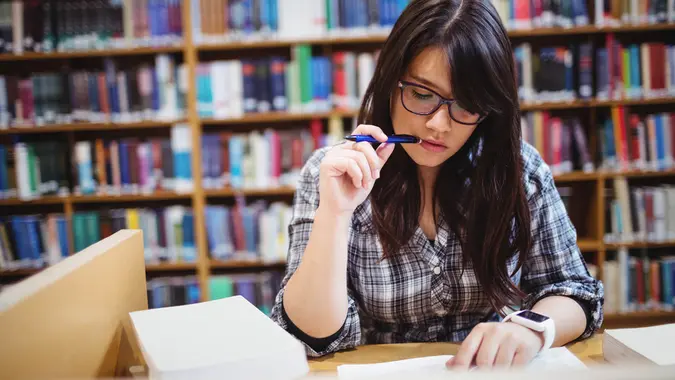 wavebreakmedia / Shutterstock.com
Many borrowers preparing to resume student loan payments in October are in the process of reviewing their balance and setting a budget to make monthly payments. But what does the student loan balance look like for the average borrower?
GOBankingRates recently surveyed 1,028 Americans to find out how much student debt they currently have. The good news is that 14% of overall respondents said they have less than $10,000 in student debt. 
What makes this especially good news is that it's possible for borrowers to pay back $10,000 worth of student loans in a year. Here are five steps it takes to pay off a $10,000 balance.
Start Calculating Monthly Payments
Raeonna Jefferson, client success associate at Zenith Wealth Partners, said to divide your remaining balance by 12 to calculate how much your monthly payments need to be. Then she said to split your monthly contribution in half according to your pay schedule to make the student loan payments more manageable. 
Laura Sterling, VP of marketing at Georgia's Own Credit Union, also recommends using a student loan repayment calculator. These calculators allow borrowers to enter in their loan amount, interest rate, loan term and monthly prepayment to calculate how much they'll need to pay each month to meet the one-year deadline.
Enroll in Autopay
Once you know how much you'll need to pay each month, Sterling recommends enrolling in autopay.
"It helps prevent you from missing a payment," said Sterling. "In some cases, borrowers receive a discount if they are enrolled in autopay."
Consider Refinancing 
Some borrowers may decide to refinance their student loan — depending on their balance, rate and term — to pay down the debt even faster. 
For borrowers with $5,000 or less as their outstanding balance, Sterling said it may not be necessary to refinance the loan. However, those closer to $10,000 may want to explore refinancing as an option for a lower interest rate, shorter repayment period or both to save money.
Put Any Annual Money Toward the Loan
Did you receive an annual bonus from your employer or a tax return? Jefferson recommends contributing this annual money to your loan to ensure you're able to pay it off in a year.
Work a Simple Side Hustle
"Start a simple side hustle and contribute the profits from your side hustle towards your student loan payment," recommends Jefferson.
Borrowers can explore simple side gigs like working for a rideshare company, food delivery or reselling clothes and furniture on platforms like Facebook Marketplace.
What If I Can't Pay Off $10,000 in Loans in a Year?
Don't despair if you find it's not possible to meet the one-year goal for paying off student loans. Sterling said you can work toward paying more than the principal balance. 
"By paying an extra $15 or $20 a month, you could save a significant amount of money over the life of the loan," she said.
More From GOBankingRates