Student Loan Borrowers in These 5 States Owe the Most Money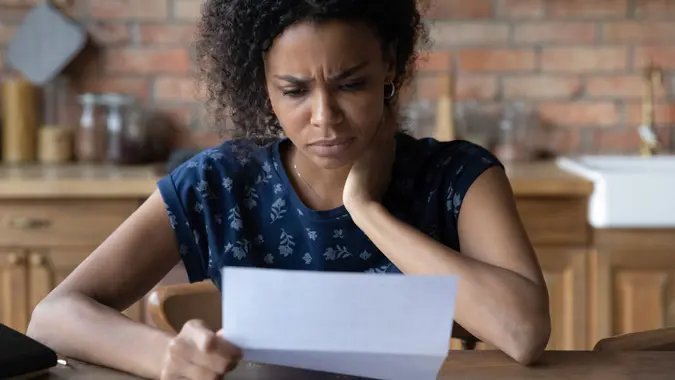 fizkes / Getty Images/iStockphoto
The last time federal student loan borrowers had to pay their debt, Donald Trump was still president and the COVID-19 pandemic was only beginning to make its rapid spread around the world. This was in March 2020 — the same month that the U.S. government paused student loan payments for tens of millions of borrowers to give them financial relief during the pandemic.
Now that the pandemic emergency has officially ended — and President Joe Biden's loan forgiveness plan has been shot down by the U.S. Supreme Court — payments are set to resume in October.
A whole lot of money will start changing hands when that happens. The federal student loan portfolio totals more than $1.6 trillion and is owed by more than 43 million borrowers, Forbes reported, citing Federal Student Aid data.
Among those who have federal student loans, nearly 70% (28 million) owe $10,000 or more, while 25% (10.3 million) owe $40,000 or more, according to a new study from the U.S. Chamber of Commerce.
The average federal student loan debt nationally is $37,717. Since 2020, the amount of federal student loan debt has increased by $102 billion nationwide, the study found, and the number of borrowers has climbed from 42.6 million to 43.6 million in 2023.
There's a big gap between the states in the amount of federal student loan debt held by borrowers. For example, borrowers in California owe a combined $137.6 billion, according to the Chamber of Commerce, while those in Wyoming owe a combined $1.6 billion. Just about all of that can be chalked up to huge population differences.
The Chamber study also analyzed each state by average debt per borrower to get a better picture of who owes the most money. Here are the top five states (including the District of Columbia) with the most student loan debt:
1. Washington, D.C. 
Total Debt: $6.1 billion
Number of Borrowers: 111,200
Average Debt Per Borrower: $54,856
2. Maryland
Total Debt: $34.5 billion
Number of Borrowers: 808,600
Average Debt Per Borrower: $42,666
3. Georgia
Total Debt: $65 billion
Number of Borrowers: 1,607,400
Average Debt Per Borrower: $40,438
4. Virginia
Total Debt: $41 billion
Number of Borrowers: 1,607,400
Average Debt Per Borrower: $38,679
5. Florida
Total Debt: $95.8 billion 
Number of Borrowers: 2,531,200
Average Debt Per Borrower: $37,848
On the other end of the spectrum, these states have the lowest average debt per borrower:
North Dakota: $29,036 per borrower
South Dakota: $29,851
Iowa: $29,875
Wyoming: $30,246
Wisconsin: $31,091
More From GOBankingRates