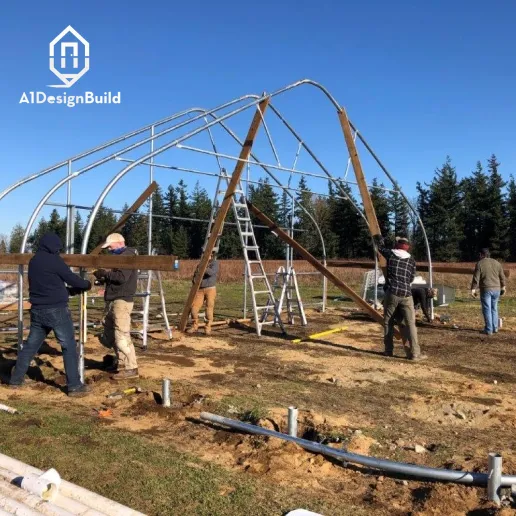 A1DesignBuild
Bellingham, WA
I would encourage aspiring business owners to put in the time and effort to find reliable and like-minded partners. Finding other businesses that share our values has been really important to us as we have learned and grown over the years.

Patrick Martin


A1DesignBuild
About A1DesignBuild
A1DesignBuild, based in in Bellingham, Washington, has been a worker-owned cooperative since 2017, but their history is much older than that.
In their 60 years of operation they have built houses, saunas, yoga studios, and all kinds of additions to existing homes. With each project they strive to create designs as functional and sustainable as they are beautiful. They specialize in finding creative solutions: for clients with little space, limited mobility, historic homes, and more. Alongside their ambitious design philosophy, A1 strives to give back to the Bellingham community.
Patrick Martin, A1's general manager, shared more about the company's philanthropy, current challenges, and advice for other business owners with GOBankingRates.
What is unique about A1DesignBuild's services? What niche do you fill?
A1DesignBuild specializes in residential construction, remodeling, and design. A1 designers and builders collaborate with their clients to create cost-effective, structurally-efficient, aesthetically and environmentally rewarding solutions for their homes. Their team specializes in Accessory Dwelling Units, net-zero and high performance buildings, aging-in-place solutions, and sustainable home solutions.
In what ways is your local community important to A1DesignBuild, and vice versa?
Our community sustains us as individuals and families, business owners and community members. We give at least 10% of our profits back to the community in the form of direct volunteer labor, community organization membership and cold hard cash. All of our employees and member-owners are encouraged and supported to spend volunteer time in our community in a way that is meaningful to them.
Are there any business challenges unique to being a worker-owned cooperative? If so, what are they?
Our business is structured much like it was before we became a co-op. So from a management approach things have not changed much. One challenge though is working with a larger group of members to determine organizational and co-op goals. It simply takes more discussion and input than when there was one owner or even four members initially.
That being said, there is also the opportunity for more input and creativity with more people considering things. Also I do believe this expectation and opportunity for greater participation from members increases accountability and performance/productivity…the more people participate in organizational or policy decisions the greater they are invested in the success of that development.
In our co-op I have been amazed at how easy it actually has been to bring ideas to the group and get approval and participation from all members.
How has inflation affected your business and how have you been coping with it?
The primary impact has been on labor costs. Both for our team and for the employees of all the specialty trades and vendors we work with.
A primary value of our co-op is that people on our team get paid a living wage. This had definitely increased our expenses and reduced our net profit. Our client base also seems to be suffering, given increased interest rates and their financial resources not going as far as they did 2-4 years ago.
What advice would you give someone who wants to start their own business?
I would encourage aspiring business owners to put in the time and effort to find reliable and like-minded partners. Finding other businesses that share our values has been really important to us as we have learned and grown over the years. For example, we switched to a mission-driven bank that is really active in our community and their support has been essential to us.
What does the future hold for A1DesignBuild throughout 2023 and beyond?
We are always working toward being a better design build firm, by continually training ourselves and developing systems to respond to ever-changing projects, technology and client base.  Long-term goals are leading us toward a design/manufacturing division as well as developing high performance speculative home designs.
Type of Business
Design firm
Giving Back
A1DesignBuild donates at least 10% of profits back to the community in the form of direct volunteer labor, community organization membership and cold hard cash.