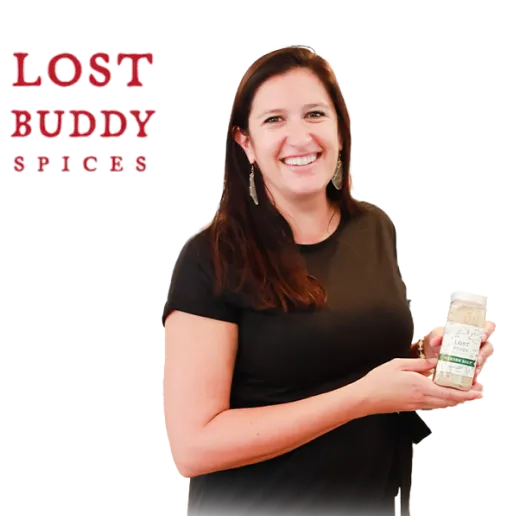 Lost Buddy Spices
Boerne, TX
I knew there was interest amongst our family and friends so I thought to myself, why not make it bigger? Why not get it to more folks who love cooking?

Sarah Wilburn


Lost Buddy Spices
About Lost Buddy Spices
Sarah Wilburn's journey to building a company based on a family dry rub recipe was completely natural, when you consider that she and her husband gave out that dry rub as a favor at their wedding. You could say that flavor simply runs in the family.
A behavior analyst who already co-owned a business, Wilburn decided to start selling spices in 2017 as a side business, naming it Lost Buddy Spices.
The mission? "To enhance the flavor of the food you are already cooking and to be the only spice blends you need in your spice cabinet," Sarah says.
To this end, the two-person Lost Buddy Spices team mixes their two signature spice blends in small batches and sells them online and in local stores. It's a big job for a small team, but everything they learn along the way helps them grow.
Sarah shared the challenges they have confronted and conquered with GOBankingRates in this interview.
What inspired you to start a spice business?
My oldest was only a few months old when I had the idea to start the company. The Original Dry Rub recipe had been in my family since before I was born. My parents gave it out to anyone that asked, and we even gave it out as our wedding favor in 2010.
I knew there was interest amongst our family and friends so I thought to myself, why not make it bigger? Why not get it to more folks who love cooking?
I also was motivated by starting something that my son (and a year later, another baby boy) could be proud of. When my friend Jared, a personal chef, brought Garden Salt to me and asked if I wanted to add it to our line it was a no brainer — it is the perfect complement to the Original Dry Rub. 
Being a woman-owned business in a male-dominated industry was a challenge I thought worthy of taking on and hopefully my boys can eventually be part of it in whatever capacity they want.
Are there any challenges unique to producing and selling spices? If so, what are they?
Gosh, yes! Coming from a job where I sell a service (I am Board Certified Behavior Analyst and Parent Coach) to a business where I had to sell a product was a total shift in almost every single way. I didn't know ANYTHING about the food industry, marketing, packaging, shipping, etc. It was a huge learning curve that honestly I am still having to learn and make tweaks as I go.
One challenge we still face is the lack of co-packers in the state of Texas. Sure, we want to expand and reach more folks, but as a two-person team mixing, packaging, fulfilling orders… we need to find ways to get more mass production and we are still figuring out how to do that.
Do you have a favorite recipe that uses your popular Original Dry Rub?
Great question! I think my all-time favorite thing to use the Original Dry Rub on is a ribeye. The sugar in the rub caramelizes the fat perfectly and it is just exquisite. A close second would be steelhead trout (Garden Salt is also great on a filet!) and third would be jalapeño poppers. I use Garden Salt daily on my eggs, avocado, edamame… the ways you can use either spice are pretty well endless.
What is the most rewarding aspect of being a business owner?
The single most memorable moment this past year, that also was the most rewarding, was sitting at the table with my family for dinner when my oldest took a bite of his dinner, looked at me and said "Mama, I'm glad you make salt." It hit me right in the heart, and reminded me why I started this small business in the first place!
What advice would you give to someone who wants to start their own business?
Find yourself a community. After struggling to figure the ins and outs of business ownership on my own I was lucky enough to stumble upon a community of women entrepreneurs in San Antonio called Babes Support Babes. Without that community and the support of all of the women who were in my position, established business owners, or just starting out, I am honestly not sure where Lost Buddy would be right now.
What does the future hold for Lost Buddy Spices throughout 2023 and beyond?
Ideally we'd love to be able to distribute to more people and get the Original Dry Rub and Garden Salt in more hands. Once people try it they come back for more, and with the ability to reach farther there's no telling how far we could go! I am not joking when I tell you we have a family that orders a pound of rub every month. We also have a few more recipe ideas up our sleeves, so be on the lookout for more delicious blends in the future.
Type of Business
Cooking spices
Recipe Central
Need help incorporating Lost Buddy's Original Dry Rub or Garden Salt into a meal? You can find dozens of recipes that use these spice blends on the Lost Buddy website.