44% of US Adults Are Not Ready For a Recession – Here's How to Prepare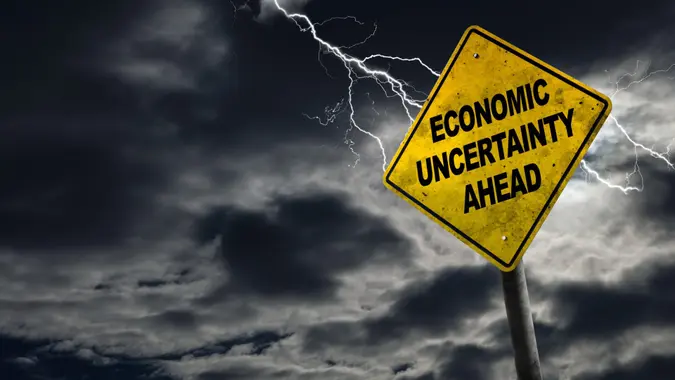 ronniechua / Getty Images/iStockphoto
As the end of the year approaches, people are beginning to worry about the likelihood of a recession occurring in 2023. And, according to the Fannie Mae Economic and Strategic Research Group, this fear may not be completely unfounded.
See: Is a Recession Coming in 2023?
Find: 5 Things You Must Do When Your Savings Reach $50,000
A recession is essentially a period of major decline in economic growth (GDP) combined with increased unemployment that lasts for several months or more. Considering the high inflation, a declining housing market, and other economic factors, a modest recession could very well occur in 2023's first quarter.
But if a recession does happen, around 44% of American adults won't be prepared for it, according to a survey by The Balance. The same survey found that 26% of those surveyed said they've been directly affected by inflation, which hit a record high at 9.1% last June. As a result, many people — around 92% — are cutting back on spending to try to ensure they have enough to pay for basic expenses.
Make Your Money Work for You
Even though the signs are there, there's no guarantee that 2023 will bring with it a recession. But if it does, it doesn't hurt to be prepared.
Preparing for a Recession
A recent LinkedIn Workforce Confidence Index survey found that Gen Z (people aged 25 and under) feels the most prepared for a recession. Following just behind them are millennials (those ages 26 to 41).
Regardless of who you are, several ways to prepare for a recession exist. This includes:
Limiting unnecessary spending
Creating a personal budget (and sticking to it)
Setting aside money in savings or an emergency fund for things like a lost job or surprise bills
Taking on more hours at work to cushion any financial decline
Holding off on major purchases
Evaluating career options, expanding your professional network, and brushing up on job-related skills in case of a layoff
Assessing current debts and planning accordingly
Taking Advantage of a Recession
Any financial downturn is also a potential opportunity for those in a position to take advantage of it.
If you're a long-term investor, keep an eye on the stock market. Usually, the stock market starts selling off around six months prior to a recession. If you see that happening, consider buying shares and holding onto them for the long haul. Also, consider picking up some inexpensive dividends and diversifying your portfolio with some index funds.
Make Your Money Work for You
Learn: Make These 7 Moves Before a Recession Hits in 2023
Rent 2023: These Cities Will Have The Most Expensive Apartments Next Year
And, if you're in a financially sound position, a recession might be a good time to take advantage of lower interest rates on things like real estate. This can result in some major savings and help you in the long run.
More From GOBankingRates
Make Your Money Work for You