Americans Spent an Extra $371 in Food, Housing and Utilities Last December — Where Is the Money Coming From?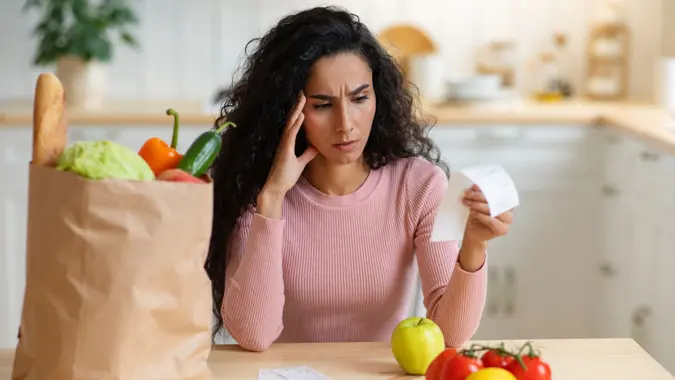 Prostock-Studio / Getty Images/iStockphoto
Despite a sixth straight monthly dip in the inflation rate and last month's decrease in overall Consumer Price Index (CPI) — the first since April 2020 — Americans spent $371 more last December than they did the year previous.
See: How 2023 Recession Will Differ From 2008 and How You Should Prepare Differently
Read: With a Recession Looming, Make These 3 Retirement Moves To Stay On Track
Find: 10 Best New Items Coming to Dollar Tree in 2023
According to a report from Moody's Analytics, families are spending more on most goods and services — groceries, rent, utilities — as inflation continues to increase the average U.S. household's financial burden. The main outlier is gasoline, which saved an average family $1.55 per month as compared to the prices of December 2021.
Per CNN, American families spent $82.60 more (per month) on housing, $47.33 more on utilities, $17.97 more on health care, $15.27 more on entertainment and $2.67 more on alcoholic beverages as compared to December 2021. Not surprisingly, food saw the second largest monthly spending increase — $72.01 more.
Despite the increases, many financial professionals are optimistic that the Federal Reserve's tactics have started to slowly make a difference. The clip at which inflation has grown has slowed and wages are increasing at a quicker pace than inflation, according to CNN. This could explain where some of the money to pay for inflated good is coming from, alongside a recent 8.7% COLA adjustment for Social Security recipients. Per Moody's, the labor force grew soundly in December and this could bode well for inflation in 2023 if the trend of more job seekers per open position continues.
Make Your Money Work for You
"The latest datapoint closes the book on 2022 and signals that meaningful progress in the U.S. economy's fight against elevated inflation was made in the closing months of the year," said Moody's Analytics' Matt Colyar in a statement.
According to the CPI, the all items index increased 6.5% for the 12 months ending December 2022, making it the smallest 12-month increase since the month ending October 2021. The recent deceleration in gas prices was the biggest motivator for the overall CPI decrease, as the energy index fell 4.5% over the month of December.
Take Our Poll: Are You In Favor of More Inflation Relief in 2023?
More: One-Third of Americans Say Inflation Is Top Stressor Going Into 2023 — How To Not Let It Get You Down
It remains unclear whether these encouraging signs will be enough to prevent a recession — or a shift the Fed's thinking on interest rate raises. For families spending more than ever on necessities, financial relief can't come soon enough.
More From GOBankingRates
Make Your Money Work for You
Make Your Money Work for You