How Could ChatGPT and Artificial Intelligence Impact the Economy?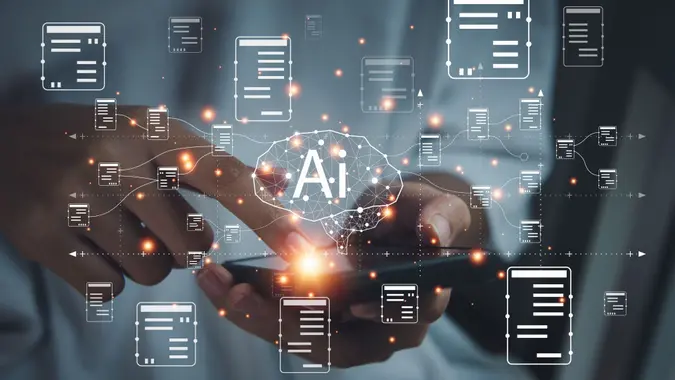 ChatGPT, the first artificial intelligence app developed by OpenAI, has already created sweeping changes in certain industries. Publishers are laying down standards for AI use for writers — or, in some cases, prohibiting the technology entirely. Schools and universities are grappling with methods to spot students using AI to write term papers.
There are few areas of life untouched by AI today. To find out AI's effect on the U.S. and world economy, first take a look at its capabilities more deeply.
What Is Generative AI?
Generative AI is a newer technology that uses advanced neural networks to create entirely new content, chat responses and even art and music. ChatGPT is the forerunner and leader in the industry, used by 100 million people. People are using ChatGPT to have conversations, get help with homework and find answers to questions they might normally look up on Google.
However, with ChatGPT's ability to create new content comes a pitfall: The AI also tends to fabricate information or share incorrect information. The Reddit subthread r/ChatGPT shares multiple examples of ChatGPT making up information, ranging from names of "camps" that never existed in television shows to the existence of a research project, "TruthGPT," which is being developed to detect inaccuracies in AI-generated text.
Traditional AI vs. Generative AI

If you've let Gmail help you fill in a response to an email, you've used AI. If you own a Tesla and have used the autonomous driving feature, you've gotten help from AI to drive your car. These are functions of traditional AI. Traditional AI is great at recognizing patterns and classifying data based on those patterns.
Make Your Money Work for You
Is ChatGPT a Threat to Human Jobs?
A new report from Goldman Sachs economists revealed that 300 million full-time jobs could be automated, and potentially eliminated, by AI technology. The report said that 18% of work across the world could be completed by ChatGPT and other technologies.
However, unlike the industrial revolution, which automated factory jobs and other manual labor, ChatGPT and similar technology primarily threatens white-collar jobs, including administrators and lawyers. The report said that roughly 66% of current jobs in the U.S. and Europe "are exposed to some degree of AI automation."
Up to 25% to 50% of human workloads could be replaced by ChatGPT and similar technology, the report discovered.
Another study completed by a team at OpenAI and University of Pennsylvania's Daniel Rock estimated that ChatGPT and other AI technology could "heavily affect" 19% of jobs, with 50% of those jobs at risk of becoming obsolete.
How Will ChatGPT Affect the Labor Market?
ChatGPT will likely encourage changes in the labor market, but, in many cases it will complement — rather than replace — human experts.
Research shows that ChatGPT was able to pass the bar exam to become a lawyer. However, it's unlikely that AI could present emotionally charged opening or closing remarks in a courtroom that could sway a human jury. Instead, lawyers might use ChatGPT for researching past cases, finding precedents and even search through witness testimony and other evidence to reveal patterns.
ChatGPT can also complete tasks like creating computer code, designing websites and writing — although there are shortcomings in its capabilities in all those areas to date. MIT Technology Review cited some of the jobs most at risk of automation from AI:
Writing
Web design
Financial quantitative analysis
Blockchain engineers
Make Your Money Work for You
Individuals in these fields who study, adopt and embrace AI are likely to find other roles in their organizations, working with AI to oversee automated tasks or shifting their duties to areas that cannot be replaced by technology. The Goldman report noted that automation creates innovation and new job creation.
Another research report from economist David Autor, reported by Goldman Sachs, revealed that 60% of today's employees work at jobs that didn't exist in the 1940s. As new jobs are introduced, job growth and more leisure time amongst white-collar workers will give rise to additional job creation in service industries, including healthcare, education and food service.
How Could AI Like ChatGPT Impact the Business World?
Since its inception, companies have been scrambling to find ways to use ChatGPT to automate processes and save money. Much as the work-from-home revolution of 2020 continues to save businesses money on real estate, electricity and infrastructure, ChatGPT can further help reduce operating costs.
It is likely that the next decades will see white collar workers' job duties shifting. Tasks that can be automated will be, leaving workers free for strategizing, creative thinking, innovation and relationship building, which remain cornerstones of a successful business.
The Goldman Sachs report predicts that the use of AI could lead to an increase of 7% in the global Gross Domestic Product, or an increase of almost $7 trillion, with productivity growth of 1.5% over 10 years. Similarly, the U.S. stands to gain up to 1% of its GDP by 2030 thanks to AI.
"Despite significant uncertainty around the potential for generative AI, its ability to generate content that is indistinguishable from human-created output and to break down communication barriers between humans and machines reflects a major advancement with potentially large macroeconomic effects," Goldman Sachs economists Joseph Briggs and Devesh Kodnani wrote in the report.
Make Your Money Work for You
Can I Make Money Using ChatGPT?
Right now, opportunities abound for company owners, freelancers and creative gig workers to use AI to make money. To get started, you may want to browse some of the jobs listed on freelance sites like Fiverr, where workers offer to complete various tasks using AI.
Some examples include:
Logo design
Ad copywriting
Web design
Data analysis
Social media management
Business Ideas Using AI to Help
You can also launch a business using AI and earn $1,000 a month or more.
Rather than writing for someone else, you can start your own blog or website and become an affiliate marketer. It takes time to build up traffic and get sales, but Glassdoor says the average affiliate marketer salary is $59,060 annually, with ranges running from $58,000 up to $158,000.
You can use Dall-E — an app similar to ChatGPT — to create NFT-based artwork and sell it on NFT marketplaces. You can also sell the designs on t-shirts, bags, coffee mugs and other items.
Final Note
The way humans research, learn and work is changing due to AI technologies. Undoubtedly, generative AI — including ChatGPT and other programs in development — will change the white-collar workforce over the next decades.
Those who can adapt and learn how to work with AI will find new ways to profit, resulting in an overall economic boost.
Our in-house research team and on-site financial experts work together to create content that's accurate, impartial, and up to date. We fact-check every single statistic, quote and fact using trusted primary resources to make sure the information we provide is correct. You can learn more about GOBankingRates' processes and standards in our editorial policy.