Biden's Budget Could Save You $10,000 or More Per Year on Child Care — Here's How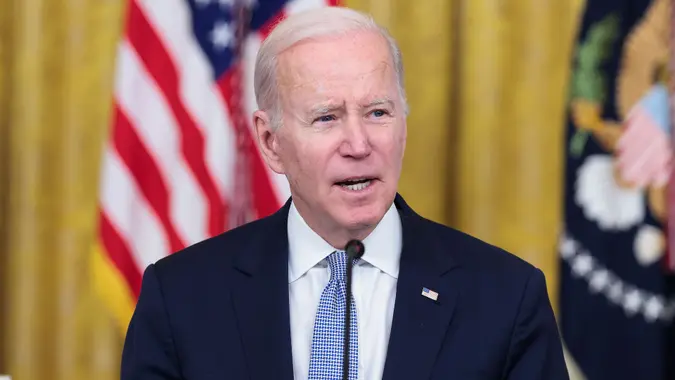 ©Shutterstock.com
President Biden's proposed federal budget for 2024 could give some hope to families when it comes to childcare. The high costs of childcare, especially children under 5, has long been a source of frustration for many middle- and lower-income families in the U.S.
See: Biden Administration Approves State Requests to Use Medicaid for Groceries
Find: Does Biden's 25% Billionaire Tax Help Your Budget?
The U.S. is ranked worst in the developed world for early childcare, according to a recent study by CommonCentsMom. Biden's budget proposal indicated that 75% of private sector workers do not have access to paid family leave through their employer.
With no national paid parental leave plan in place, parents in states without paid family leave laws are often forced back to work immediately, or must pay steep prices for childcare.  
Biden's budget seeks to address childcare concerns in at least five ways, as indicated by the budget proposal and a press release issued by the White House.  
Make Your Money Work for You
Return of Enhanced Child Tax Credit
"The Budget would expand key tax cuts benefitting lower- and middle-income workers and families," according to the president's proposal. That means restoring the "full" child tax credit, again, to 2021 levels, with families receiving $3,600 per child under 6 years old, and $3,000 per child aged 6 and over. Studies show the enhanced CTC delivered during the pandemic helped reduce child poverty by 25%.
National Comprehensive Paid Family and Medical Leave
One of the key budget items for families is the proposal for a "national, comprehensive paid family and medical leave program administered by the Social Security Administration."
The budget would provide up to 12 weeks of "partial wage replacement" to care for and bond with a new child, care for a loved one, or heal from a serious illness. Leave would also be available to take time off while a family member is deployed — or to deal with situations related to domestic violence, sexual assault or stalking.  
Reduced Child Care Costs
The budget also calls for expanded access to "affordable, high-quality childcare." This would happen in a number of ways, including allocating an additional $22.1 billion to Head Start's early care and education programs. That figure includes $9 billion for the Child Care and Development Block Grant.
Make Your Money Work for You
The budget proposal estimates a total allocation of $600 billion to child care and preschool programs over 10 years.
Expanded Access to Free, High-quality Preschool
In addition to bolstering the Head Start program, the budget calls for an additional $500 million for demonstration grants to provide free, high-quality preschool for children in high poverty areas.
In total, the expansion of these programs would make preschool available to "all of the approximately four million four-year-old children in the U.S.," according to the proposal.
Tax Credit for Employers To Provide Child Care Benefits
Finally, the White House press release mentions an expanded tax credit for businesses who offer childcare benefits to their employees.
Take Our Poll: What Do You Plan To Use Your Tax Refund For?
More: If Biden's Student Loan Forgiveness Plan Is Killed, What's Next for Borrowers?
In all, these changes could help better support American families and strengthen the workforce while setting children up for a lifetime of success, according to the budget proposal.
More From GOBankingRates
Make Your Money Work for You