Do You Need To Lose Your Job for Inflation To Go Down? Jerome Powell Seems To Think So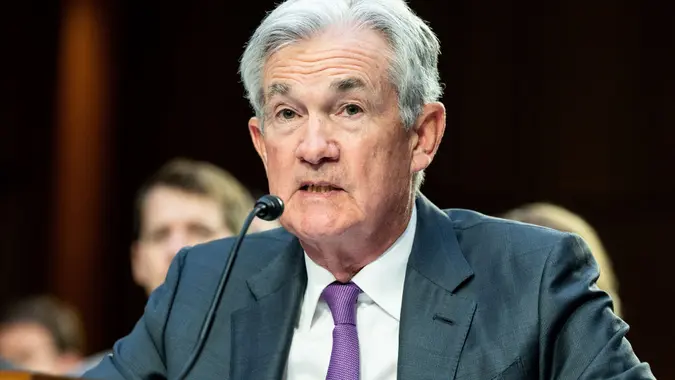 Michael Brochstein / SOPA Images / Shutterstock.com
Inflation isn't going anywhere any time soon, and neither are the interest rate hikes the Federal Reserve has been delivering in an attempt to cool down down inflationary pressure, according to Fed Chair Jerome Powell. He expressed these sentiments in his latest remarks to Congress this week.
However, Powell's tactics are coming under fire from some politicians, including Sen. Elizabeth Warren (D-Mass.) who pressed Powell on one of the ramifications that could come from continued interest rate raises — the loss of millions of American jobs.
Warren began her questioning of Powell by noting recent moves have resulted in the Fed's "most extreme rate hike cycle in 40 years," in which interest rates have been increased eight times. She then asked Powell about the figure in the Fed's own report that alludes to the fact that, through these measures, unemployment is projected to come in at 4.6% by the end of the year. "That's a full point higher than it is today," Warren observed, pointing out that it would result in 2 million people losing their jobs.
While Powell said that is "not an intended consequence," he also did not deny Warren's statements. Warren also asked the chair how he would explain to the American people that they would need to lose their jobs to help inflation come down.
"I would explain to people more broadly that inflation is extremely high and it's hurting the working people of this country badly, all of them, not just 2 million of them, but all of them are suffering under high inflation," Powell said. "We are taking the only measures we have to bring inflation down."
As CNBC reported, Powell has suggested that interest rates are on track to go even higher than the central bank first thought. While estimates back in December noted rates could go as high as 5.1%, a high of 5.5% to 5.75% is now projected, per CME Group. CNBC added, "Powell did not specify how high he thinks rates ultimately will go."
Make Your Money Work for You
Warren suggested that these rate hikes hadn't yet tipped the economy into a full-blown recession, but haven't controlled inflation, either. She argued there are other things at play that the country should target, such as price gouging and ongoing supply chain issues.
The senator ended her questioning of Powell by presenting a grim figure. She noted that, since World War II, there have been 12 times the unemployment rate increased by a single percentage point in one year. She then asked Powell to answer a question: How many of those times did the U.S. economy avoid falling into a recession?
Though Powell said it's "not as black and white" as that scenario, Warren retorted, "The number is zero."
More From GOBankingRates