Gas Prices Fall to $3.57 Per Gallon After Hitting Early Summer High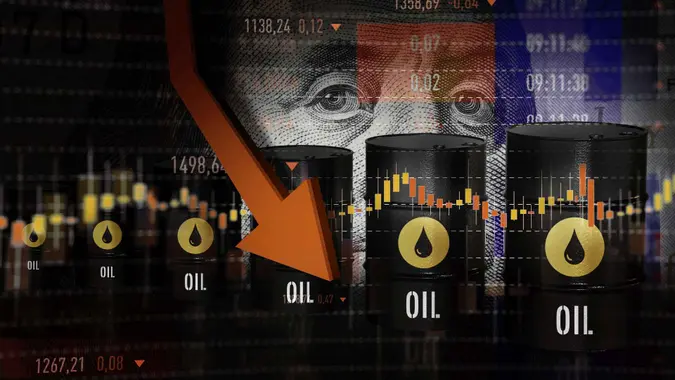 sefa ozel / Getty Images
If you're planning a road trip this summer, here's some good news: Average gasoline prices in the United States are back below $3.60 a gallon following a brief rise a couple of weeks ago.
The national retail average dipped to $3.57 a gallon as of May 2 after reaching a 2023 peak of $3.69 in late April, according to GasBuddy. Prices are back on the decline just as Americans move closer to summer vacation.
The dip in prices at the pump coincides with lower oil prices both domestically and overseas. The price of U.S. benchmark West Texas Intermediate fell to $75.45 a barrel as of May 1, Forbes reported. Meanwhile, the international benchmark Brent Crude Oil dipped to $77.03, despite plans by OPEC oil-producing countries to cut oil production.
Separate data from AAA found that the national gasoline average stood at $3.596 a gallon as of May 2, 2023. That was down from $3.656 a week ago and $4.194 a year ago, but up from $3.505 a month ago. Current prices are well below last year's high of $5.016 a gallon set on June 14, 2022.
Make Your Money Work for You
Gas prices are cheapest in the South, with Mississippi recording the nation's lowest average at $3.072 a gallon, followed by Texas ($3.153) and Louisiana ($3.176). Those prices probably seem like a bargain to drivers in the West, who continue to pay well above the national average. Californians pay the highest average at $4.863 a gallon, while those in Hawaii, Arizona and Washington state also pay well above $4.50 a gallon on average.
Take Our Poll: Do You Think AI Will Replace Your Job?
Prices are lower than the national average in most of the Midwest — with the exception of Illinois, where drivers pay an average of $4.025 a gallon. Prices are also less than the national average in most of the Northeast, where they range from a high of $3.730 in Pennsylvania to a low of $3.407 in Delaware.
Industry watchers expect prices at the pump to keep falling in coming weeks.
"The national average reached $3.68 last week, and that might be the peak price for now," AAA spokesperson Andrew Gross said in an April 27 news release. "As long as the oil cost keeps wobbling around the low to mid $70s per barrel, drivers will benefit when they fuel up."
More From GOBankingRates
Make Your Money Work for You
Make Your Money Work for You