Gas Prices Are Likely To Drop Through the End of 2023 — Here's Why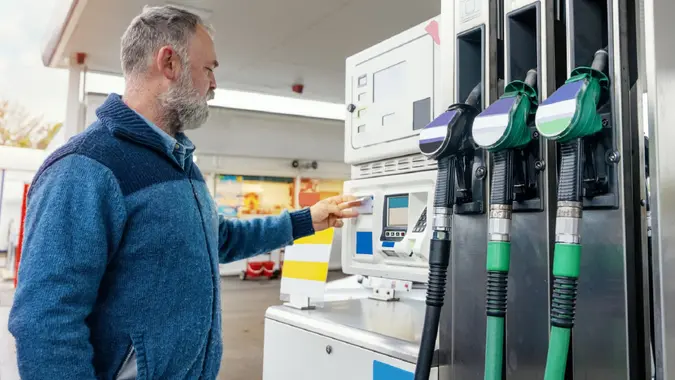 Iryna Melnyk / iStock.com
Gas prices will likely keep dropping through the end of the year. 
Average U.S. gas prices fell to $3.68 per gallon on Oct. 10 despite a spike in oil prices to the mid-$80s due to the Israel-Hamas war, Barron's reported. There are larger economic factors at play in fuel markets that will likely push prices lower even if oil prices go back up.
"I see it continuing to drop," Tom Kloza, global head of energy analysis at OPIS, told Barron's. "Even if crude goes back to $100, it's gonna be very difficult for gas to rally in the next 125 days."
Kloza believes gas prices could drop to around $3.25 or $3.50 per gallon, and he doesn't see this trend reversing until the middle of the first quarter of 2024. AAA spokesperson Andrew Gross said that at least one state has locations selling gas under $3 a gallon, and more states will join in over the next several weeks.
Barron's noted that the reason for the decline starts with OPEC and its allies cutting production to boost oil prices. Russia reduced its supply by 300,000 barrels a day through the end of the year, and Saudi Arabia reduced its supply by 1 million barrels. The reduction in Russia and Saudia Arabia has also led to a shortage of diesel. Margins for diesel jumped to around $40 per barrel, up from $10 to $15, incentivizing refiners to make more diesel.
Make Your Money Work for You
As refiners produce more diesel, they're also making more gas. According to Barron's, three barrels of crude oil yield about two barrels of gasoline and one of diesel. However, there's not enough gasoline demand to justify increasing production.
J.P. Morgan says gasoline demand is at a 22-year low, Barron's noted, and gasoline margins have fallen below $10 per barrel — one-third their level at the same time last year.
More From GOBankingRates