Gen Z Is Preparing For a Recession More Than Any Other Age Group, Survey Shows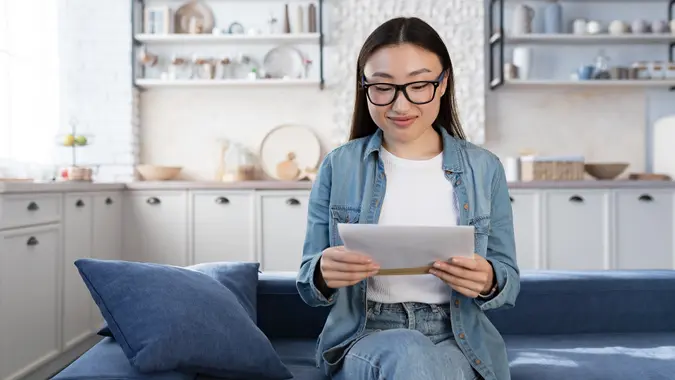 Liubomyr Vorona / iStock.com
Analysts have been predicting a recession for months, and the youngest adults have been taking their warnings seriously.
LinkedIn's Workforce Confidence Index survey shows that Gen Zers are doing more to shore up their finances in preparation for a downturn than their older millennial siblings and even their Gen X parents and boomer grandparents.
The results speak volumes about the priorities, work ethic and foresight of a generation that has so often been stigmatized as lacking all three.
Young Adults Are Least Likely To Be Concerned With Debt
The LinkedIn survey asked more than 11,000 working adults from all four generations which steps they were taking to prepare for an economic downturn — there were seven choices and they could pick all that applied.
Gen Z nearly ran the table, topping all three older demographics in every category except for one — paying down debt.
But if you consider the context, that just might be a good thing. It's likely that the 25-and-under crowd isn't as concerned with debt reduction simply because they have a limited credit history and, therefore, less debt to reduce — and debt is a terrible thing to carry into a recession.
According to Credit Karma, the average Gen Zer has less than $16,000 in combined debt, compared to more than $47,000 for millennials, around $60,000 for Gen Xers and almost $52,000 for boomers.
Gen Z Is Out-Prepping the Rest in 6 Out of 7 Categories
With most of Gen Z free from crushing debt, young adults have the luxury of concentrating on the other recession-proofing measures, which they report doing more than their older counterparts in all six other cases. 
Cutting spending: 78% of Gen Z, 74% of millennials, 70% of Gen X and 64% of boomers
Delaying a big purchase: 52% of Gen Z, 50% of millennials, 47% of Gen X and 42% of boomers
Working harder or longer hours: 34% of Gen Z, 25% of millennials, 21% of Gen X and 16% of boomers
Considering a more stable job: 32% of Gen Z, 19% of millennials, 15% of Gen X and 10% of boomers
Selling things they don't need: 31% of Gen Z, 28% of millennials, 28% of Gen X and 23% of boomers
Taking on a second job: 30% of Gen Z, 22% of millennials, 21% of Gen X and 12% of boomers
Make Your Money Work for You
Despite COVID-19, 2022 Gave Young Adults Their First Reason To Worry
The oldest Gen Zers turned 18 in the mid-2010s and are 25 today. They came of age during an epic, decade-long stock rally that remains the longest bull market in history. On top of that, any Gen Zers who borrowed money did so when interest rates were at or near record lows.
It's true that Gen Z watched COVID-19 cause a rapid-onset market crash and recession, but stocks and the economy bounced back with remarkable speed — and thanks to government stimulus, the unemployed fared much better than they otherwise would have.
Economically and financially speaking, Gen Zers lived charmed lives — until 2022 delivered a reality check.
This year, Gen Z tasted the worst inflation since before all but the oldest millennials were born — and suddenly, they had to stretch their entry-level paychecks much further. They also experienced the highest interest rates in 20 years, which showed them how hard things can get when money costs more to borrow. Also, a monthslong bear market has shattered the illusion of stocks as a sure thing and annihilated the cryptocurrencies that they had believed in so deeply.
It seems that the youngest adults with the least savings and most limited credit have been scared into preparing for a recession whose potential consequences they appreciate for the first time.
"The Gen Z generation has only ever enjoyed prosperity when it comes to our economy," said Jennifer Kropf of Wealthy Woman Finance. "Due to this, they face more uncertainty than the rest when it comes to how a recession will impact them. It's logical for them to prepare for the unknown."
Make Your Money Work for You
Childhood Economic Trauma Steered Them Toward Financial Self-Reliance
Today's 25-year-olds were born in 1997 — and they grew up watching their parents and older siblings navigate an economic and political landscape that was unkind to the unprepared.
"Gen Z has witnessed significant disruptions in global economics, largely firsthand, as the first digital-native generation," said Healthy Wealthy Roots founder Traci Williams, a certified financial therapist and board-certified clinical psychologist who specializes in millennials and Gen Z. "Since they were first born in the late 1990s, these young people have watched their older loved ones navigate the dot-com bubble, the 9/11 attacks and subsequent wars, the Great Recession, and most recently, the COVID-19 recession. It's no wonder they are more wary of what they do with their money."
That formative experience made Gen Z the least likely of all demographics to trust the integrity of the system and its institutions — they've been conditioned to assume they'll be on their own when things get bad.
Andrew Griffith, CPA and associate professor of accounting at the LaPenta School of Business of Iona University, has talked about this subject many times with the young people he teaches.
"My conclusions from those conversations are that their motivations are a function of a lack of trust in the national policy leaders and the systems that these leaders oversee," Griffith said. "Some recognize that promises made to other generations were not kept at all or in the way that those commitments were advertised. Others recognize that those promises most likely won't be there for this generation when they have a need for it."
Make Your Money Work for You
More From GOBankingRates