Grant Cardone Says Economic Downturns Are When Entrepreneurs 'Truly Get Rich' — Here's How To Make the Most of the Moment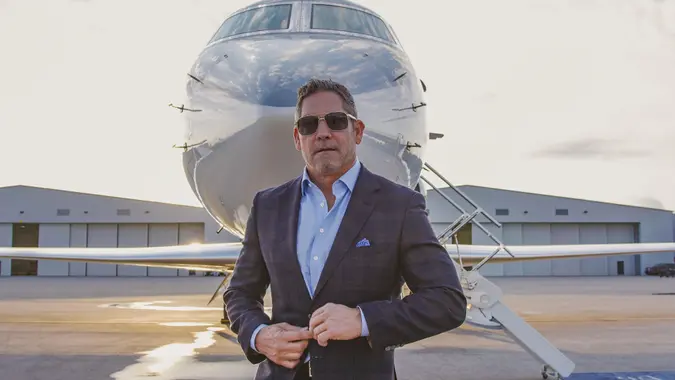 ©Grant Cardone
Economic downturns are inevitable, and if you are a small-business owner, it's essential to be prepared for the downswing.
"Everyone in America should plan for a major, serious, nasty, long recession," Grant Cardone, author of "The 10X Rule," told GOBankingRates. "I would plan for the hurricane — batten down the hatches and hope that it doesn't hit you, and if it doesn't, OK, you wasted a little bit of energy."
Here's what Cardone said entrepreneurs should do to be prepared, and why he actually sees recessions as an opportunity for major success.
Make a Plan for the Worst Case Scenario
Cardone, who will be hosting the 10X Your Business summit Sept. 15-17, said that the first thing every entrepreneur needs to do is "prepare for Armageddon."
That means having a well-thought-out plan about how you can stay afloat when times get tough.
Set Big Targets
While your instinct might be to lower your revenue targets during a recession, Cardone said that it's best to do the opposite.
"You need to still set big targets," he said. "Do not try to set level targets, because if you try to maintain level, whatever happened last year or the year before, when the storm comes it's going to knock you back. So you actually have to set bigger targets."
Make Your Money Work for You
Setting goals that are too low "is probably the No. 1 mistake people make," Cardone said. "They may actually reduce their targets because the storm is coming, and you shouldn't. You should set bigger targets in order to be prepared for this onslaught."
Economize Your Time and Your Money
During economic downturns, it's especially important that you are making the most of both your time and your money.
"You have to economize," Cardone said. "[Anything that is] a waste of time or a waste of money, quit doing them."
Cardone said to start by taking a close look at your money.
"Look at where you're spending money and what you're spending money on, and cut back anywhere you can," he said.
Do a similar audit on your use of time to ensure that you aren't wasting valuable minutes of your day.
Continue To Invest Toward Your Goals
While you may want to cut back on your spending during downturns — and you should cut back on spending that is unnecessary — it's still worth investing in anything that will get you closer to your business goals.
"Add the skills and the people necessary to achieve your targets during this recession," Cardone said.
See an Economic Downturn as an Opportunity
Rather than viewing a recession as something that you dread, look at it as an opportunity for major success.
"This is when people truly get rich," Cardone said. "This is when the players look back later and say, 'All my money was made in the two or three years after 2008.' Fortunes can be made in these cycles, but you have to have a very strong culture around you, great leadership and a very strong mindset. And you've got to be an extremely disciplined individual to pull this off, because that's who wins here."
Make Your Money Work for You
More From GOBankingRates