Grocery Bills, Loss of Government Aid and 6 More Reasons Americans Lack Confidence in Economy Despite Its Improvement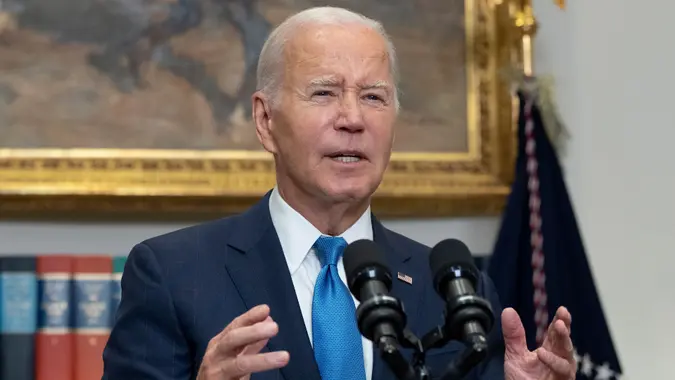 CHRIS KLEPONIS / POOL / EPA-EFE / Shutterstock.com
Despite the country's reported economic improvement, nearly 70% of Americans say the economy is getting worse, not better, according to a new Suffolk University Sawyer Business School/USA Today survey.
The survey found that despite a resilient job market and cooling inflation, Americans' views of the economy are dire. Large percentages of those polled used words like "horrible," "awful," "bad," and "shambles" to describe the current economy, compared to smaller percentages that used words such as "excellent," "good," "growing," or "improving," according to the survey.
"My read of this data: There's no soft landing," David Paleologos, director of Suffolk's Political Research Center, told USA Today.
Grocery Bills a Major Consumer Concern
A whopping 84% of Americans said that the cost of living is rising, despite inflation trending down to 3.7%, according to the latest consumer price index (CPI).
In addition, half of those who see inflation continuing — 49% — cited the cost of food as the biggest issue. This figure was followed by housing costs (at 15%) and utility bills (11%).
Make Your Money Work for You
Loss of Pandemic Aid Not Helping Matters
According to the survey, 55% of Americans said they received some federal stimulus money or other federal aid during the pandemic. A full 34.7% of these deemed the money as "very important" to their financial stability during the pandemic, while 25.5% said it was "somewhat important."
Increasing Household Debt Putting on the Pressure
Americans are also feeling the pinch due to increasing household debt. Indeed, the survey found that 39% said their debt load has increased over the last year, while only 18% said it had decreased.
Higher Gas Prices, Credit Card Rates, and Rent
And in terms of what's most responsible for the increase in their family's debt, Americans indicated higher rents or mortgages were the biggest culprits, with 15% saying so. This was followed by higher car and gas costs, as well as higher spending on credit cards (11%), the survey found.
Americans Forced to Cut Costs
The survey also found that a sizable majority — 71% — of Americans have been going out to eat less often. In addition, 52.5% have been cutting down on groceries, 58% postponed or canceled their trips or vacations, 68% cut down their spending on clothes and 52% dialed back on home heating and electricity costs.
Make Your Money Work for You
A Bit of Stingier Holiday Spending To Come, Disconnect Between Biden Admin and American Opinion
In terms of holiday shopping, 40% said they anticipate spending less.
"This poll shows a real disconnect between the way the Biden administration has described the economy and how a majority of Americans say they feel about the economy and the need to curtail their spending in almost all categories," Paleologos said in the survey. "We have many Americans, especially lower income families, who are not anticipating a happy holiday season this year."
More From GOBankingRates