As Grocery & Housing Costs Continue to Rise, What Actions Do Experts Think The Fed Needs to Take Next?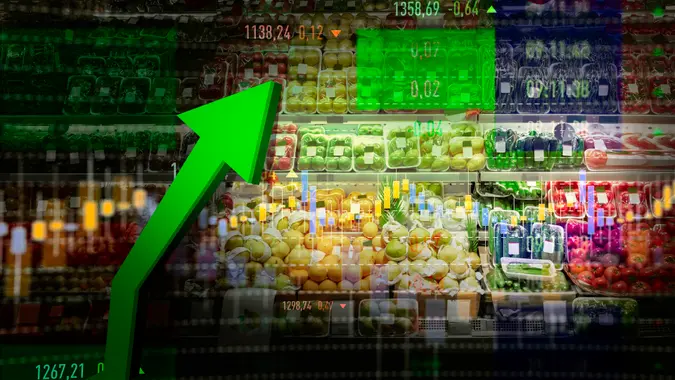 sefa ozel / Getty Images
Consumer inflation, bolstered by the rise in gas and shelter prices, rose 0.6% in August. It now stands at 3.7% according to the Bureau of Labor Statistics' (BLS) Consumer Price Index (CPI), released Sept. 13. This is up from July's 3.2% inflation rate.
The index for gasoline was the largest contributor to the monthly all items increase, up a whopping 10.6% for the month. In addition, the shelter index rose for the 40th consecutive month, representing 70% of the core CPI — which excludes food and energy prices — increase. Nonetheless, on a monthly basis, shelter prices decreased. Food prices were also up for the month.
The data was higher than expected, as economists anticipated inflation to rise 3.6% from a year ago August and 0.6% for the month, according to The Wall Street Journal. The core CPI was also hotter than anticipated, rising 0.3% in August, compared to economists' 0.2% anticipation.
This is the last big economic report before the Federal Reserve's next Federal Open Market Committee (FOMC) two-day meeting, on Sept.19-20. Now, the question is whether this latest set of data will be sufficient to warrant a pause in rate hikes or reinforce the case for further tightening, as inflation is still a bit off from the Fed's 2% target.
Make Your Money Work for You
At its last meeting in July, the Fed — following a pause in June and after 10 consecutive rate hikes —  increased its rates for the 11th time since March 2022, raising interest rates by 25 basis points, taking the benchmark borrowing costs to the highest level in more than 22 years.
Here is what experts are saying about what might happen.
What will the Fed's response be?
"While year-over-year CPI came in above expectation, increases for the month of August were mild with just energy coming in hot. We expect the Fed to act in line with market expectations and hold rates steady next week. If price pressures continue to hit consumers more than expected next month, we could see another rate hike before year end," said Ben Vaske, investment strategist at Orion Advisor Solutions.
Stick to a pause this time, a hike next.
According to William J. Luther, director at Sound Money Project, American Institute for Economic Research, many Fed officials have signaled they would keep the policy rate in the 5.25% to 5.50% range when they meet next week, but those statements were dependent on the incoming data.
"Now that the data has come in, it seems unlikely that they will revise the course," said Luther. "Since inflation has fallen considerably over the last six months, they will feel comfortable pausing in September. Unfortunately, the uptick in energy prices probably means they will deliver an additional 25 basis point rate hike later this year, as projected back in June."
Make Your Money Work for You
It's too late to avoid a recession.
Jeffrey Rosenkranz, portfolio manager at Shelton Capital Management, said that this CPI reading will be characterized as a 'miss' or a 'backslide.' 
"Economic data is always mixed at inflection points in the economy," he said.
According to him, while this month's reading was pushed higher by energy prices, he said he would rather look for signs that confirm the overriding trend and what is coming in the months ahead. 
"Owner's equivalent rent increased only 0.4%, the smallest increase since December 2021.  Moderation in housing costs comes with a very long lag, as it takes a while for rate increases to filter their way through the housing market and to find their way into the actual statistics due to sampling methodology," he noted.
In turn, Rosenkranz also believes the Fed is unlikely to do anything next week, but instead will take today's figures along with all of the other incoming data between now and their November and December meetings. 
"Markets are now pricing in roughly a 50% probability of one additional 25 bp hike in either November or December, which feels about right — a toss of the coin," he said.
Yet, he added that whether or not they do have to increase one more time, in the grand scheme of things it doesn't really matter too much. 
Make Your Money Work for You
"They will keep their feet on the brakes until the evidence of conquered inflation is clear, and at that point they will have tightened too much for too long, pushing the economy into a recession sometime in the first half of 2024," he added.
Keep the champagne on ice.
While headline and core inflation were a little hotter than forecast, David Russell, global head of market strategy at TradeStation, also underscored the fact that shelter rose at the slowest pace in two years and the inflation report looked worse than it was.
"Most of the contribution from the high reading came from energy and a surprise pop in airline fares. Used car prices also came down, which is encouraging for core," said Russell, adding that these numbers confirm the trend of lower shelter costs that market bulls want to see.
"But they're not decisively low enough to trigger a rally. Keep the champagne on ice and wait for next week," he added. "The Fed meeting is more important than ever. Policymakers will have to decide what to do with these numbers."
Make Your Money Work for You
A soft landing?
Other experts said that while this CPI is coming up short and might add some volatility to equity markets, it doesn't necessarily rule out the need for further hikes.
"For the average American the cost of gasoline and increase in utilities adds some strain to the budget, however softer housing costs are a bright spot," said Sylvia Jablonski, CEO, CIO of Defiance ETFs.
The bigger picture, Jablonski said, is that inflation is indeed on the way down.
"While we may see some bumps in the road, the Fed is likely nearly done hiking, and though rates are higher, and may remain higher for longer, the economy has withstood tightening and remains stable, hence a soft landing feels like the likely outcome here, regardless of one print."
Some risks remain for 2024.
A few risks remain that could keep inflation from the Fed's 2% target next year, according to Gargi Chaudhuri, head of iShares Investment Strategy, Americas, BlackRock.
"We expect base effects to run out by year end, higher oil prices might keep headline higher and feed into core inflation down the line, and a stronger-than-expected U.S. consumer boosting overall economic activity," said Chaudhuri. "If anything, higher headline inflation is proof that the Fed will need to keep rates higher for longer and that heavy rate cuts next year are mispriced."
Make Your Money Work for You
Where are you going to feel inflation pinch?
Energy
The energy index rose 5.6%, a significant jump after increasing 0.1% in July. Prices for gas were up 10.6% for the month, a significant jump following July's 0.2% increase. However, prices decreased 3.35% over the past year.
Other energy components also increased in August, including the index for electricity, which rose 0.2% in August; the natural gas index, which increased 0.1% over the month, and the index for fuel oil, which increased 9.1%.
Food
Food prices overall increased 0.2% for the month and remain up 4.3% over last year. Food at home — your grocery bill — increased 0.2% over the month. Items that saw price increases included meats, poultry, fish and eggs. On the other hand, the prices for dairy products decreased 0.4% in August, as did the cost of fruit and vegetables which declined 0.2%.
Eating out, or the food away from home index also rose 0.3%.
Shelter
Prices for shelter continued to rise, up 0.33% over the last year, specifically hitting prices for rent which were up 0.3% for the month, bringing the 12-month increase to 7.8%.
Make Your Money Work for You
The BLS said that other indexes with notable increases over the last year include motor vehicle insurance (+19.1%), recreation (+3.%), personal care (+5.8%), and new vehicles (+2.9%).
More From GOBankingRates