Half of Americans Are Financially Worse Off Than a Year Ago — What's Causing the Near-Record Slump?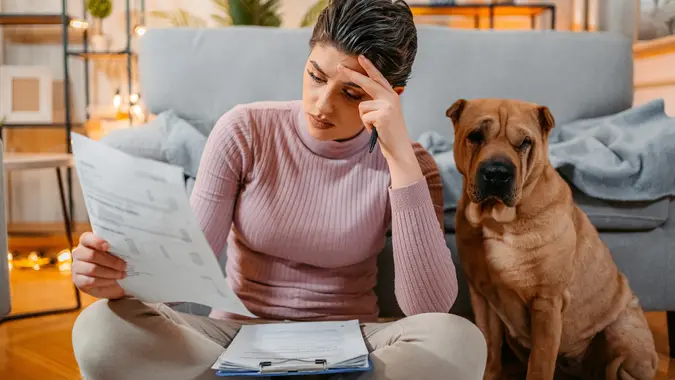 urbazon / iStock.com
As inflation continues its slowly slide from the 40-year high recorded in June and buzz of a "soft landing" has increasingly replaced talk of a near-certain recession, Americans are still feeling the brunt of a tough economic 2022 when asked to review their personal financial situation now versus a year ago.
See: Fed Interest Rate Cuts Unlikely Until 2024, Experts Predict
Explore: Powell Says Disinflationary Process Has Begun, but More Rate Hikes Needed
Gallup has found that 50% of Americans say they are worse off financially than they were last year, which is the highest percentage since the Great Recession of 2008 and 2009. Still, the poll supports a surprisingly optimistic sentiment among Americans. A decent 35% of those asked said they feel their financial situation has improved over the past year. This is in stark contrast to the 59% tallied before the pandemic started in Jan. 2020. However, as Gallup noted, it is not terribly low compared to "other challenging times," and 14% feel their finances were "the same" as at the start of 2022.
But there is no denying that a large segment of the population is stuck in a poor personal financial rut, and it's easy to see why given the number of significant global and domestic economic issues that transpired in 2022.
Aside from high inflation and ballooning consumer prices, borrowing costs surged and the stock market took a beating at home, while geopolitical conflicts and a similarly weak global economy continued to influence the lives of all Americans. However, as Axios suggested, economic fear caused by "pandemic paranoia" can't be discounted, as Americans continue to be affected by "one of the most dispiriting, dislocating and uncertain eras of their lifetime."
Make Your Money Work for You
Take Our Poll: What Are Your Financial Priorities in 2023?
Gallup has been polling Americans about changes to (and satisfaction levels of) their personal financial situations since 1976. The latest study was conducted from Jan. 2 through Jan. 22 and asked respondents if they were financially better off now than they were a year ago, or if they were financially worse off now. This year's poll results show discrepancies along political party support and across income lines. It showed 61% of those who identify as Republicans claim to be worse off than they were a year ago, while just 37% of Democrats felt the same. Meanwhile, 47% of Democrats said they felt better off.
As Gallup noted, support and opposition across political affiliations is common depending on who is occupying the White House at survey time. As noted last year, "Today's gap in Democrats' and Republicans' assessments of their finances is expected at a time when Americans' views on anything that could reflect on the nation's leadership are shaded by partisanship."
Using an annual household income threshold of less than $40,000, 61% of lower-income Americans said their financial situation has worsened over the past 12 months, while 49% of middle-income respondents (earning between $40,000 and $99,999) and 43% of high-income earners ($100,000+) felt things have gotten worse.
Make Your Money Work for You
Conversely, only 26% of lower-income respondents feel their finances have gotten better than a year ago, while 37% of middle-income and 39% of upper-income U.S. residents polled felt the same.
Dollar Store Spending: 44% of Americans Plan To Bargain Shop in 2023
Interesting: Frozen Lasagna Key Indicator for Inflation, Says Fed Official
Although hope might be clouding their judgement, Americans responded favorably when asked about their expectations for the coming year. Sixty percent believe their financial situation will improve over the next 12 months while only 28% expect to be worse off. With recession rumors subsiding and inflation coming (slowly) down to earth, let's hope the optimistic majority turns out to be correct next year, for themselves and for everyone.
More From GOBankingRates
Make Your Money Work for You