Here's Why You Should Be Worried About the $33 Trillion National Debt — No Matter What Joe Biden and Janet Yellen Say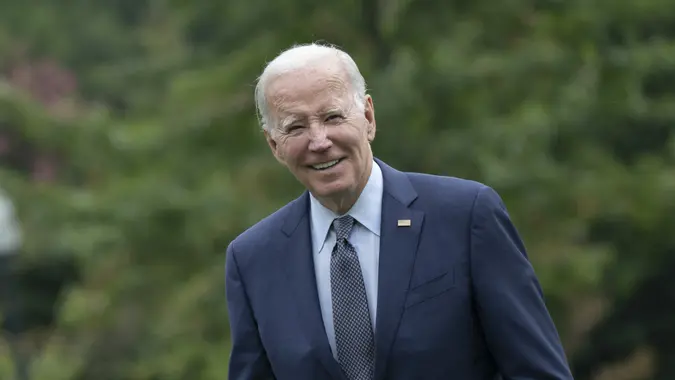 Shutterstock / Shutterstock
After weeks of debates and delays, the U.S. Senate passed bipartisan legislation to lift the federal debt ceiling just days before the June 5 deadline set by the Treasury Department. Though concessions were made on both sides of the aisle, the debt ceiling bill suspended the government's borrowing limit until January 2025 and averted an unprecedented default.
However, with the national debt exceeding $33 trillion for the first time ever last week, the issue is expected to remain on the front burner for lawmakers ahead of a potential government shutdown and on the worried minds of Americans, despite what President Joe Biden and Treasury Secretary Janet Yellen say.
Speaking to CNBC Monday, Yellen discussed the need for the government "to make sure that we stay on a sustainable course" amid continuing federal spending programs and how gross domestic product (GDP) interest payments tell the real story about government debt.
"The statistic or metric that I look at most often to judge our fiscal course is net interest as a share of GDP," said Yellen. "And even with the rise we have seen in interest rates that remains at a very reasonable level."
As Fortune reports, Yellen's reasoning is genuine. Federal interest payments are low (1.86% of the government's GDP in 2022, per Federal Reserve data), similar to the historical average of under 2% since 1960, according to the Center on Budget and Policy Priorities.
Make Your Money Work for You
However, playing chicken with debt is often a losing battle. As interest accumulates and overspending on programs continues, slowing the national debt's growth will be a daunting task, even accounting for newly passed spending cuts.
The national debt shouldn't be downplayed just because the ceiling has been moved. High federal debt levels cause numerous burdens. Here are a few you need to watch out for:
Economic Burden
According to The New York Times, the federal deficit — the difference between what the government spends and what it collects in taxes and revenue — topped $1.5 trillion for the fiscal year's first 11 months, representing a 61% increase from this time last year. This deficit spending has resulted in recent inflation rate surges and is expected to result in slower economic and income growth, increased interest rates and a bigger risk of fiscal crisis or an inability to properly respond to new national emergencies, like a recession, pandemic or war, per the Committee for a Responsible Federal Budget.
Fiscal Burden
A large portion of the budget allocated to debt service and interest leaves less room for policy flexibility and more strain and limited funds for other crucial public services like education, healthcare, infrastructure and social welfare programs.
Geopolitical Burden
As the Committee for a Responsible Federal Budget notes, a large portion of the U.S.' national income is sent to foreign investors that hold and control our debt. "We are consequentially left with fewer financial tools to manage conflicts with other countries when they have increased leverage over our economy," claims the nonpartisan, non-profit organization's site.
Future Generations' Burden
Accumulating substantial debt can impose an economic burden on future generations. They may face higher taxes or reduced government services to cover the interest payments and eventually pay down the debt, potentially limiting their ability to invest in their own priorities and economic growth.
Make Your Money Work for You
More From GOBankingRates