What Is the Highest Income Level for SNAP Payments in June 2023?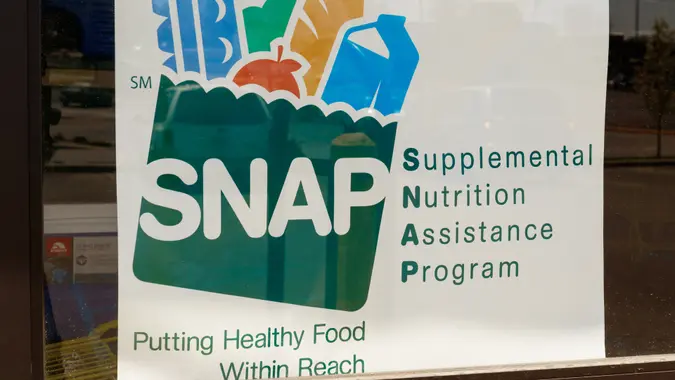 jetcityimage / Getty Images
The Supplemental Nutrition Assistance Program, or SNAP, provides financial benefits to needy families to help them purchase nutritious food.
Formerly known as food stamps, the SNAP program is financed by the federal government but administered by individual states, who also shoulder some of the administrative costs. Instead of physical "stamps" or coupons, recipients now receive electronic debit cards, known as Electronic Benefits Transfer (EBT) cards.
The program is only available to households that fall below gross and net income limits. Qualifying households must also have assets below a certain level.
The gross income limit is 130% of the poverty level, while the net income eligibility standard is the actual U.S. poverty level. These figures are adjusted every fiscal year, which for the SNAP program runs from Oct. 1 to Sept. 30. Thus, the figures listed below will be valid through Sept. 30, 2023, at which time they are likely to be revised again.  
Given the current economic environment, demand for SNAP benefits seems likely to grow. With inflation and interest rates at multi-decade highs at the same time many economists are calling for a recession, finances are tightening up for a large number of Americans. Now that most of the stimulus pumped into the economy during the heart of the pandemic is gone, American households are depleting their savings. Even worse, debt levels are rising, and 46% of credit card holders are now carrying balances. While households are generally holding things together for now, if the economy tips into a recession, many of those on the edge may find themselves in the position of needing financial assistance from the government.
Make Your Money Work for You
Here's a look at the net monthly income standards for fiscal year 2023, which show the maximum monthly income to qualify for SNAP. Note that the standards for Alaska and Hawaii are higher than those for the 48 contiguous states, the District of Columbia, Guam and the U.S. Virgin Islands.
| | | | |
| --- | --- | --- | --- |
| Household Size | 48 States, District of Columbia, Guam, Virgin Islands | Alaska | Hawaii |
| 1 | $1,473 | $1,841 | $1,694 |
| 2 | $1,984 | $2,480 | $2,282 |
| 3 | $2,495 | $3,119 | $2,870 |
| 4 | $3,007 | $3,759 | $3,458 |
| 5 | $3,518 | $4,398 | $4,047 |
| 6 | $4,029 | $5,037 | $4,635 |
| 7 | $4,541 | $5,676 | $5,223 |
| 8 | $5,052 | $6,315 | $5,811 |
| Each additional member | $512 | $640 | $589 |
Here's a look at the gross monthly income standards for fiscal year 2023, which show the maximum monthly income to qualify for SNAP:
| | | | |
| --- | --- | --- | --- |
| Household Size | 48 States, District of Columbia, Guam, Virgin Islands | Alaska | Hawaii |
| 1 | $1,133 | $1,416 | $1,303 |
| 2 | $1,526 | $1,908 | $1,755 |
| 3 | $1,920 | $2,400 | $2,208 |
| 4 | $2,313 | $2,891 | $2,660 |
| 5 | $2,706 | $3,383 | $3,113 |
| 6 | $3,100 | $3,875 | $3,565 |
| 7 | $3,493 | $4,366 | $4,018 |
| 8 | $3,886 | $4,858 | $4,470 |
| Each additional member | $394 | $492 | $453 |
More From GOBankingRates
Make Your Money Work for You