House Just Passed $4.5 Trillion GOP Debt Limit Plan — 4 Most Important Cuts That Could Hit Your Wallet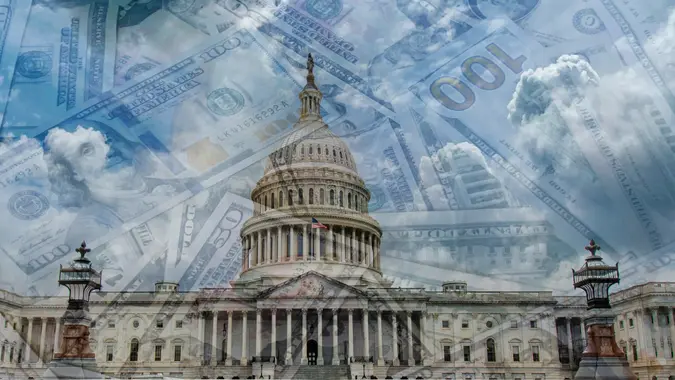 Douglas Rissing / Getty Images/iStockphoto
The U.S. House passed a debt ceiling bill by the slimmest of margins on Wednesday, April 26, with the final plan featuring $4.5 trillion in spending cuts while raising the debt limit by $1.5 trillion until May 2024. If the Republican-led bill gets Senate approval and the signature of President Joe Biden, it will help the federal government avoid a default.
But the bill probably won't advance past the House, which approved it by a 217-215 vote. Senate Majority Leader Chuck Schumer (D-N.Y.) said the bill is "dead on arrival" when it reaches his Democrat-controlled chamber, Reuters reported. And in an April 25 statement, Biden signaled he will veto the Republican plan.
If the bill were to somehow make it into law, its massive spending cuts could have a financial impact on millions of Americans. Here are four ways the most important cuts could hit your wallet.
Social Security Benefits
The bill's impact on Social Security is a matter of fierce debate. House Speaker Kevin McCarthy (R-Calif.) said his plan does not touch Social Security, and there is nothing in it that directly mentions the program.
But Social Security advocates say one feature of the bill — returning discretionary spending to fiscal year 2022 levels — will result in a 23% reduction in spending for all federal programs if defense and veterans' programs are exempted.
Make Your Money Work for You
"That would be a huge hit for the Social Security Administration (SSA), which already is chronically underfunded. A cut of that size would exacerbate glaring customer service problems at the SSA," Max Richtman, president and CEO of the National Committee to Preserve Social Security and Medicare, wrote in an email statement shared with GOBankingRates.
A separate email sent to GOBankingRates by the nonprofit Social Security Works noted that if the bill becomes law, it will "force SSA to close field offices, reduce hours, and lay off thousands of workers. This will make it far harder for Americans to claim the benefits they've earned."
A delay in processing benefits and applications could hit the wallets of Social Security recipients who need the money sooner rather than later. This was one of the concerns raised in a March 17 letter from SSA Acting Commissioner Kilolo Kijakazi to U.S. Rep. Rosa DeLauro (D-Conn.), who serves on the Appropriations Committee. In the letter, Kijakazi wrote that returning funding to FY 2022 levels would result in "longer wait times for benefits."
Federal Student Loan Forgiveness
The House bill would immediately eliminate Biden's student loan forgiveness plan, which means millions of borrowers who looked forward to debt relief won't get it. This might be a moot point because legal challenges to the plan could strike it down even if the GOP debt ceiling plan doesn't get signed into law.
Make Your Money Work for You
Food Stamp Benefits
The GOP plan would raise the age limit to 56 from 50 on work requirements to receive food purchasing assistance from the Supplemental Nutrition Assistance Program (SNAP). SNAP recipients in the affected age group who are unable to work would see their benefits reduced or eliminated altogether.
Tax Refunds
Another feature of the bill is that it would rescind funding for the IRS to upgrade technology and increase hiring, AP reported. Considering problems the agency already has processing returns and answering customer service calls, a severe cut in staffing could result in longer wait times to get refunds.
More From GOBankingRates