If Trump Wins, What's His Plan To Combat Inflation?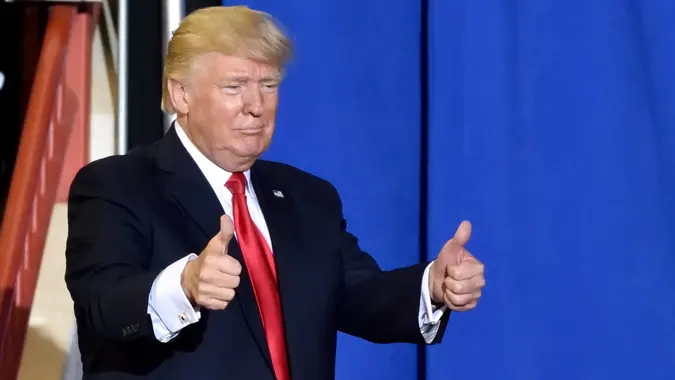 Former President Donald Trump, who has been indicted on federal charges and is awaiting trial, announced in November 2022 that he was planning to run again for the Republican nomination in 2024. CNN reported that he told his followers he was running "in order to make America great and glorious again."
If Trump is elected for a second term, what would that mean for the economy?
Could Trump Solve High Inflation?
Of the things at the top of Americans' minds, one of the biggest is likely inflation, which has driven up the cost of living for everyone across the board since the economy began its limping recovery from the financial strains of the COVID-19 pandemic.
What are Trump's plans to tackle inflation, and how will this impact Americans? The truth is his plan is somewhat vague, though he has referenced inflation in a number of speeches.
He has been vocal about decrying the high rate of inflation and pointed his finger at the Biden Administration as the culprit.
In August 2022, at a campaign rally supporting Kari Lake for Arizona governor, Trump claimed, "We had the greatest economy in the history of the world with no inflation," and then added that "Biden created the worst inflation in 47 years."
While politicians have engaged in a lot of blaming across the aisle, the facts behind the record high inflation are more complex than one presidential administration owning responsibility. According to Politico, a number of factors — including Russia's invasion of Ukraine, post-pandemic consumer spending and increases in energy prices — are largely responsible for it.
Make Your Money Work for You
What Is Trump's Plan?
As of early July, Trump hasn't laid out a specific plan to fight or lower inflation. He has only made some hints in various speeches about how he might ease Americans' financial burdens. 
When he announced his run for president in 2022, he said, "We will immediately tackle inflation and bring it down to a level that it was." He said "the best number is 1%" and that the value of the dollar was positioned to "make this country a lot of money."
He stressed that his priorities included "low taxes, low regulation, fair trade" and suggested that "other countries should pay for coming into the American marketplace and make all that money [they] take away from us."
Returning to his trademark slogans from his first campaign, he vowed that every policy would put America first and "make America great again."
Trump Could Roll Back a Crucial Act
One strategy that Trump has discussed in recent rallies involves a plan that would require a court fight to take back the authority that the executive branch used to have before 1974 to "impound" federal funds. Trump said he would do this to "cut waste, stop inflation and crush the deep state," if he were to win in 2024, according to Newsweek.
He's referring to the Congressional Budget and Impoundment Control Act of 1974, which ended the president's ability to take back money the president deemed "excessive" and reapportion it.
Make Your Money Work for You
Trump posted a video stating, "When I return to the White House, I will do everything I can to challenge the Impoundment Control Act in court and, if necessary, get Congress to overturn it. We will overturn it."
He added that he would use the restored "impoundment power" to "squeeze the bloated federal bureaucracy for massive savings. This will be in the form of tax reductions for you. This will help quickly to stop inflation and slash the deficit."
It's difficult to say what his chances of succeeding at overturning this act would be and whether he would need to have full control of Congress to do it.
Trump's Past Views Might Give a Glimpse
According to ABC News, past comments by Trump might give a hint as to his approach regarding inflation — namely putting pressure on the Federal Reserve and offering to give Americans money back in their pockets.
Trump was critical of Federal Reserve Chairman Jerome Powell before and during the pandemic, suggesting that the Fed should lower interest rates for borrowers. He was also on board with relief programs that gave money back to Americans so they could handle the impact of pandemic-related economic hardship.
While Trump has not laid out a specific plan, it is clear that he is running on a platform that is considering the issue worthy of mention. The specifics of that plan and how it will immediately affect Americans are still to be seen.
More From GOBankingRates
Make Your Money Work for You