Inflation 2023: 5 Ways Biden and Congress Can Legally Fight It — How Many Have They Tried?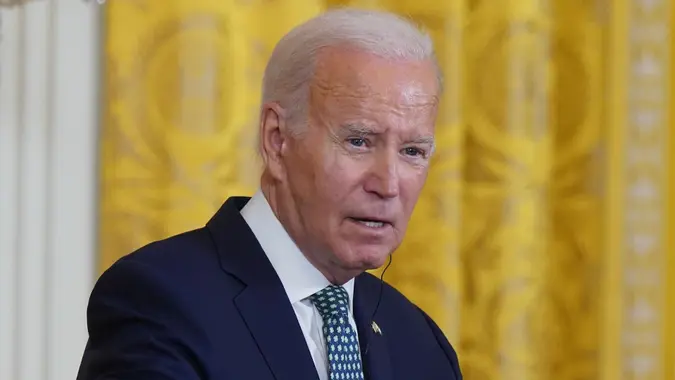 ©Shutterstock.com
The sky-high inflation rate that hit early last year did not go unnoticed by the Biden administration. In May 2022, the White House issued a plan for tackling inflation that included a laundry list of proposals designed to push prices lower.
A White House brief at the time indicated President Joe Biden planned to lower the cost of gasoline and energy by achieving "energy independence;" lower the cost of prescription drugs, food, everyday items and childcare through various policy initiatives; lower housing costs by building more homes; and reduce the deficit (and inflation) by having corporations and the wealthy pay "their fair share" of taxes.
The brief didn't mention Federal Reserve interest rate hikes, though those have been the centerpiece of the administration's battle to tame inflation.
Meanwhile, congressional Republicans aim to ease inflation through a combination of deregulation and tax cuts, which they say can bolster the economy while bringing prices down.
Here's a look at five ways Biden and Congress can fight inflation — and what they've done so far.
Raise Interest Rates
This has been the main weapon used to battle inflation, and the Fed has not been shy about using it. With support from the Biden administration, the central bank hiked interest rates 10 meetings in a row before leaving rates unchanged during the June meeting earlier this month, NPR reported.
Make Your Money Work for You
The policy seems to be working, to a point. The overall inflation rate for May 2023 rose only 4% during the previous 12 months, which was the smallest gain in more than two years and well below the peak rate of 9.1% in June 2022.
Still, inflation continues to run well above the Fed target of 2%. As US News reported, Fed Chairman Jerome Powell recently told Congress: "The process of getting inflation back down to 2% has a long way to go."
Strengthen Free Trade Agreements
An August 2022 paper from the Brookings Institution suggested Biden would have a "good basis" to restart negotiations with the EU by building on efforts to implement a Transatlantic Trade and Investment Partnership (TTIP) that could help reduce inflation and "mitigate a recession."
But so far, the president has not scored well on free trade. Under his leadership, the U.S. has "declined to pursue new comprehensive free-trade agreements with other countries," The New York Times reported in April.
The administration's position is that most Americans have "turned against the kind of pacts that promote global commerce but that also help to send factory jobs overseas," according to the NYT. Instead, Biden has gone in the other direction by imposing more trade barriers on other countries, especially in terms of electric vehicle manufacturing.
Lower Prescription Drug Costs
In the White House brief mentioned earlier, the Biden administration proposed letting Medicare negotiate drug prices, capping insulin costs, penalizing drug companies that raise prices faster than inflation and making other reforms to lower prices.
Make Your Money Work for You
There has been some progress on this front. In March, it was announced that the price of five Pfizer drugs for Medicare recipients would be reduced as part of Biden's plan to lower prescription drug costs, CNBC reported. Those drugs were among the first set of 27 Part B prescription drugs subject to Medicare inflation rebates because the prices for those drugs rose faster than the rate of inflation.
Lower Housing Costs by Building More Homes
The White House last year called on Congress to invest in building more than 1 million affordable homes, at least partially through a set of tax credits. Other proposals were to expand and improve federal funding for the construction of new housing, and use existing funds to "reward communities that eliminate needless barriers that prevent new housing from being built."
As Newsweek reported in December 2022, Congress can make a "significant dent in the housing shortage" by strengthening the Low-Income Housing Tax Credit and enacting the proposed new Neighborhood Homes Investment Act.
While many of those proposals are still in the discussion stage, new housing inventory in the U.S. remains a mixed bag.
In May 2023, residential building permits reached a seasonally adjusted annual rate of 1.491 million units, according to Census Bureau data released earlier this week. That was down 12.7% from the previous year. Privately‐owned housing starts in May stood at a seasonally adjusted annual rate of 1.631 million, up 5.7% from the prior year.
Ease Regulations and Taxes on Small Businesses
In a March column for The Hill, Job Creators Network CEO Alfredo Ortiz wrote that Congress "should pass commonsense policy along the lines of the Job Creators Network's American Small Business Prosperity Plan" to slay inflation. The plan would end deficit spending, according to Ortiz, while also exempting small businesses from new federal regulations.
Make Your Money Work for You
Certain lawmakers seem to have many of the same goals. Congressional Republicans recently unveiled a plan that would offer a range of benefits to big and small businesses, including around $240 billion in tax cuts over the next decade, Politico reported. Part of the plan would also "undo restrictions" on several popular business tax breaks and loosen rules on write-offs for R&D and other expenses.
More From GOBankingRates