Fed Rate Hikes May Continue in July Despite 14-Month Stock Market Highs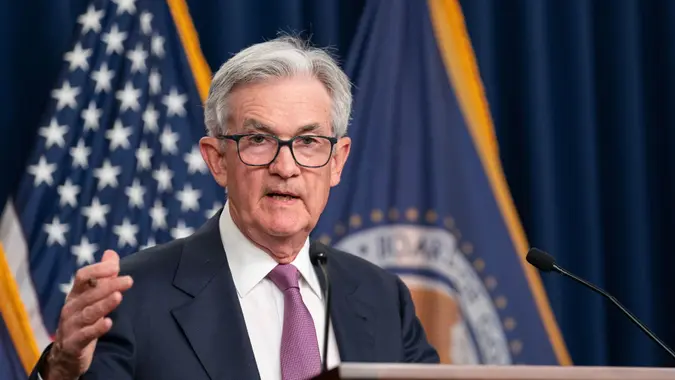 Xinhua/Shutterstock / Xinhua/Shutterstock
Just a few days after the Federal Reserve's decision to pause its rate-hiking streak, some Fed officials are echoing the hawkish tone Fed Chair Jerome Powell used on June 14.
Following 10 consecutive rate hikes the Federal Reserve finally skipped an additional increase following its two-day Federal Open Market Committee (FOMC) meeting- a move deemed a "hawkish pause" by many. The unanimous June 14 decision came a day after a reassuring consumer price index (CPI) report, which showed inflation cooled down to 4% in May.
In turn, the market rallied with the S&P 500 and Nasdaq closing at their highest levels in 14 months, Reuters reported. However, global stocks pointed lower early on June 19 as investors await Powell's two days of Congressional testimony this week. Both The New York Stock Exchange and the Nasdaq Stock Market are closed for Juneteenth.
CNN reported that on June 16 Fed Governor Christopher Waller and Richmond Fed President Thomas Barkin said that additional rate increases would be necessary to bring inflation down to the central bank's 2% target.
"We're seeing policy rates having some effects on parts of the economy. The labor market is still strong, but core-kind of inflation is just not moving and that's going to require probably some more tightening to try to get that going down," Waller said in a moderated discussion hosted by the Norges Bank and the International Monetary Fund in Oslo, according to CNN.
In the FOMC projections material, officials note they anticipate two more increases this year — to as high as 5.6% — while also raising expectations for inflation. And in the press conference, Powell confirmed that Fed officials expect further tightening this year, as getting inflation back to the 2% target "has a long way to go." He added that the decision to pause hikes is for "this meeting" only/ "We didn't make any decision about going forward, including what would happen at the next meeting," he said, according to the transcript, adding no decision had been made for the July meeting.
Make Your Money Work for You
William J. Luther, director of the American Institute for Economic Research's Sound Money Project and an associate professor of economics at Florida Atlantic University, said Fed officials seem intent on resuming rate hikes next month as they feel they have not done enough to tame inflation.  
"The Fed's concerns about core inflation appear to be overblown. Core inflation remains flat despite broader disinflationary pressure because housing prices are rising rapidly — or, more accurately, were increasing rapidly," added Luther.
According to Luther,  the disinflation process has begun — and will continue and further rate hikes seem unnecessary.
Take Our Poll: What Kind of Money Advice Would You Most Trust From a Celebrity Expert Such as Warren Buffett, Mark Cuban or Suze Orman?

"Fed officials got a late start, and inflation was too high for too long as a consequence. But they've finally caught up," he said. "They should not now overcorrect. Following a period of excessively loose monetary policy with excessively tight monetary policy is like putting the car in reverse after running over a pedestrian: it won't undo the damage, it will only make the situation worse."
More From GOBankingRates
Make Your Money Work for You