Inflation vs. Disinflation: What Each Means for Your Wallet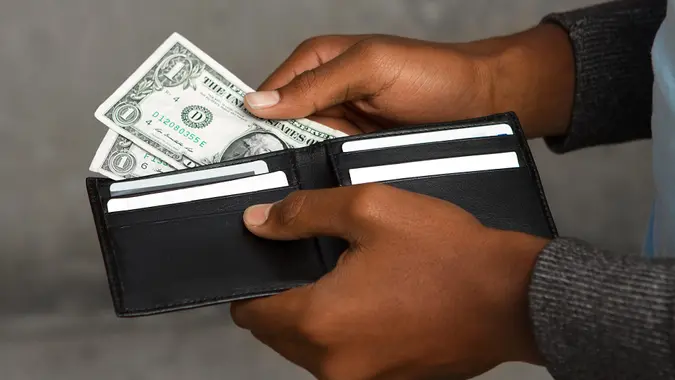 pixelheadphoto / iStock.com
The ripple effects of the COVID-19 pandemic, coupled with rising interest rates, have led to a large increase in the cost of consumer goods. Brands were able to justify the price increases as the cost of doing business and labor have increased significantly within the past several years. But now, prices are shifting and competition among brands is increasing.
It's important to understand how inflation and disinflation work to understand how these factors affect your finances.
Inflation vs. Disinflation
Investopedia defines inflation as a price rise, translated as declining purchasing power over time.
Meanwhile, Investopedia defines disinflation as a temporary slowing of the pace of price inflation and is used to describe instances when the inflation rate has reduced marginally over the short term.
The main difference between the two is that inflation means a rise in prices, while disinflation means the slowing of or temporary pause in price inflation. During times of inflation, you can expect your purchasing power to decline. But as the economy grows, disinflation may allow for some financial breathing room and more deals for consumers.
Brands Are Responding To DisInflation
Yahoo! Finance reported that overall inflation has held steady as of September 2023. Consumers have recently felt hurt in their wallets, and inflation has become a hot buzzword. But now, as disinflation comes into play and consumers start to see some relief at the register, brands will face challenges to stay competitive.
Make Your Money Work for You
"From a consumer price perspective, we do not see a lot of deflation on the horizon. Instead, we see a moderation of inflation with a corresponding increase in promotional activity," Jason English, managing director of the food and beverages team at Goldman Sachs Global Investment Research, explained. This gives value-seeking consumers more opportunities to save money overall.
Why You'll Probably See More Discounts Soon
Multiple consumer brands have indicated that overall consumer spending has remained strong despite price increases. At the same time, they're also noting behavior changes as consumers increasingly search for bargains. 
Unilever's latest earnings report highlights how executives navigate an inflation comedown and shift the balance of volume and pricing. The company's US market continues to grow even as inflation eases. But, Unilever CFO Graeme Pitkethly indicated that consumers are clearly beginning to show signs of caution.
Michael Farr, chief market strategist for Hightower Advisors, and founder and CEO of Farr, Miller & Washington, explained that "there is no question the consumer is running out of wallet, as seen by increases in credit card balances, and troublingly, use of 'buy now, pay later' for essentials such as groceries. Yet, as seen in aggregate demand, the propensity to spend has been resilient."
Coca-Cola CEO James Quincey highlighted the change in cost-conscious shoppers during the company's latest earnings call.
"They're looking for value and stocking up on items on sale. In these markets, our pricing is largely in place and is expected to moderate as we cycle pricing initiatives from the prior year," explained Quincey.
Make Your Money Work for You
At the same time, Coca-Cola's rival PepsiCo (PEP) indicated during their earnings call that most shoppers remain loyal to their brands even as some are recalculating their budgets.
"They're buying more in dollar stores or more in mass or clubs," CEO Ramon Laguarta explained.
As inflation starts to decrease, consumers may not feel the shift in lower prices, but rather increased competition among brands.
More From GOBankingRates