Job Market 2024: Could Emerging 'Green Steel' Industry Revitalize the Rust Belt?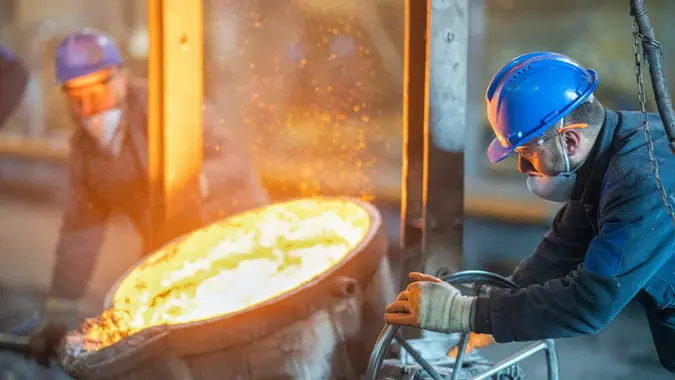 RainStar / Getty Images
America's "Rust Belt," the region that runs through the Midwest and Northeast — encompassing parts of New York, Pennsylvania, Ohio, Michigan, Indiana, Illinois, and Wisconsin — has struggled since the 1970s.
Prior to that time, the area thrived as an abundance of natural resources like coal and iron ore helped the profitable production of steel. Pittsburgh, for instance, produced 60% of the nation's steel in 1910.
But as factories began shutting down in the '70s, however, the region earned the derogatory name "Rust Belt," as closed factories characterized a struggling economy.
A recent study from the Ohio River Valley Institute revealed that regional steel-related jobs are anticipated to fall 30% by 2031. Currently, according to Zippia.com statistics, more than 44,000 steel workers are employed across the U.S.
But the creation of "green steel" could offer hope to workers in the region. Green steel describes steel manufactured using green hydrogen. Green hydrogen is created when wind or solar power separates the hydrogen and oxygen in water molecules to create energy. The process creates no carbon pollution.
Steel production creates roughly 7% of the world's greenhouse gas emissions, according to a report from Canary Media. This has led companies, environmentalists, and government officials to seek alternatives, which include green steel.
Make Your Money Work for You
Green steel will ostensibly create jobs because steel remains an important raw material in the construction of buildings, machinery and more.
But green steel could do more than just put thousands of steelworkers back in business. It would likely also create jobs in wind and solar energy creation, including the installation of solar arrays and wind farms, and add jobs in grid-maintenance, according to InsideClimateNews.org.
"For generations, the steel industry has shaped the economy and culture of the Ohio River Valley; now, fossil fuel-free steel produced with green hydrogen-based direct reduction offers the region a unique opportunity to reshape the local economy and become a global leader once again," read a report titled "Green Steel in the Ohio River Valley" coming from the Ohio River Valley Institute.
The introduction and successful implementation of green steel could return the region to its former glory while helping the U.S. government attain its goal of reducing air pollution by at least 50% (compared to 2005) levels by 2030.
More From GOBankingRates