Living Paycheck-to-Paycheck Down 4% — What Consumers Are Doing Right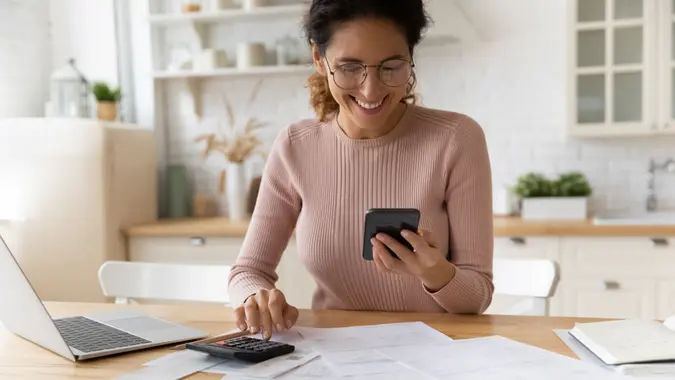 fizkes / Getty Images/iStockphoto
Inflation has carved a rocky road for Americans, and though prices are still high, consumers appear to be adapting to the tough climate. The new "Reality Check: Paycheck-to-Paycheck" report, from LendingClub Corporation and PYMNTS, found that as of January 2023, 60% Americans are living paycheck-to-paycheck – down from 64% a year prior.
"Consumers living paycheck to paycheck dropped for the first month of 2023. While it's too early to indicate a trend, consumers have accepted that inflation is part of their everyday lives and they are actively making behavioral changes, especially during the 2022 holiday shopping season, to adjust their spending and better manage their cash flow," stated Anuj Nayar, financial health officer at LendingClub, in a press release.
Buyers' ability to make paychecks stretch further meant splurging less on holiday shopping. In November 2022, 15 million consumers said they would refrain from making holiday-related purchases — down 10% from 2021.
It appears that consumers also are pumping the brakes on credit card overuse, instead focusing on financial restraint. Though 72% of them used a credit card for at least one 2022 holiday purchase, 87% of cardholders said that they are not experiencing a significant financial hangover from their 2022 holiday season spending — and just 13% said that the holidays brought a very or extremely significant increase in their debt burden. In the last year, 70% of cardholders said they took at least one measure to help manage credit card payments. Here's what they did:
At least one card management adjustment: 70.2%.
At least one compromise: 66.7%.
Budgeted: 32.0%.
Spent less: 31.2%.
Used credit card less often: 15.5%.
Cut down on everyday pleasures: 39.3%.
Pulled money from savings or investments: 27.0%.
Sacrificed aspects of personal life: 17.2%.
Make Your Money Work for You
Though Americans are doing what they must to tackle credit card debt and expand the spending power of their paychecks, it still may not be enough. Data showed that consumers living paycheck-to-paycheck (without issues paying bills) have average outstanding credit card balances equivalent to 62% of their available savings, while those with issues paying monthly bills carry balances of 157% of their available savings, meaning they would still have a balance even if they emptied their savings accounts. Further, the study found that 27% of consumers did report pulling from savings and/or investments to pay down credit card debt.
"While consumers are making behavioral changes as they adapt to inflationary pressures on their pocketbooks, it may not be enough to balance their finances," continued Nayar. "Consumers across the income spectrum carry massive credit card balances and with interest rates for debt growing, outstanding debt balances could equal all paycheck-to-paycheck consumers' savings balances in the next five years. For consumers looking to decrease their overall debt burden, now is a good time to consider consolidating and/or refinancing that debt into an installment loan."
More From GOBankingRates
Make Your Money Work for You