Losing Child Tax Credit Was 'Big Factor' in Latest Historic Jump in Poverty — Will It Ever Return to Previous Levels?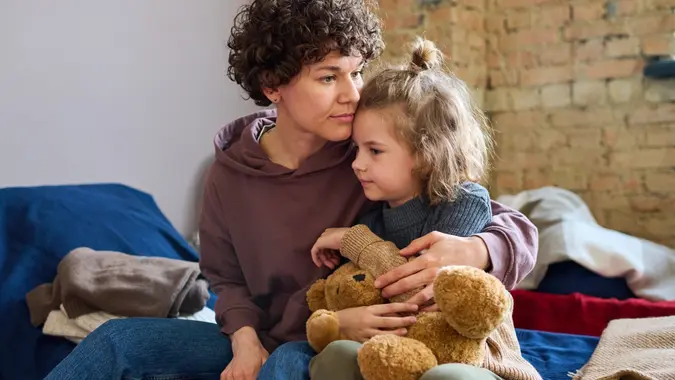 shironosov / iStock.com
After many years of watching poverty rates decline, the U.S. saw an increase in at least one poverty measure in 2022, and a big reason was the end of COVID-era relief programs such as the expanded Child Tax Credit, according to a new report from the U.S. Census Bureau.
According to the report, the official 2022 poverty rate of 11.5% was "not statistically different" from the prior year. However, the 2022 Supplemental Poverty Measure (SPM) rate of 12.4% represented an increase of 4.6 percentage points from 2021 — the first such spike since 2010.
Meanwhile, the SPM child poverty rate more than doubled last year, from 5.2% in 2021 to 12.4% in 2022.
The SPM is considered a truer measure of poverty because it accounts for several government programs that are not included in official poverty calculations. The SPM also accounts for geographic variations in housing costs as well as federal taxes, state taxes, work expenses and medical expenses.
According to the Census Bureau's analysis, the increase in SPM poverty last year was the result of "key changes in federal tax policy" — including the expiration of the expanded Child Tax Credit and Earned Income Tax Credit as well as the end of pandemic-era stimulus payments.
Among the Census Bureau's other key findings.
Real median household income fell from $76,330 in 2021 to $74,580 in 2022
SPM rates increased for "18- to 64-year-olds and people 65 and older."
Social Security continued to be the "most important antipoverty program" in 2022, moving 28.9 million people out of SPM poverty.
Refundable tax credits moved 6.4 million out of SPM poverty, down from 9.6 million people in 2021.
Make Your Money Work for You
The poverty trend could get even worse in coming years if lawmakers fail to bolster social safety net programs that helped reduce poverty during the COVID-19 pandemic, experts say. In addition to the expanded CTC, these programs included expanded unemployment benefits, Medicaid and food stamps.
Combined, the programs helped poverty fall to record lows in 2020 and 2021, according to Zachary Parolin, a professor at Columbia University and author of the book "Poverty in the Pandemic: Lessons from COVID-19."
"After three consecutive years of the lowest poverty rates on record, the streak is now broken," Parolin told USA Today.
As the Washington Post reported, researchers credited bigger CTC payments with lifting millions of children out of poverty and reducing the child poverty rate to a record low of 5.2% in 2021. The latest data shows that 37.9 million people lived in poverty in 2022.
President Joe Biden, who has championed many of the anti-poverty programs that were later abandoned, used the Census Bureau data to point his finger at Republicans who blocked a continuation of the expanded CTC.
"The rise [in poverty] reported today is no accident," Biden said.
More From GOBankingRates