New Car Market: Here's Why Car Prices Are on the Decline, but Insurance Rates Are Rising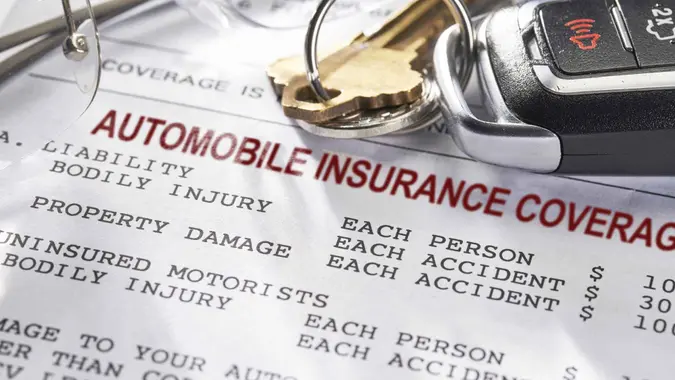 Bill Oxford / Getty Images/iStockphoto
New car prices are starting to drop, according to a recent Kelley Blue Book (KBB) report. Supply chain issues with delivery of new vehicles, the silicon chip shortage, and other problems stemming from the pandemic are starting to straighten out, leading to increased inventories and lower transaction prices for new cars.
Average transaction prices for new cars dropped below MSRP for the third time in two years in May, according to KBB. Manufacturer incentives also increased to an average of $1,914, the highest they have been in a year. However, prices remain elevated 25% over May 2020 prices, largely due to strong luxury vehicle sales.
In spite of an optimistic outlook for those seeking to buy a new car in 2023, it might cost more than ever to insure that new vehicle. Auto insurance rates have risen by 17% in May, according to the most recent consumer price index (CPI) data available. This includes a 2% jump between April 2023 and May 2023.
A recent study by J.D. Power & Associates supports the data, noting that 31% of auto insurance customers said they experienced a rate hike within the past 12 months. The increase is in line with increased prices for auto repairs, which jumped to 19.7%, according to the May CPI report.
Make Your Money Work for You
Why Car Insurance Rates Are Rising
A number of factors have driven up auto insurance rates in the past year, experts say. First, car insurance prices typically track the price of new cars, since a pricier car costs more to insure. However, car insurance premiums lag behind car prices when there is a change in the market. "The pass-through takes a while," Stephanie Roth, senior economist at J.P. Morgan Private Bank, told CNBC.
Additionally, the rise in repair costs have forced insurance companies to increase their rates to cover the rising costs of repair. Many auto body and repair shops went out of business during the pandemic, leaving less competition in the marketplace. Parts also became more difficult to find and, as a result, more expensive.
Finally, car crashes have increased after states ended pandemic-related lockdowns. More cars on the road, many with out-of-practice drivers behind the wheel, has led to more accidents — particularly fatalities. The National Highway Traffic Safety Administration reported that fatalities increased by 7% in the first quarter of 2022, year-over-year.
In the three years prior to the pandemic, car crash fatalities had been declining. In 2020, even with fewer people on the road, crashes increased, NBC News reported. Experts like Arthur Goodwin, a senior research associate at the University of North Carolina Highway Safety Research Center, attribute the increase in crashes to "riskier driving." These behaviors include speeding and impaired driving, which were bad habits people may have picked up during the pandemic when fewer cars were on the road and people were dealing with increased stress. "We hoped that was just some unusual blip due to the pandemic, but fatalities have continued to increase," Goodwin told NBC News.
Make Your Money Work for You
But, just as new car prices are starting to dip — and used car prices are likely to follow — the increase in insurance rates may level out and begin to drop as supply chains, and driving habits, return to a post-pandemic level of normalcy.
In the meantime, it may be helpful to find ways to save on your car insurance — or at least earn discounts that might bring your rates closer to what you were paying last year.
More From GOBankingRates