New Study Shows Inflation Cannot Be Controlled By Rate Hikes — How Can The Fed Fix Rising Food and Housing Prices?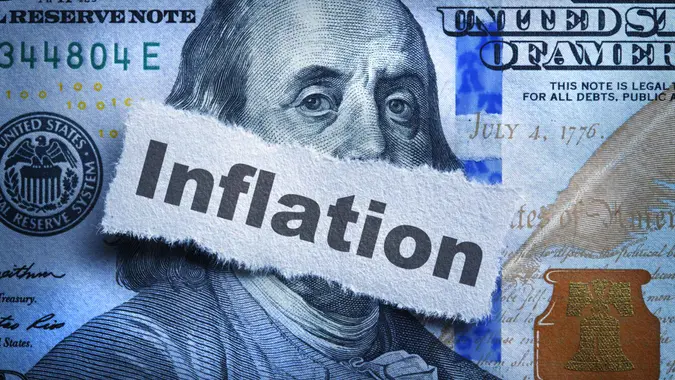 DNY59 / Getty Images/iStockphoto
Despite 11 rate hikes and two consecutive pauses, inflation remains sticky at 3.7%, according to the latest consumer price index (CPI). This result remains quite distant from the Federal Reserve's stated 2% goal.
See: What Income Is Considered Poverty Level in 2023?
Find: Jaspreet Singh Says America's Economy Is About To Get a Reality Check, Here's Why
And now, new research by Cato's Center for Monetary and Financial Alternatives (CMFA) shows there is not much empirical support for the notion that the Fed can precisely control inflation.
Some Fed officials are indeed remaining "cautiously optimistic," reiterating earlier this week that taming inflation and bringing it to the 2% goal is their main goal. They also indicated that the job is far from done.
"We've got to get inflation down — that's the No. 1 thing," Chicago Fed President Austan Goolsbee said in an interview with CNBC, Bloomberg reported. "I'm absolutely hammering that's what we should be watching."
In addition, Federal Reserve Bank of Minneapolis President Neel Kashkari said the Fed still has more work to do.
"The economy has proved to be really resilient even though we've raised interest rates a lot over the past couple of years. That's good news," Kashkari said in an interview on Fox News, according to Reuters.
Kashkari added: "We haven't completely solved the inflation problem. We still have more work ahead of us to get it done."
Make Your Money Work for You
Will Inflation, Housing Market Cool Off?
So what will it take for inflation to cool down — and for food and housing prices to finally decrease?
October inflation data, set to be released on Nov. 14, is expected to show an increase at a 0.07% monthly rate for the month, according to Nowcasts from the Cleveland Fed. Meanwhile, core CPI, which excludes the volatile food and energy prices, is expected to rise at a rate of 0.34% month-on-month.
According to Andrew Latham, CFP and managing editor at SuperMoney.com, controlling inflation goes beyond the Fed's interest rate hikes, as it involves both monetary and fiscal policies.
"The Fed's tool of raising rates is a form of monetary policy but has limited influence on supply chain issues, which can also drive inflation," he said.
The Fed can adjust interest rates to influence economic activity, while the government can implement fiscal policies such as increasing taxes or reducing spending to decrease demand, he added.
"Supply-side interventions, such as improving supply chain efficiency or increasing the supply of affordable housing, can also help. Targeted subsidies and support programs can also provide relief for essential items like food and housing," added Latham.
When Will Inflation Near 2%?
While the Fed ultimately influences the rate of inflation, it cannot precisely determine the rate of inflation in any given month. Unexpected shocks to supply or demand push prices up or down, according to William J. Luther, director of the American Institute for Economic Research's Sound Money Project.
Make Your Money Work for You
According to him, monetary policy is on track to deliver 2% inflation in 2024.
"Constrained supplies in energy markets caused prices to soar in August and September, but the effect will be short lived and is already showing signs of reversing," he said. "So long as expansionary fiscal policy does not push up the natural rate of interest, the Fed's current federal funds rate target will be sufficient to bring inflation back down to 2% over the next two quarters."
Other experts, meanwhile, said that the Fed doesn't totally control inflation.
"Rather, the Fed shifts monetary policy slowly in an effort to manage economic fluctuations, but ultimately can not fully control them," said Selma Hepp, chief economist for CoreLogic. " As a result, it can take several quarters to observe the Fed's impact on large macroeconomic numbers."
Are Kashkari and other Fed officials right to not declare victory quite yet, rather remaining cautious?
Luther agreed with Kashkari's premise, saying there is some risk that expansionary fiscal policy will push up the natural rate of interest. In this case, Luther suggested, the Fed will need to raise rates further in order to prevent a passive loosening of monetary policy.
"However, one must also recognize the risk of over tightening monetary policy, which the Fed might do by raising rates too high or holding rates high for too long," he said. "We don't want inflation expectations to become unanchored. But we don't want an unnecessary recession, either. Fed officials have the unenviable job of threading the needle, and unfortunately, they don't have a great track record in that regard."
Make Your Money Work for You
More From GOBankingRates