Rent Is Now the 'Largest Contributor' to Inflation: Here's Where It's Going Up (Or Down)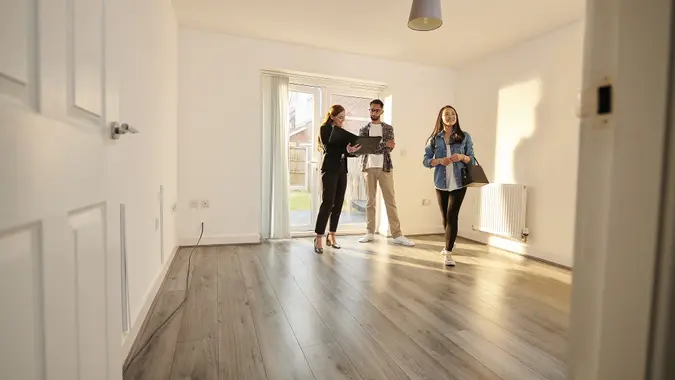 :sturti / iStock.com
Despite promising decreases in the energy index and food numbers holding steady, the overall consumer price index (CPI) rose 0.1% in March. The current U.S. inflation rate is 5% for the 12-month period leading up to March 2023, which is the smallest increase since the period ending May 2021.
However, the housing and rental markets remain as unpredictable as ever. According to the latest release from the Bureau of Labor Statistics, the shelter index, which includes total spending on rented and owned houses, increased 8.2% over the past year — "by far" the largest contributor to the monthly increase.
While many are anticipating rental prices to keep climbing this year, the increases should be much more modest than the huge surges seen in 2022. But even as the rental market continues to cool down, prices are still higher than this time last year, which means there will continue to be affordability issues.
Already stretched thin contending with rising rents, high inflation and a wide price-income gap (rental prices have risen more than 20% since 2020 while income has increased by about 10%, Realtor.com reported), renters will not only have a difficult time saving up for a down payment on a home, but many will struggle with their monthly rent payments.
Make Your Money Work for You
In its monthly look at rent price trends across the U.S., Rent.com claimed the national median rent went down in February, from $1,942 in January to $1,937. This is the lowest median rental price since February 2022's $1,904. The February rent level is a 5.65% drop from the high of $2,053 in August 2022. In the last six months, monthly rent changes decreased for the fifth time.
Take Our Poll: Would You Move for a Job That Paid You a $10,000 Signing Bonus?
However, although median rents were lower in 60% of markets month-over-month, yearly increases are abundant. Overall, 13 states have had double-digit yearly hikes, with New Hampshire having the greatest growth over the past 12 months (at 23.92%).
In addition to the seven states listed below, Iowa, Tennessee, New York, Nebraska, Connecticut and North Carolina saw double-digit yearly rent increases. Per Rent.com, another 17 states had rent gains above the national median, while only seven had year-over-year (YoY) declines.
Here are the seven states with the most significant yearly increases in rent, as well as the seven who have experienced the greatest downturns in rent year-over-year.
Where Rent Is Increasing
New Hampshire (+23.92%).
South Dakota (+23.41%).
Arkansas (+18.68%).
Florida (+17.79%).
Mississippi (+17.33%).
North Dakota (+14.68%).
Delaware (+13.94%).
Make Your Money Work for You
Where Rent Is Decreasing
Idaho (-2.98%).
Nevada (-1.88%).
Washington (-1.81%).
Minnesota (-1.4%).
Virginia (-1.33%).
Massachusetts (-1.07%).
Colorado (-0.3%).
More From GOBankingRates
Make Your Money Work for You