The Salary You Need to Live Well in Washington, DC Skyrockets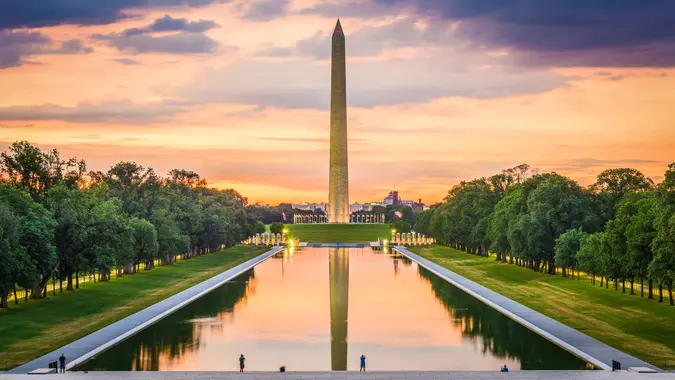 Sean Pavone / Getty Images/iStockphoto
It's getting even more expensive to live in Washington, D.C., according to a study by GOBankingRates.
The study measured mortgage payments, rent, necessities and other financial factors to establish a "live comfortably" income.
Rent in the nation's capital continues to rise steadily in 2019, but other basic necessities are also becoming more of a financial burden.
Washington, D.C., is a lightning rod for political drama, but the real human drama lies in the city's exorbitant costs, which hurt the capital's residents. The cost to live comfortably in the District, one of America's biggest cities, increased dramatically between 2016 and 2019, according to a study by GOBankingRates.
The study analyzed how much it costs to live comfortably in America's 50 biggest cities. GOBankingRates gauged the cost of rent, groceries, utilities, transportation and healthcare as necessities, then measured whether those costs increased between 2016 and 2019. The resulting data provides a look at what kind of income is necessary to live well in the nation's capital.
See the Full Study: How Much You Need to Live Comfortably in 50 Major US Cities
You Need About $143,000 to Live Comfortably in Washington, DC
To live comfortably in U.S. capital, you'll need to earn around $143,200 if you're paying a mortgage and $122,900 if you're renting. That's an increase of 50.8% and 30.4%, respectively, since 2016.
And it's not just rent that's increased. Healthcare jumped from $3,240 to $4,090 between 2016 and 2019. Utilities nearly tripled in four years, with people now spending just over $4,000 on them. Transportation costs rose from $5,800 to $15,000 in the four years measured.
On the other hand, annual grocery spending dropped from $4,760 to $4,580, but that could indicate people are buying less because they can't afford as much. There were also some falls in between the rises. For example, healthcare costs in the District actually dropped to $2,660 in 2017 before jumping around $1,000 the next year.
Make Your Money Work for You
Why Is Living in Washington, DC Getting so Expensive?
Washington, D.C. consistently ranks among the most expensive cities in America, at times eclipsing other notable wealth drains such as New York City and Los Angeles. One Washington Post story even recommended six figures for living in the nation's capital as early as 2015.
One of the biggest reasons the District is so expensive is rising property values and housing costs. Plus, as the city starts attracting wealthier residents, income inequality rises. And even the wealthy are blaming the wealthy for those spikes in costs.
"A new Washington Post poll finds 78 percent of people who moved to Washington in the past 15 years with incomes of at least $150,000 per year say that new high-income residents are a major reason for the shortage of affordable housing in the city," the paper reported in 2017.
Washington, D.C. might be too expensive for most, but there are far cheaper alternatives.
Find out the states where your salary will stretch the furthest.
More on the Economy
We make money easy. Get weekly email updates, including expert advice to help you Live Richer™.
Methodology: GOBankingRates found the cost of living in America's 50 biggest cities by analyzing the following factors: (1) cost of living index for groceries, utilities, transportation and healthcare sourced from Sperling's Best Places, with each index multiplied by the annual expenditure amount in each category from Bureau Labor of Statistics' 2017 Consumer Expenditure Survey, which measures household annual mean expenditures to determine the annual mean spending for each category; (2) rent costs sourced from Zillow's February 2019 rental value index for single-family residences, and multiplied by 12 to obtain an annualized yearly spending on rent; (3) mortgage payments based on a 30-year, fixed-rate mortgage, using an average mortgage rate of 4.28%, which was the current average national rate at the time the study was conducted, according to the Federal Reserve Bank of St. Louis; the city's median home value for a single-family residence, according to Zillow's February 2019 home value index and a 20% down payment; and (4) median household income sourced from the Census Bureau's 2017 American Community Survey (income prior to being taxed). Once all data was found, the annual expenditure amount was calculated by adding together the annual spending for each category. GOBankingRates found the annual expenditures for both people paying a mortgage payment and for people paying rent separately. GOBankingRates then used the 50-20-30 rule which assumes that 50% of income should go toward necessities, 30% should go toward discretionary spending and 20% should go toward savings.
Make Your Money Work for You